The Halloween of our youth may have been more about dressing up like cartoon characters and prancing around the neighborhood asking for candy, but we want more from our holidays once we grow up. Plenty of destinations around the world make for great places to spend Halloween, sometimes simply because they're notorious for excellent parties, but if you prefer to focus on the more hair-raising aspects of the holiday, this list of haunted places around the world is for you.
There are 25 haunted spots featured on this list, and plenty more besides what is listed below. How do you pick just one each year in which to spend your Halloween? Well, the good news is that these places retain their scary reputation year-round, so even if only one of them makes the cut for October 31st this year you can turn the rest into a frightening world tour if you want. It may not be a relaxing trip, but at least you'll keep your adrenaline going at full speed.
Here are 25 haunted places to spend Halloween.
Plan your Halloween activities with our Ghosts and Haunted Tours guide

1. New Orleans, USA
New Orleans
is a city of ghosts and vampires, and even if you don't believe in those legends there's no getting around the city's famous history of voodoo and black magic. It doesn't take much imagination to see how one of the above-ground cemeteries -- the so-called "cities of the dead" -- would make a fine setting for a ghost story.
Book a New Orleans Cemetery and Voodoo Walking Tour or a New Orleans Vampire Tour

2. Venice, Italy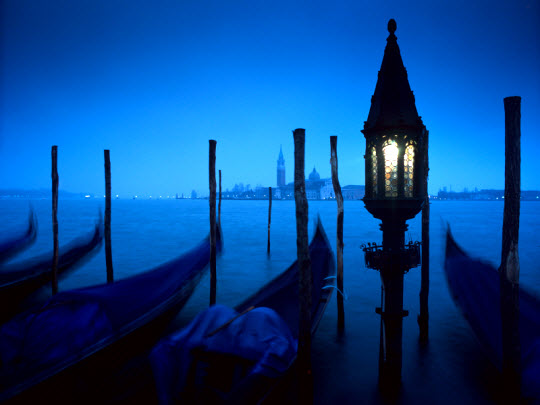 Another city that seems tailor-made for ghost stories and murder mysteries is Venice, with its dense warren of narrow alleys that sometimes dead-end on a canal that's impossible to see until it's almost too late. Add to that the smaller islands in the lagoon that served as mass graves during Venice's many bouts with the plague (and one island that was once home to an insane asylum, now abandoned) and you've set the stage for a few sleepless nights.
Book a Venice Ghost Walking Tour

3. Singapore
Former hospitals often make great places to find ghosts, and the Old Changi Hospital in
Singapore
is no exception. It's widely thought of as the most haunted place in Asia. The former military hospital was closed in 1997, but stories of ghost sightings in the compound date back to the 1940s, not long after it was first built. In particular, the mortuary and a room some call a "torture chamber" are said to be the scariest rooms in the hospital.
Book a Changi Museum Tour, a Half-Day Changi Tour from Singapore, or a Private Tour of Changi

4. Chicago, USA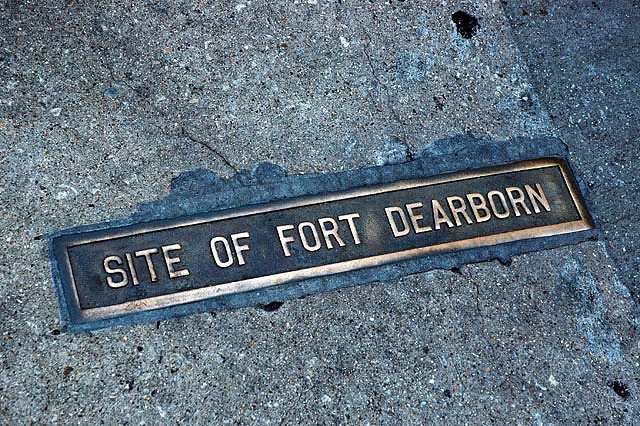 Chicago has seen its share of tragedies, from the devastating fire that tore through the city in 1871 to a maritime disaster that killed 800 people in 1915, to the corruption and crime carried out by gangsters like Al Capone in the 1920s. There are plenty of ghosts still haunting the Windy City, like the spirits of the more than 800 people who were killed in a fire at the Oriental Theatre in 1903 or even the ghosts of those slain as far back as the War of 1812 at the site of Fort Dearborn.
Find more spooky spirits on a Chicago Ghost Hunting Tour or book a Haunted Chicago Segway Tour
Photo credit: essygie via Flickr.

5. Salem, USA
Salem, Massachusetts has a long-standing reputation as a hotbed for sorcery - or at least that's what the locals thought they were trying to get rid of with the infamous Salem Witch Trials in 1692. However misguided the townspeople were, their actions have led Salem to bill itself as a modern-day "Witch City," with many tours available about the historic witch trials. Salem also offers a so-called "Haunted Passport" that's good from October through April, encouraging visitors to come back after Halloween to see everything else the area is known for.
Book a Salem: The Witch City Tour or a Ghosts and Gravestones Tour in Boston

6. London, England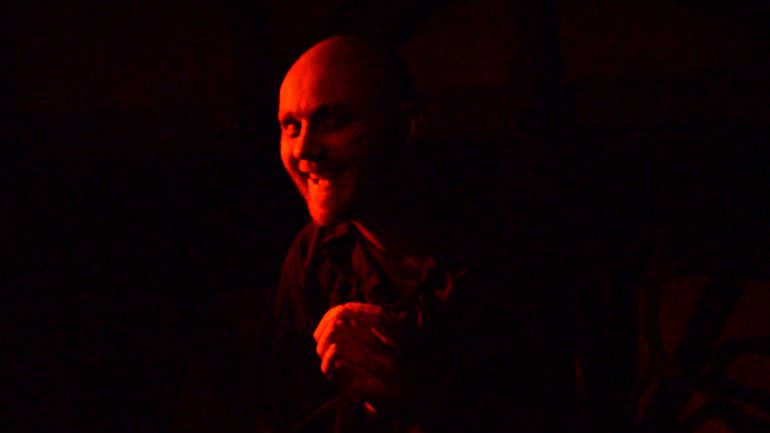 London offers sights for serious fright-seekers as well as those with weaker stomachs. If you're not quite prepared to hear about real-life mass murderer Jack the Ripper (who was never caught) or the many who lost their heads (literally) in the Tower of London, then perhaps Madame Tussaud's "Scream" exhibit or the sometimes-silly (but also kind of scary) London Dungeon is more your speed. Other haunted locations include the bookshop at 50 Berkeley Square, haunted by a girl who committed suicide there and whose ghost has scared a number of other people to death.
Book a Ghost Walking Tour of London

7. Mexico
Dolls may provide comfort and joy to some, but when you see thousands of them hanging from trees on the so-called "Island of Dolls" in
Mexico
you might think about them differently. Not far from Mexico City, this island was home for almost 50 years to a man who moved there because it was remote - and only then did he learn of the young girl who drowned just off the island in the 1920s. Her spirit told him to gather dolls for her to play with, which he did until his death in 2001. Now, the Island of the Dolls is one of the area's strangest (and reportedly most haunted) tourist attractions.
8. Orlando, USA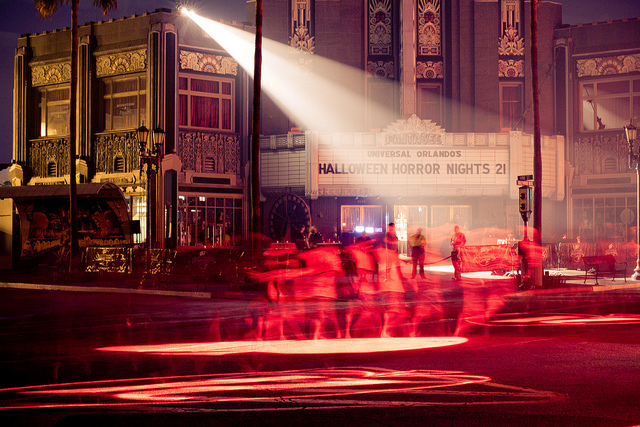 A city that's home to both Disney World and the Universal Orlando Resort hardly seems like the place that would be haunted, but it is. In addition to the haunted spots in downtown Orlando - like the Church Street Station and the Greenwood Cemetery, both of which have spurred ghost sightings - the city's amusement parks are great places to spend Halloween. Universal holds their annual Halloween Horror Nights in September and October, and Disney World has the Haunted Mansion. Not only that, many claim to have seen ghosts around Disney in places besides the Haunted Mansion.
Book Halloween Horror Nights at Universal Orlando Resort or book a Halloween Party Cruise in Miami.
Photo credit: Rain0975 via Flickr.

9. Paris, France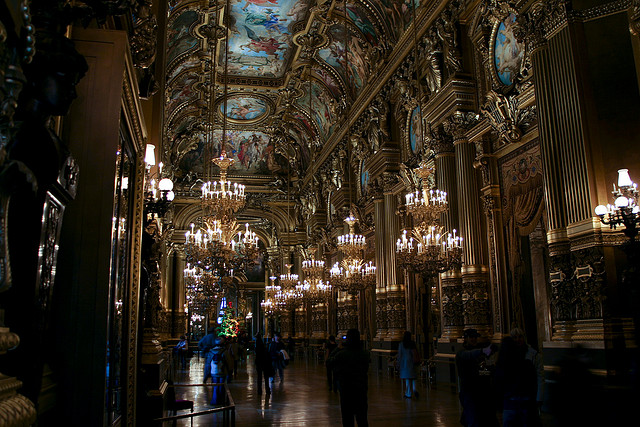 How can one of the world's most romantic cities also be haunted? It may sound crazy, but Paris is home to a number of haunted spots. One of the most famous is the city's catacombs, a network of tunnels underneath Paris' streets that became a storage facility for human bones when the city's cemeteries were getting overcrowded. Visitors today can get tours of the catacombs, walking past thousands upon thousands of bones. Other haunted places in Paris include the Garnier opera house, which served as the setting for The Phantom of the Opera.
Book a Paris Ghost and Mystery Walking Tour
Photo credit: Brian Jeffery Beggerly via Flickr.

10. Las Vegas, USA
Las Vegas
knows how to party, and the city is the place to be if you're looking for the grown-up version of costume parties where inventive cocktails have replaced candy bars. But Sin City also has its fair share of haunted places, too. There have been ghost sightings at several hotels, including the Luxor, MGM Grand, and Circus Circus. The Flamingo Hotel is said to be haunted by legendary Vegas personality Bugsy Siegel.
Book a Haunted Vegas Tour and Show

11. Tokyo, Japan
Not far from
Tokyo
there's a former family home that became the setting for a horror video game, owing to its haunted reputation. Legend holds that the Himuro family living in the home engaged in a bizarre ritualistic murder roughly every 50 years in order to ward off bad spirits. Whether or not it's true (and it's likely not), the Himuro Mansion retains its scary appeal thanks to ghost sightings and inclusion in the Fatal Frame video game.
12. Edinburgh, Scotland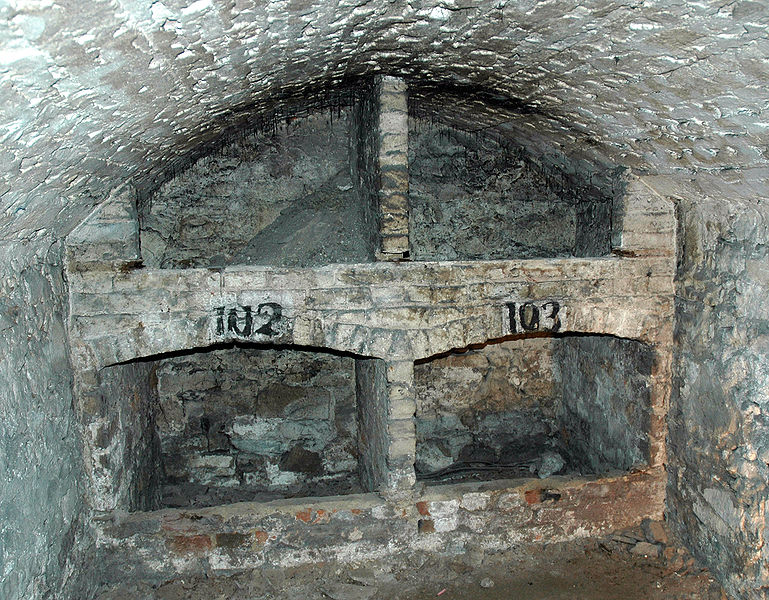 The picturesque and historic city of Edinburgh is also one of the most haunted places in Scotland. Among the city's famous haunted locations is Mary King's Close, a historic street (now completely enclosed underground) where those suffering from the plague were said to have been sealed up to protect the rest of the city. Another underground location, the Edinburgh Vaults, once held pubs and shops as well as hidden storage rooms. Ghost sightings in recent years have made the Vaults a popular tourist attraction - although during the Edinburgh Fringe some of the Vaults are used for shows.
Book a Murder and Mystery Walking Tour of Edinburgh
Photo credit: Kjetil Bjørnsrud via Wikimedia Commons.

13. Buenos Aires, Argentina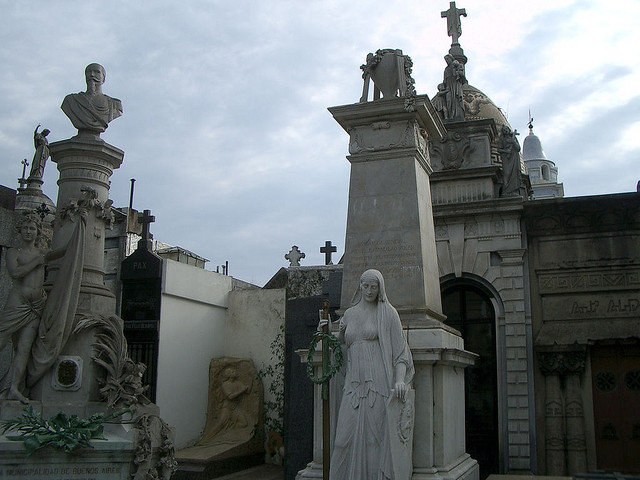 Like many cities, Buenos Aires has a beautiful and historic cemetery that's a major tourist attraction - one that's also haunted. A young woman who was mistakenly buried alive is said to walk through the Recoleta Cemetery to this day, uncovering newly-buried bodies to make sure they're actually dead. Other haunted spots in Buenos Aires include the so-called "Torre del Fantasma," where the occupant plunged to her death from the tower (and whose ghost is still sometimes seen in the window), and the tunnels of the city's Line A subway, where many ghosts have been reported over the years.
Photo credit: anders pearson via Flickr.

14. New York City, USA
New York City
may be the city that never sleeps, but that doesn't mean the ghosts don't come out. There are many haunted places in New York, both scary and just unnerving. Visitors to the Algonquin Hotel say they've seen ghosts of the writers who used to meet there. John Lennon is said to haunt The Dakota, where he was killed in 1980. The man who built Radio City Music Hall is sometimes seen on opening nights at the theatre. And the so-called "House of Death" is haunted by the more than 20 people who died there, as well as by former occupant Mark Twain.
Party on a Halloween Costume Cruise from New York

15. Australia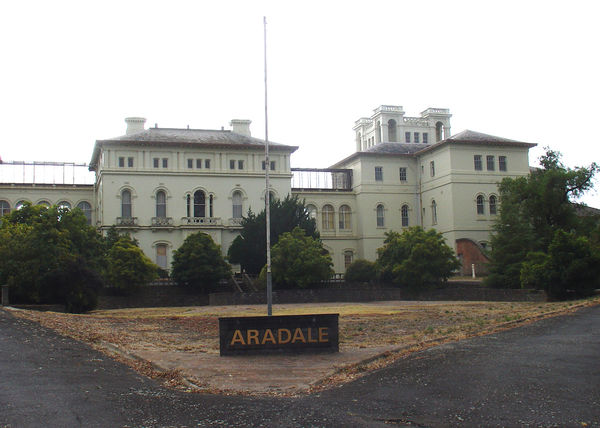 Former asylums always make for seriously haunted locations, and there are two in Australia that fit the bill perfectly. The Beechworth Lunatic Asylum, in operation for more than 125 years and closed in 1995, is said to be haunted by the ghosts of several patients who died there. The Ararat Lunatic Asylum, also known as Aradale, was in operation for roughly 140 years - during which time 13,000 people are said to have died there. Aradale is currently being used as the campus for the Australian College of Wine, while Beechworth is unused since its closing. Both are open for ghost tours.
The Port Author Convict Site in Hobart and the Fremantle Gaol in Perth are equally spooky sites for those interested in Australia's convict history.
Book a history walking tour of Fremantle

Photo credit: Liz Trevaskis via Wikimedia Commons.

16. Rome, Italy

Rome is often called the Eternal City, and some say that holds true for the ghosts who haunt the city, too. Rome's catacombs and the Capuchin Crypt are creepy even if they're not haunted, what with all the human bones on display. In addition to those places there are also ghosts that haunt the Castel Sant'Angelo, not to mention the locations of the murders that take place in Dan Brown's Angels and Demons novel - all fiction, but still somewhat chilling, especially at night.
Book a Ghost and Mystery Walking Tour of Rome, or a Skip the Line: Crypts and Roman Catacombs Small Group Walking Tour

17. Cartago, Costa Rica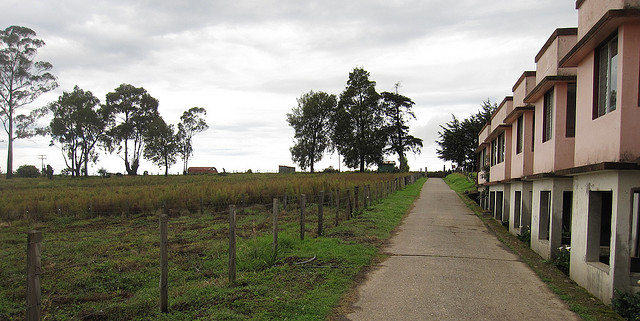 The Duran Sanatorium outside San Jose, Costa Rica has been closed since 1973 and is yet another example of an abandoned hospital being a hotspot for ghosts. Many of the patients at the Sanitorium were being treated for tuberculosis, while in other wings the hospital housed the mentally ill. In its later years, the campus was even converted into a prison before being abandoned entirely. Visitors have reported seeing ghosts of a nun who once cared for TB patients and a young girl who died of TB in the Sanitorium.
Photo credit: Brandon Schabes via Flickr.

18. Savannah, USA
If you've already read
Midnight in the Garden of Good and Evil
, you won't be surprised to see
Savannah
on this list. (And if you haven't read it, do so before you visit Savannah.) This city calls itself the most haunted in America, and one of the houses in Savannah - the Hampton-Lillibridge House - has been called the country's most haunted house.
Book a Ghosts and Gravestones Savannah Tour

19. Barbados
Legend has it that a cemetery in Christ Church,
Barbados
is haunted, but it's not a place where people have reported seeing ghosts - only the evidence that something paranormal is taking place. A tightly sealed burial vault in the cemetery, called the Chase Vault, held lead coffins of deceased family members. The local story goes that each time the vault was opened in the 19th century to bury someone, all the coffins were in different places than they'd been left the last time the vault was opened.
20. San Francisco, USA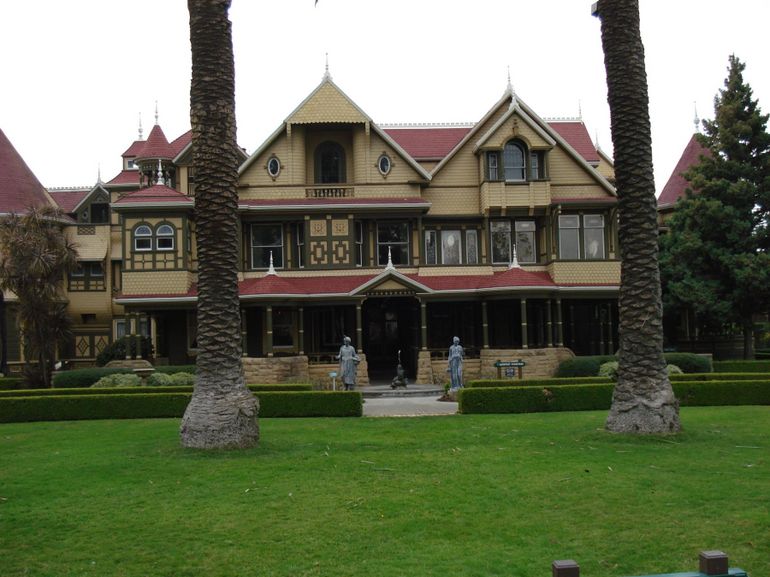 The San Francisco area is home to many stories of ghost sightings. The former prison of Alcatraz is said to be haunted by prisoners who died there, the Queen Anne Hotel is haunted by a woman who tucks guests into bed at night, a Safeway grocery store built on a former baseball field is sometimes haunted by ghostly baseball players, and a house in Chinatown is haunted by a group of Chinese women who hid there to keep from being sold into prostitution - but then died in the 1906 earthquake. Another haunted highlight of the Bay Area is the Winchester Mystery House in San Jose, who continued building onto the house until she died, supposedly to escape the ghosts that were haunting her. Today, people say it's her ghost that roams the endless halls.
Book a San Francisco Chinatown Ghost Walking Tour, or a Winchester Mystery House Tour

21. Rajasthan, India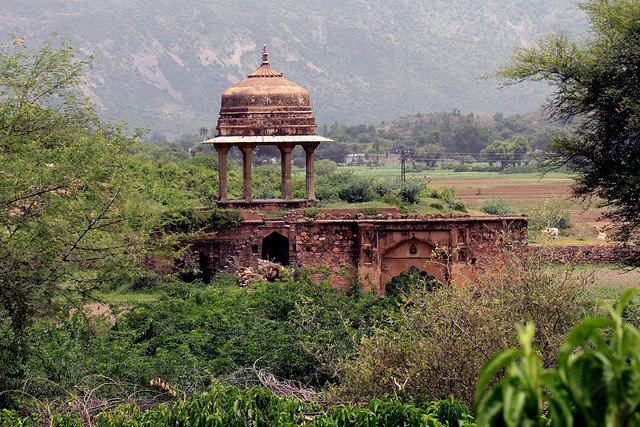 Called by some the most haunted place in India, the Bhangarh Fort in Rajasthan is said to be cursed. A sorcerer living in the city was in love with the princess who lived in the palace, and when his spell to trick her into falling in love with him went awry, he cursed everyone who lived in the palace to death. You might be inclined to brush aside such legends, but local authorities aren't taking any chances - it's still forbidden for tourists to get into the fort between sunset and sunrise.
Photo credit: Shahnawaz Sid via Flickr.

22. Dublin, Ireland
Ireland's capital city has plenty of haunted landmarks, including some that are on must-visit lists even if you're not interested in ghosts. Trinity College is haunted by a former medical professor, Dublin Castle is haunted by the ghosts of headless bodies said to be buried underneath, and in St. Patrick's Cathedral some have seen the ghost of the dog belonging to a sailor buried inside. Another church in
Dublin
, St. Michan's, has a burial vault underneath containing more than 30 mummified bodies.
Book a Dublin Gravedigger Ghost Tour

23. South Africa
Several cities in
South Africa
have haunted buildings, so you can find ghost tours just about anywhere in the country. Outside Cape Town, the Castle of Good Hope (now owned by the army) is haunted by ghosts of people tortured in its dungeons. In Port Elizabeth, the library is haunted by a former caretaker whose ghost knocks on doors. And in KwaZulu-Natal, the Nottingham Road Hotel is haunted by a former barmaid.
24. Prague, Czech Republic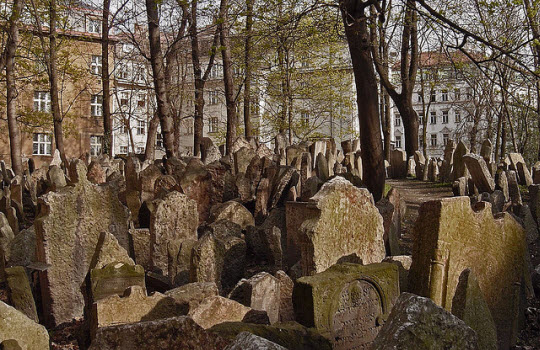 Prague's Old Town is its most haunted, and some of the city's most haunted places are also its most popular. The picturesque Charles Bridge was once the site of executions, and is said to be haunted by the ghosts of men who were killed there. Two governors thrown out of a window in the Prague Castle are said to still haunt the castle grounds. And the Old Jewish Cemetery, where it is estimated that more than 100,000 people are buried, is thought by some to be the most haunted part of the city.
Read about a Ghostly Halloween Tour in Prague
Photo credit: Stuart Richards via Flickr.

25. Sao Paulo, Brazil
In 1974, an air conditioning unit caught fire in what was then called the Joelma Building in Sao Paulo. The building had but one stairwell, had been furnished with flammable materials, and had no sprinkler system, fire alarms, or emergency exits. The building was completely engulfed in a matter of minutes, and of the nearly 800 people who were inside when the fire started, 179 died. The building has since been rebuilt and renamed, but it is said to be haunted by several of the people who died in that fire.
-- Jessica Spiegel
Planning your Halloween? Browse Viator's Edinburgh Halloween tours and activities and USA Halloween tours and activities!