New Orleans usually conjures images of drunken stupidity, debauchery, neverending parties and strip clubs and Bourbon Street. With its anything-goes attitude, New Orleans can attract visitors looking to lose themselves in the party.
But where is the real New Orleans lurking? The one that has inspired artists, poets, and songwriters. The New Orleans that charms with its hospitality, beauty, and world-famous cuisine.
Travelers should experience New Orleans beyond Bourbon Street, by visiting the city's neighborhoods, each with a distinct personality but the same trademark joie de vivre.

The Marigny and Bywater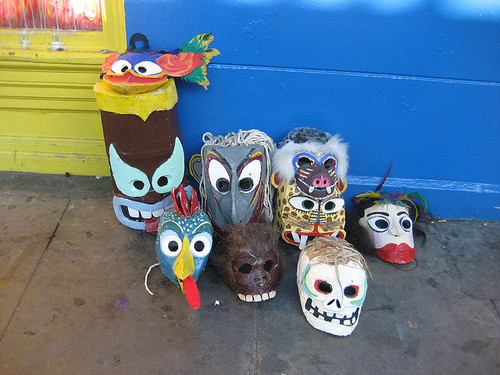 Photo credit: Infrogmation of New Orleans via
Flickr
Just down river from the French Quarter, the Marigny (pronounced Mare-uh-nee) and the Bywater districts are quieter alternatives to the historic quarter's mishmash of drinking establishments and t-shirt shops. Home to artists, musicians and free spirits, these neighborhoods offer a colorful collection of the city's famous shotgun houses and the occasional bar or restaurant. The best way to explore these areas is on foot or by bike. You can rent a bicycle from Joy Ride Bike Rentals or Bicycle Michael's. If self-guided tours don't appeal to you, Confederacy of Cruisers in the Marigny offers popular guided tours to various spots in the city.
If it's nightlife you're after, head to Frenchmen Street, where establishments like Snug Harbor, d.b.a., and the Spotted Cat offer live music every night of the week featuring the city's best musicians. If you're looking for food, try Marigny Brasserie or Port of Call for local fare, though you should be prepared to wait for a table. If you're in a hurry, there's also Mona's Café, a Lebanese restaurant on Frenchmen. There's hardly ever a wait and the hummus is fantastic.
Stop for coffee and a snack or a smoothie at Satsuma Café, where the baristas know how to pull a great shot of espresso. The dimly lit café is dripping with Voodoo-themed décor and quirky local art.
A less uplifting but important point of interest is the Plessy v. Ferguson historical marker at the corner of Press and Royal streets. The plaque marks the site of Homer Plessy's 1892 arrest for violating the Louisiana 1890 Separate Car Act. The law was eventually upheld in the U.S. Supreme Court, supporting racial segregation.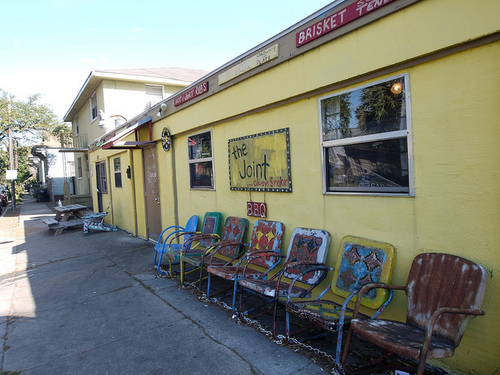 Photo credit: lulun & kame via Flickr
No evening in the Bywater is complete without dinner at The Joint, a shack ("restaurant" is probably a stretch) that serves pulled pork, brisket, mac and cheese, and ribs on disposable plates. Don't be fooled by the building's appearance; this stuff is arguably the best in the city. After you fill up on saucy meat, walk over to Bacchanal, a wine bar where there's almost always live music on the back patio.
Read more: Top 10 Places to Eat and Drink in New Orleans

Mid-City/Esplanade Ridge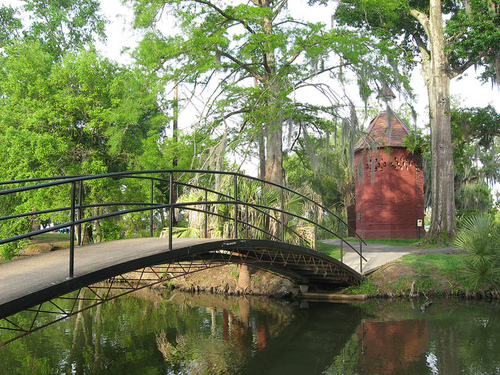 Photo credit: javacolleen via
Flickr
Mid-City sits northwest of the French Quarter along slow-moving Bayou St. John. The neighborhood was once a swamp before engineers drained it in the early 1900s. Now, it's considerably more inviting, with oak-lined streets, historic homes and excellent restaurants.
There are lots of great walking opportunities in Mid-City. Nearby is City Park, New Orleans' largest urban park covering an astounding 1,300 acres of walking and biking trails crisscrossed around huge oak trees and lagoons. Bayou St. John runs along the east side of the park before it cuts into Mid-City, and you'll probably be among numerous joggers and walkers--and sometimes crew teams -- if you chose this route. If you're here on a Thursday, head over to the Crescent City Farmers Market to sample local goods.
Read more: Family Fun in New Orleans City Park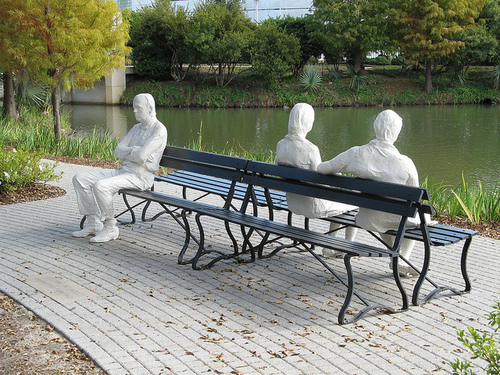 Photo credit: urbanmkr via Flickr
Stop in the Fair Grinds Coffeehouse, where the beans are fair trade and the people-watching is probably the best in the city outside of the French Quarter. Other indoor activities in Mid-City include the New Orleans Museum of Art and the free Besthoff Sculpture Garden. Evenings are well spent at Mid-City Lanes Rock 'n' Bowl, a veritable institution in New Orleans. Let's be real: more people come here for the music than for the bowling.
Another New Orleans institution is Parkway Tavern and Bakery, a favorite with the locals for its po'boys -- sandwiches featuring fried seafood or meat stuffed between crispy slices of French bread. Order yours "dressed" with lettuce and tomato, and if you're feeling adventurous try the alligator sausage. If you're looking for something fancier, venture down Esplanade, where a cluster of great dinner spots sit between the Maurepas St. and N. Lopez St. intersections.
Read about more things to do in New Orleans

Uptown and the Garden District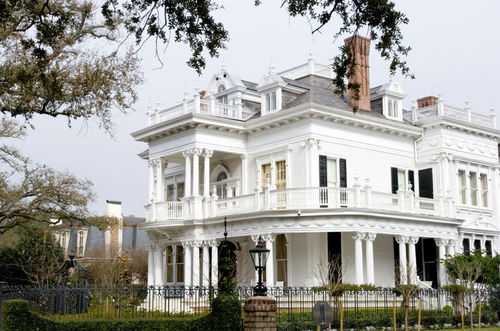 Uptown and the Garden District lie just upriver from the French Quarter and the Central Business District, with New Orleans' grand boulevard, St. Charles Avenue, slicing through the middle. Driving, walking, or riding the streetcar down "the avenue," St. Charles will impress with its oak trees and stately mansions.
Greek revival is the architecture of choice in these areas, but peek behind the wrought iron gates and you'll see charming courtyards and impressive gardens. Book a reservation (as far in advance as you can) for Sunday Jazz Brunch at Commander's Palace, one of the city's most renowned restaurants. Be sure to walk through Lafayette Cemetery No. 1, across the street from the restaurant, for a great example of New Orleans' eerie "Cities of the Dead."
The palatial homes continue into Uptown, once a collection of plantations until it was developed as a residential community in the 1890s. Today, it's home to many of New Orleans' long-established families and Mardi Gras royalty.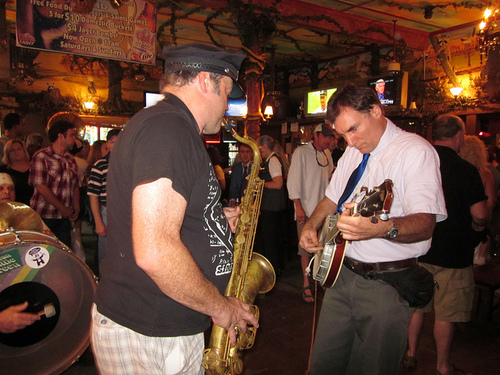 Photo credit: Infrogmation of New Orleans via Flickr
Take a walk in Audubon Park, home to the zoo and lined with more impressive homes and stately oak trees. Treat yourself to brunch at the Audubon Clubhouse Café -- and try for a table on the wide veranda overlooking the park.
Have drinks at either The Columns or The Delachaise (or both -- this is New Orleans, after all), which are great places to watch the streetcar go by. Numerous other eating and drinking establishments line the six-mile long Magazine Street, which runs through both districts on its way towards the French Quarter and the river. This is also the area you should visit if you're after unique gifts and boutiques.
Start off an evening of great food at Pascale's Manale, which has an oyster bar in front and a fantastic restaurant with New Orleans fare in back. If you stop at the oysters, have dinner at Dante's Kitchen, technically in the Carrollton area of Uptown.
A cluster of cafes, restaurants, and shops line Oak Street, also in the Carrollton area. If you come at night, head to the Maple Leaf bar, where there's live music nightly. It's one of the oldest music venues in the city, playing jazz, rock, and zydeco, along with a Sunday poetry reading featuring established local poets in the longest running poetry reading in North America.
No visit to New Orleans -- or Uptown -- is complete without a snoball. Snoballs are snow cones perfected. The finely shaved ice is delightful, and the flavors are seemingly endless and sometimes inexplicable (Silver Fox? Popeye?). Plum Street Snoballs is one of the oldest in the city and a chance to visit yet another New Orleans institution.
- Megan Hill for Viator