If you've got a thing for flowers, color, beauty, history, and/or sweet smelling air, Keukenhof Gardens in the Netherlands, not far from Amsterdam, is the place for you. It's gorgeous. So gorgeous, in fact, that no-one has ever taken a bad photograph there. Well, not of the flowers anyway.
Keukenhof is the world's largest flower garden, over 70 acres (around 32 hectares) of parkland filled with more than 7 million bulbs - tulips, daffodils, hyacinths, narcissi, gladioli. But mainly it's the tulips - of course, since this is the Netherlands. Located near Haarlem, just outside Amsterdam, it's easy to get to by train and bus or car, even bicycle - this is the Netherlands. There's even a bus that goes there direct from Schipol Airport. And once you get there, you can't get lost in the gardens because there is one big landmark to guide your way - yep, it's a windmill; after all, this is the Netherlands. Tulips, tick. Bicycles, tick. Windmills, tick. I haven't got to clogs yet, but I will...
Read on for tips for planning your trip to Keukenhof Gardens.
Keukenhof Garden Tours: Plan Ahead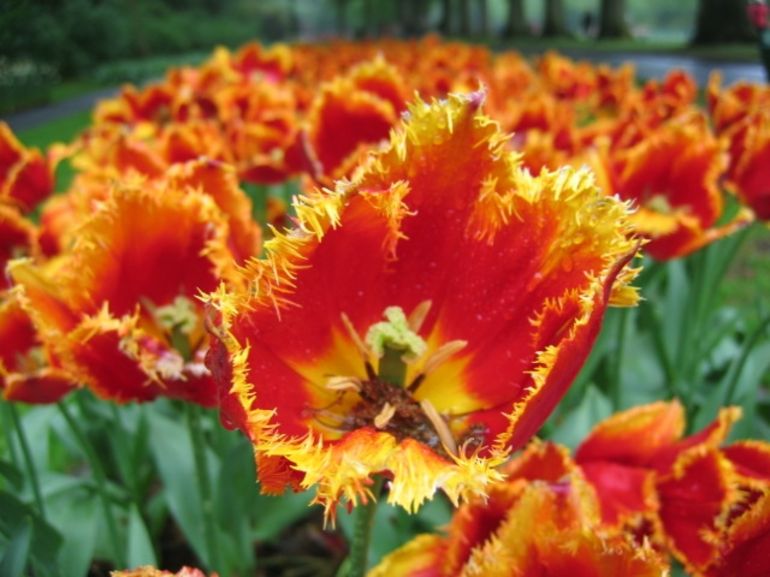 The most important thing to remember about Keukenhof Gardens is that it's only open in spring, when the bulbs are flowering. That's about 8 weeks of the year. In 2013 they are open from March 21 to May 20. The rest of the year, the bulbs sleep - not a bad gig. But during those 8 weeks, the flowers really deliver: over 800,000 people visited the gardens last spring.
The flower gardens at Keukenhof were established in 1949, the idea of Mr W J H Lambooy, the then mayor of the nearby town of Lisse. He and a few other local identities thought that an annual open-air flower exhibition would be a good thing - largely for the local growers of bulbs to be able to exhibit and sell their wares.
They decided on the Keukenhof Estate, using the former herb and vegetable garden area of the 15th-century Countess of Holland, Jacoba van Beieren. Hence the name of the place: Keukenhof literally means 'kitchen garden'.
These days the park includes 7 inspiration gardens (ideas for you to try in you own, somewhat smaller, plot at home!); bronze sculptures by Dutch artists scattered around the place; changing exhibitions of flowers; and tents or kiosks from local bulb growers where you can order your favorites, which will then be delivered around September when the bulbs are in their deepest hibernation, gathering strength for next year. Every year about three billion (that's 3,000,000,000!!) tulip bulbs are produced in Holland.
Tulips for Beginners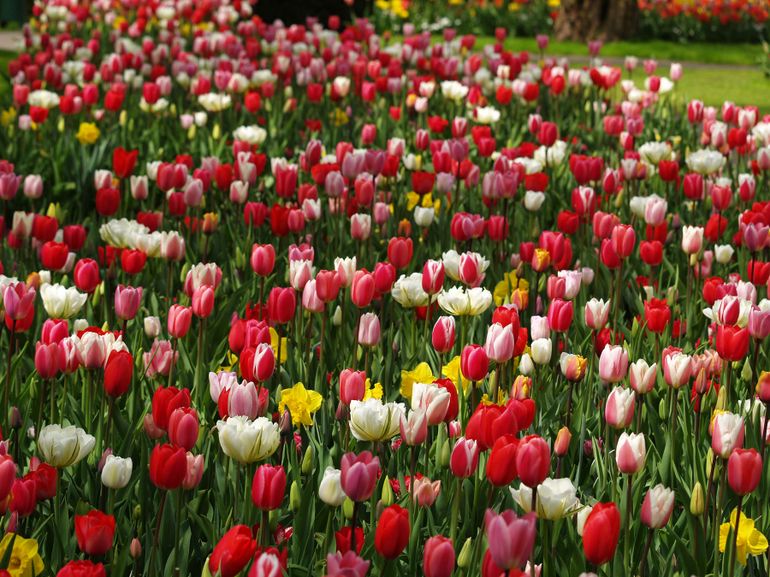 One of the most amazing things about tulips is the variety and color. Every year Dutch growers breed new strains of the flower. Which brings me to more history and the most amazing thing I discovered in my investigations of Keukenhof: tulips are not Dutch at all! Well, they are now, about 500th generation (if every year is a generation for bulb?). But they do not grow wild in the Netherlands and never have.
In fact, the natural habitat of the tulip is the rocky, dry mountainous regions near the border of China and Russia. The kind of flat, below sea-level, damp earth of the Netherlands is their least favorite environment, although I'm sure by now they have adapted. And the Dutch are very good at draining soil, let's face it. So how did tulips get to the Netherlands?
And why did they become such a national symbol? A botanist called Carolus Clusius who worked in Vienna, met with the Austrian Ambassador to the Ottoman Empire, A. G. Busbequius. Busbeq gave him some tulip bulbs, a flower he had first seen in the gardens of Constantinople (now Istanbul). In fact, they are thought to be called tulips after the Persian word for turban (toliban, which when changed into Latin became tulipa) because there was a visual similarity between the hat and the flower. Clusius then took a job at the University of Leiden in Holland and planted his tulip bulbs.
From there, tulips became the new black. Tulipmania followed, with speculation in tulips reaching such dizzy heights (and losing so many Dutch their fortunes, houses and piece of mind) that the government stepped in during 1637 to stop the tulipwindhandel (literally 'tulip wind trade'). I'm envisaging it as a vegetarian form of the pork bellies mayhem that occurs on Wall Street these days. Anyway, now the tulip is no less desired, or valuable, but it is more even-tempered in its trade. It is also now firmly a Dutch symbol and foundation of their economy, it's roots in the east largely faded into history.
Tulips + Ukulele = Tiny Tim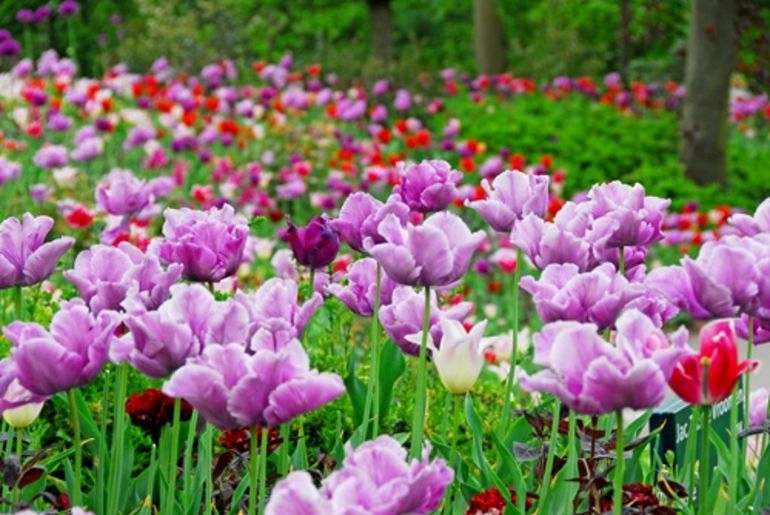 But not only have tulips been so important to one country, they were crucial in the life of one short man with a high voice: Tiny Tim. His 1968 hit song, 'Tiptoe through the Tulips', made him a worldwide star. ,It was not an original but a cover of the song written in 1929 by Nick Lucas (the song had four other incarnations on the pop charts through the 20th century).
I think Tiny Tim was the only one to add ukulele, though, and that made him a standout! Married live on The Tonight Show surrounded by 10,000 tulips, naming his daughter Tulip, and finally being buried in a coffin full of tulips, no-one could say Tiny Tim was not grateful for the leg-up tulips gave him in life. (A useless but fascinating fact: Tiny Tim's televised wedding to Miss Vicky in 1969 attracted 84% of the American TV audience, coming second only to the moon landing in ratings during the 1960s.
I bet producers these days wish they could match that. Perhaps if Britney surrounded herself with tulips and... but back to Keukenhof.) So, this humble flower has an incredible history. It has made people rich and lost them their houses, it has been a basis of its adopted country's economy, it has brought joy and been cut from its bulb to be given with love, it has inspired song and television history.
Keukenhof Garden Tours: Remember, it's March to May Only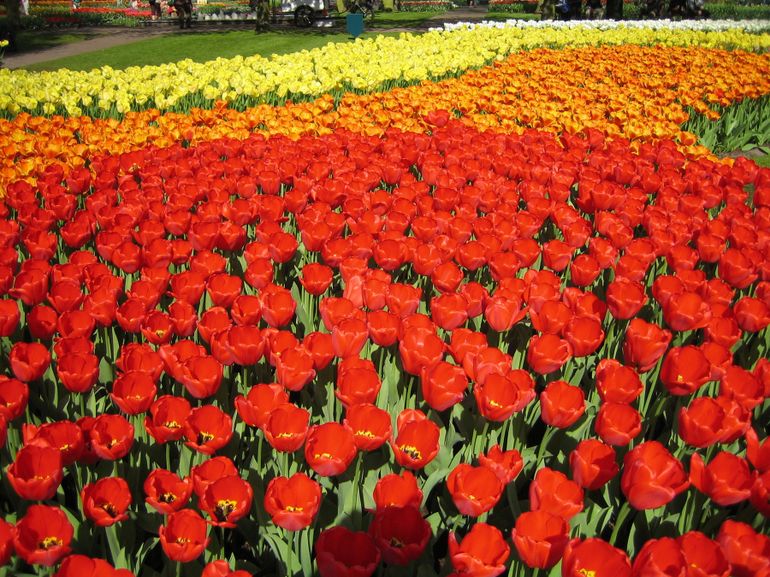 Keukenhof Gardens is truly beautiful. The sheer scale immerses you in color and fragrance. But I think my favorite thing about it is that it's only open for 8 weeks each year. There's no theme-park style manipulation of nature here. No hothouses tricking the bulbs into thinking it's spring all year around. The flowers bloom from March to May, so that's when you can go and see them. Perfect. One final word of advice: Keukenhof Gardens is a big place. You'll be doing a lot of walking. You probably shouldn't wear clogs. (And you thought I'd forgotten...)
Book a Keukenhof Gardens tour
- Philippa Burne for Viator
Book a Keukenhof Gardens Tour over on the Viator site, or read more than 70 reviews of the Keukenhof Garden tours. Also check out Viator's complete list of things to do in Amsterdam and the Netherlands. Still with us? Good, then browse photos of the Keukenhof Tulip Gardens in bloom.