On January 3, 2004, Spirit, a golfcart-sized vehicle, encased in a shell of inflated airbags bounced more than two dozen times before settling onto the Martian surface. A month later, its twin, Opportunity, performed a similar spectacular landing on the opposite side of the planet.
When things calmed down, their air bags collapsed, and each Martian rover emerged, turned her solar panels towards our sun's rays, to get charged up to hit the "road" and begin exploring our most earth-like neighbor. The Mars Exploration Rover (MER) mission was designed to go for three months. But these hardy, ingeniously-designed, little machines didn't quit for years.
Spirit finally went silent in 2011, and Opportunity is still going strong, recently joined by her five times larger big sister, Curiosity. The ten year anniversary of MER's success is a newsworthy , extraordinary achievement worth a lot more than a sound bite on television, or 500 words in a newspaper. So I'm going to recommend a most enjoyable way to learn more: Read a terrific children's book on the subject.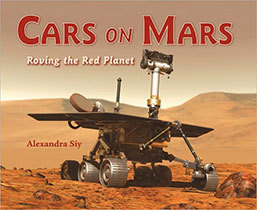 Cars on Mars: Roving the Red Planet by Alexandra Siy starts the Martian road trip: "Go 303,000,000 miles, then stop at the fourth rock from the sun." She introduces the principal investigator of the project, Dr. Steve Squyres, a geologist with a powerful need to get his rock hammer on the red planet. But he is not the only personality in this book. The two rovers, Spirit and Opportunity come to have a life of their own, so you can't help rooting for them. Siy captures the passion and drive of the team of scientists and engineers that made this exploration happen. This riveting read is a painless way to learn about space science, especially for the science shy.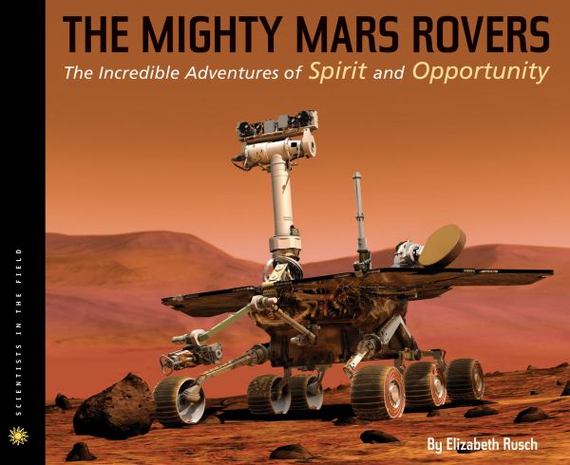 The Mighty Mars Rovers: The Incredible Adventures of Spirit and Opportunity by Elizabeth Rusch is a stellar addition to the Scientists in the Field series. Told from the point of view of the scientists who worked on the project, particularly Dr. Squyres, it is a compelling account of their emotional highs and lows of a project that "...was so complicated that not a single one of us fully understood what was going on." The reader shares the jubilation of the landing, the fear of failure at the first glitch, the thirst to know more at the first tantalizing discovery of a uniquely Martian rock and the anxious concern when Spirit got stuck in Martian sand.
Both books received various starred reviews. They will interest adults and open everyone's eyes to the kind of books kids should be reading to meet the CCSS; if only more teachers and administrators were aware of them and listened to their librarians.