Carmen Fariña, Mayor DeBlasio's choice for Chancellor of the NY City Public Schools, may be small in stature but she has big dreams and a hugely ambitious agenda for the nation's largest public school system. On April 12 she summed up her first 100 days in office with a major address at Columbia's Teachers College (TC) Academic Festival to a room full of education pundits, professors, alumni, and young educators who will be attending the TC in the fall.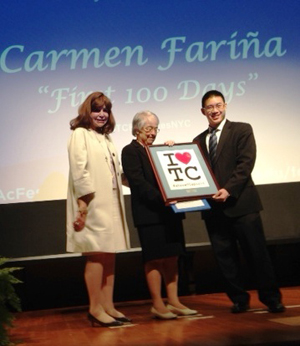 Against the background of a rising groundswell of parents opting to keep their children from taking the standardized tests and teachers struggling to learn how to do the paperwork that accounts for how well they are teaching the Common Core State Standards, Chancellor Fariña said:
Today, I'm here to tell you where the answers to some of our more perplexing education problems lie: They're in the room.

We are a system of professionals who are passionate about our work, who have the expertise and experience to lift everyone up. If you're searching for answers to the challenges of our work--they lie in the room. In this room and in the classroom.

For too long, the education efforts of this City were outside the classroom. That changed 100 days ago.
This opener was followed by a burst of cheering from the previously sedate audience.
It is no secret that the best educated nations have a profound respect for teachers. So Fariña's first of four "pillars" of support for NYC education is "to return dignity and respect to our work force."
Her second pillar is to "improve student achievement by aligning Common Core strategies with everything we do." Since the Common Core is proving to be a hot-button issue, the problem is not in the standards themselves (read them, they're benign) but to make sure they lead to:
Academics as well as the arts. We must ensure that all of our students, not only graduate, but graduate with a well-rounded education that will enable them to succeed in college and beyond. By stressing the Common Core strategies in everything we do and increasing our use of technology, we increase the opportunities for success.
Chancellor Fariña's other two pillars are "to engage parents in every aspect of school life" and "to create new collaborative and innovative models within the City and the schools."
It was refreshing and heartwarming to hear my concerns with the current state of education addressed with such clarity and purpose. Her sentence that resonated most with me was:
It's time we give teachers the respect they are due and give them room to do what they do best and in the process return JOY to the classroom.
I was reminded later in the day that she is the 16th chancellor in the last 30 years, some of whom barely lasted a year. The scale of the job is breathtaking--1.2 million children, 125,000 employees and budget of almost 25 billion. But she brings a wealth of personal experience to the position. She entered the NYC public schools as a six-year-old, non-English speaking child, taught in a classroom for more than two decades, can still deliver a box-office classroom lesson, and administered staff as a principal, superintendent and deputy chancellor. She is the ultimate insider taking the reins after years when the system for educating children was treated as if it were a (manufacturing?) corporation.
Except for the unfortunate appointment of Cathie Black as chancellor in 2011, whose tenure lasted 95 days, Carmen Fariña is the first woman to occupy this position. Women leaders are less hierarchical than men, more apt to lead by creating community, fostering collaboration, and working in partnerships with others.
Indeed, Carmen Fariña ended her address with a quote from an African proverb:
"If you want to go fast, go alone. If you want to go far, go together."
If she wants what I and my colleagues offer, we're enthusiastically on board.