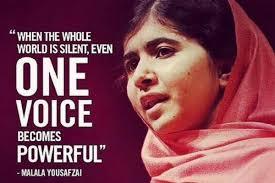 Just the thought of Malala Yousafzai brings tears to my eyes. If you don't know who she is, you should. She will be giving a Nobel lecture this week as the youngest person to ever receive the Nobel Peace Prize. A major accomplishment for anyone let alone a seventeen year old young woman. She has a single purpose that defines her life: the right to an education for every girl and boy on the planet. As a Pakistani, where women live life in the shadows, she has fought since she was eleven years old for this right, gaining self-confidence in delivering her message in spite of many obstacles. These include the militant Taliban who controlled the Swat Valley where she lived, an earthquake, a flood, lack of financial resources, war and injustice. In October of 2012, when she was fifteen, she was shot in the head on her school bus, the target of assassination. The Taliban claimed credit for this diabolical act. Miraculously, she survived without serious impairment. More good news is that she is still fearlessly speaking out, now on the world stage, a hugely enlarged platform thanks to those who tried to silence her.
I've just read her memoir, I Am Malala. She is like the child in the fable The Emperor's New Clothes who speaks unvarnished truth with the impeccable logic of the child who is naïve about political correctness.
"If the [the Taliban] come, what would you do Malala? ...If you hit a Talib with your shoe, then there will be no difference between you and the Talib. You must not treat others...with cruelty...you must fight others but through peace, through dialogue and through education...then I'll tell him [the Talib] how important education is and that I even want education for your children as well... that's what I want to tell you, now do what you want."
Like the, Diary of Ann Frank, you cannot escape the voice of a young girl who has fights with her friends, cares about her appearance, and voices her hopes and dreams for her future and that of the troubled world. When asked what made her fight for education, she describes how badly she felt when her school was closed, how it made her realize how important her education was to her when it was taken from her. Of course, her father was an outspoken educator and founder of her school. But he does not put words in her mouth. She is very much in charge of her own destiny.
"I speak not for myself but for those without voice... those who have fought for their rights... their right to live in peace, their right to be treated with dignity, their right to equality of opportunity, their right to be educated."
The poet Theodore Roethke said "The notion of emptiness generates passion." Malala is not only motivated to speak out about education for all children, but she is determined to pursue her own, now in the UK. At a very early age she understood how important it was to be literate, perhaps because her mother wasn't. She did her schoolwork conscientiously, studied for exams and took pride in getting high marks.
According to the latest statistics, 3,030,000 U.S. students drop out of high school each year; that is 8,300 students a day. How can we motivate students to fight for their own interests in acquiring an education? How can we inspire them to do the hard work needed? Maybe they need to hear Malala speak. Please do your part to share her message with the children in your life.