Walter Morris, a true American hero, died on October 13, 2013 at the age of 92. As of yet, no obituary has been published in the national press. The irony of this oversight would not be lost on Sergeant Walter Morris. As a black soldier in the army in during WW2, his job and that of the other African Americans in his unit was to guard The Parachute School at Fort Benning, GA, the base for training white paratroopers, an elite combat division. Service jobs were common for black soldiers in the then segregated army; they were used to being passed over for the more prestigious assignments. Morale among his troops was low, so Morris started a training program on his own. He had his men use the facilities of the base after hours to do the same intense paratrooper training exercises he had seen the white trainees do. This produced a dramatic change in the outlooks of his men as they became increasingly able. Their efforts were noticed by General Ridgely Gaither who invited Morris to help put together the first platoon of black paratroopers, the 555th Paratroop Infantry Division -- known as the Triple Nickles -- in the fall of 1943.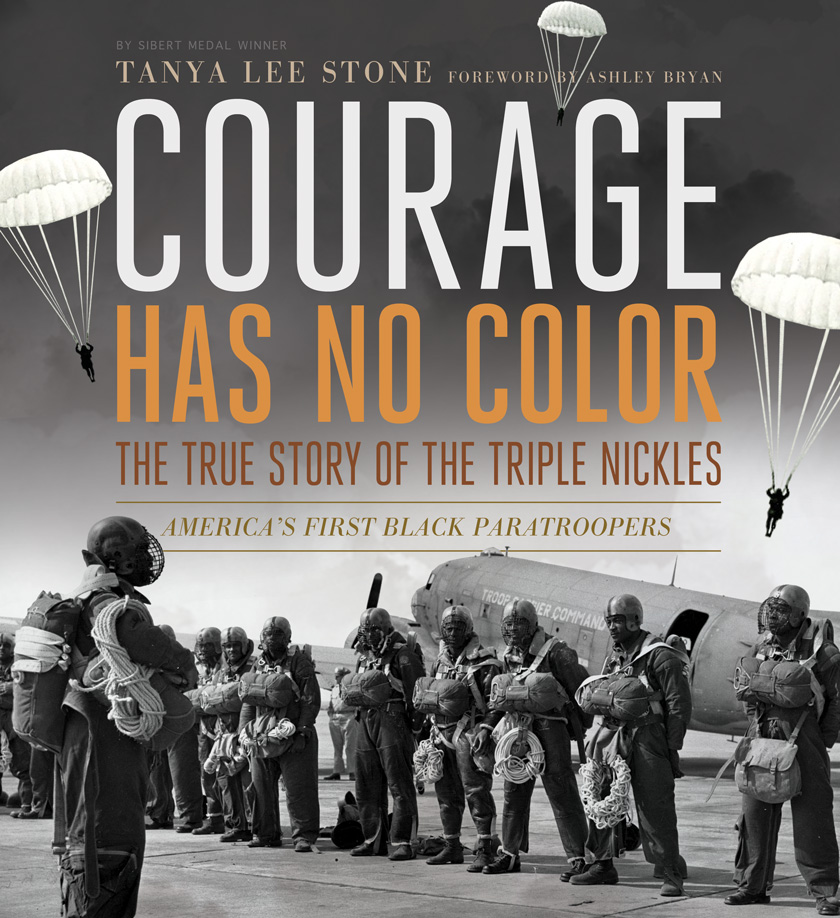 The story of Walter Morris and the Triple Nickles is a compelling and moving read in Tanya Lee Stone's new book Courage Has No Color: The True Store of the Triple Nickles, America's First Black Paratroopers. A lesser-known story than the 2012 movie Red Tails, about the Tuskegee Airmen -- the first all-black unit of fighter pilots -- it is no less important as a recently recovered piece of American history. Although the Triple Nickles never saw combat, they received orders for a highly classified mission. They jumped into American forests to search for bombs that had been sent from Japan via the Jet Stream suspended from giant paper balloons. Subsequently they were trained to fight forest fires and became among America's first smoke jumpers.
Courage Has No Color is a children's book -- for grades five and up. It is the kind of book that the Common Core State Standards suggest teachers incorporate into students' classroom work. It is an inspiring tale that fits into curriculum units on American history, WW2, black history, civil rights history and even a discussion on bullying and racism. Tanya has a reading guide on her website to help teachers use the book and to see how it meets the CCSS. But this is a book for adults as well. Meticulously researched using primary source material, the story comes alive against the background of segregation, American values vs. Hitler's monstrous acts, and the passions of young American men who were frustrated in demonstrating their loyalty to their country by the color of their skin.
Tanya Lee Stone has been trying to get a major news outlet to publish an obituary for Walter Morris. She writes:
Standing in the open door of a plane, about to launch himself down into a forest on fire, a thought occurred to him: 'Why should I die for a country that thought so little of me and my people?'

Even as he thought it, he knew why. That was the thing about Walter. He had a quiet dignity, an ability to know what was important even in the face of hardship and injustice. That day, way back in the summer of 1944, he told himself, just as he told me many decades later: 'The answer was simple. This is my country. This is my duty regardless of the social climate, regardless of the faults. This is my country, my children's country and their children's. It is up to me and many, many people of all races and cultures to fight the haters and racists to make this a better place to live.' Walter continued to spread this particular gospel until the end of his life.
In lieu of an obituary, this will have to serve.
---
Note: As of October, 21, 2013 Walter Morris' obituary has since been published by the Washington Post