"Columbia is full of beauty queens," says Columbian soap opera star Laisa, "We have beauty pageants for everything. Miss Yuca. Miss Potato. Miss Jelly. The only one we don't have is Miss Cocaine, thank God."
You can meet Laisa, her co-judges, the denizens of cell blocks one through nine, some prison guards who can dance, and their rival heiresses to the prison throne, when HBO premieres La Corona (The Crown), an Oscar-nominated short documentary about an annual beauty pageant in a prison in Columbia. Think incarcerated carnevale.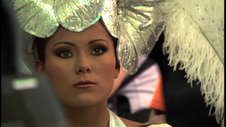 More to the point, think life in the face of poverty, confinement, big wrong turns, and hope retained despite the odds.
La Corona, the story of a glamorous competition most of us won't ever qualify for, is a heart-rending tale of beauty pageant chic with beauty pageant chicas you will not soon forget. It follows the true story of four inmates as they gather their courage and dance steps to compete for respect and a moment in the spotlight. We've all done it for a prom or a charity ball or maybe metaphorically in our daily lives. But you've never seen it done like this.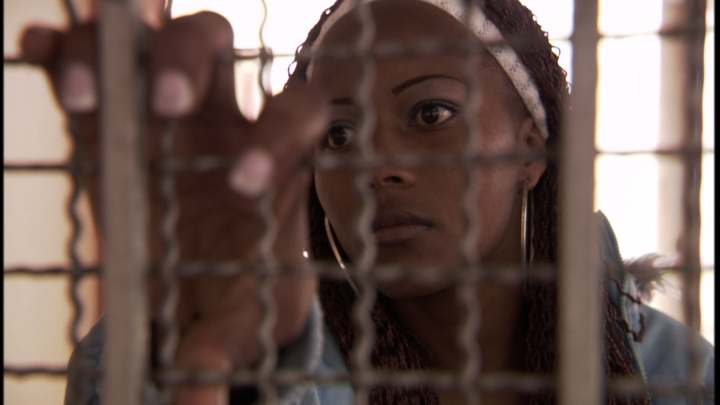 No Bob Mackey gowns or diamonds on loan here, but when push comes to shove, and there's a little of each in this film, style is about grace under pressure, and, give or take a few iron bars, the pursuit of liberty.
How did filmmakers Isabel Vega and Amanda Micheli choose and pursue this fractured fairy tale? "Isabel is originally from Colombia and has always wanted to make a film there," says Micheli. She had been developing an idea about beauty pageants, and heard that there was a pageant in the Bogota women's prison. She told me about this and I was instantly intrigued--it sounded like a perfect documentary -- so we decided to team up and make the film together. We had worked together previously on Lauren Greenfield's Thin, about an eating disorder facility, and met years before that on a series called Freshman Diaries."
Isabel Vega was particularly interested in what she calls "my culture's obsession with beauty pageants. A few years ago while I was in Cartagena doing some research, a good friend of mine sent me an article that she had found about the pageant in the prison. I was fascinated by it and decided to make La Corona."
The experience of shooting in a women's prison in Bogota is its own action-packed thriller. "It was amazing at times," says Micheli, " exasperating at others. Pretty much every day, we had to bring a typed list of what we wanted to film to the director's office and get her to sign it. Some days, we would wait outside her office all day, knowing that we were missing a great scene inside--and other days, even if she signed the paper, if a guard inside questioned it, we got the boot. Typically, we were only allowed to shoot a few hours at a time, so we just had to be really patient. Most days, it was me, Isabel, and our San Francisco-based sound-recordist, Tami Stepanek, who doesn't speak a word of Spanish and was a total trooper. We didn't really have assistants unless it was a big pageant day, so once we got inside the secure area, we had to make sure we had everything we needed--you couldn't just run out and grab a new tape or battery, and there was no cell phones or walkie-talkies allowed. So it was more challenging than the average production to be sure."
The prison itself plays a supporting role in the story. "The thing that I think we all had to adjust to the most was that the prison didn't really look like a prison to our eyes at first. Many of the women there are very young, and they all wear street clothing, jewelry, and make-up. At first, it makes you think it's not that tough in there--but then you find out, the reason they don't have uniforms is because the prison can't afford them. The women scrape together money for basic needs that the prison can't provide, which is tough to do from the inside, to say the least."
And the villain in this story? Time. "One of the things that most Americans can't imagine is that there is no trial for accused criminals in Colombia, so once you are arrested, they instantly put you behind bars, no bail, and you have to wait until a judge decides your sentence. So while it's undeniable that many of the women in there committed serious crimes, they all suffer long waits for sentencing, which rarely matches the offense."
Vega agrees that shooting in the prison was nothing like what she expected it to be. "After all the red tape," she says, "which there was a lot of, I found the prison to be like an all girls' school. The women do not wear uniforms. They have access to a beauty salon inside the prison. I wasn't sure how they'd react to us, but after earning their trust they were quite comfortable around us and we around them. I remember during one of the first days of shooting I got stuck in a swarm of inmates. Once they saw me and realized I needed help, they all cleared a path for me so that I could continue shooting. Ironically it was the guards and the prison administration that gave us the hardest time."
So what happened after the beauty queen was released and ready to start her Cinderella life? It is a part you will not see in this film.
"Unbelievably, tragically," producers said, "she actually got shot and died a few months later. The women almost seem safer in prison than out in the world."
In an era of reality television where "people like us" compete for prizes and a big title, it's good to remember that even people "not like us" -- hit ladies and grand theft moms rather than the usual hockey moms in the news -- are part of the human story. Why? Good documentaries like this one leave that part of the thinking to you.