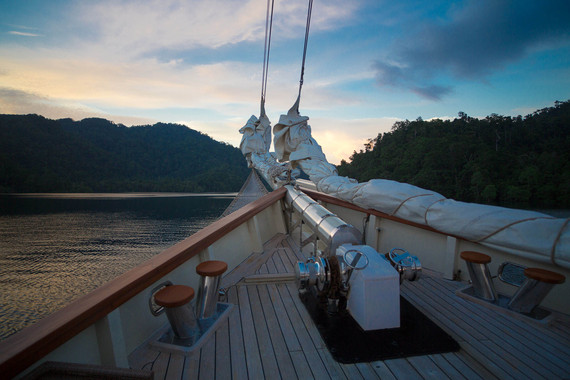 Mutiara Laut in Raja Ampat at the edge of the rainforest. Image © Indo Yachts
Indonesia's breathtaking archipelago spans over 5,000km from Sumatra to Papua, boasting incomparable biodiversity ranging from the best diving in the world to rainforest habitats to rival the Amazon. One could spend a lifetime exploring the 18,000 plus islands, which is exactly what Nikko Karki, founder of Indo Yachts, has been doing over the last seven years. And he's just getting started.
As with most adventures in life, behind every story there's a girl.
"The first trip we took together was to Komodo National Park and it changed our lives forever. We'd dive in heavy currents then hike to the tops of hills and survey the landscape. Amidst the natural beauty we felt like we were the first to discover a prehistoric paradise. Experiencing this as a couple laid the foundation for the life we wanted here in Indonesia."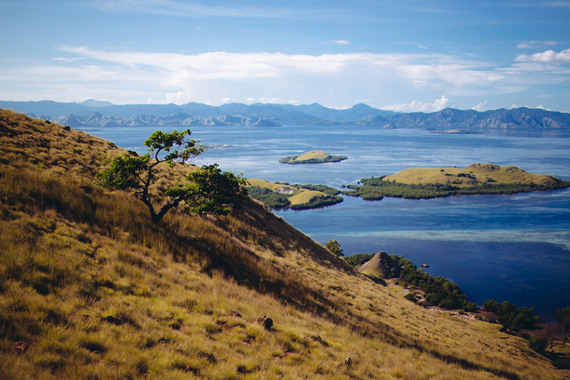 Hiking in Komodo National Park. Image © Indo Yachts.
Little did Nikko know that this trip to the Komodo islands with his now wife was just the beginning of many more adventures that would change the course of his life and career.
"Shortly after our trip to Komodo, we came across a cruise itinerary put together by a Belgian explorer to some rarely visited islands. It was a total DIY trip in terms of renting our own dive compressor, bringing our own gear, provisions and not knowing what to expect. We tried Googling the islands, but only about one in ten showed up. That's what got us hooked - the sensation of discovering new lands."
This expedition inspired Nikko to start thinking of how he could share the life-changing experience of exploring Indonesia's islands by boat with others.
"I felt like I had discovered a way of travel that wasn't even a consideration for most people I knew but it was just so much better than a traditional vacation. It was a real life adventure."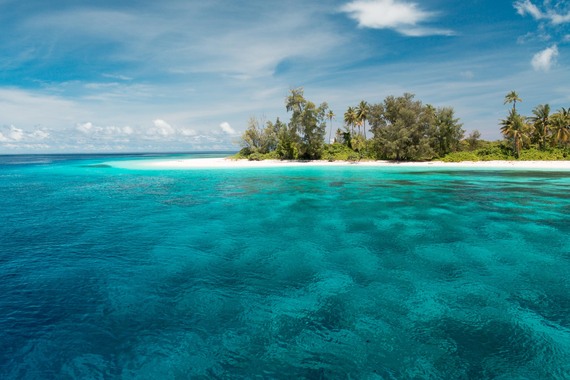 Crystal clear turquoise waters off Pulau Kalao, Indonesia. Image © Indo Yachts
Over the subsequent years, Nikko and his wife continued to explore the remote regions of Indonesia by boat. Even their newborn daughter is an experienced charter client in Komodo, from when she was just six weeks old.
The idea for what was to become Indo Yachts slowly took shape and eventually led to founding a new Indonesian company.
Nikko draws on his experience from a lifetime on boats in the Finnish lake regions, the Mediterranean, Caribbean, and now Indonesia. He wrote his Master's thesis on building and selling cruise ships and continued to work in real estate development. After nearly seven years in Indonesia Nikko founded Indo Yachts to merge ultimate travel experiences with unparalleled customer service.
"Indo Yachts is based on our expertise traveling the remote islands and choosing the right boats for our clients based on our personal experiences onboard. We can't represent a boat until we know the vessel and crew inside out and feel 100% confident that it's up to the task of taking our clients on a journey of their lifetime."
Throughout the process of gaining in-depth knowledge of prospective boats to work with, Nikko began to unearth stories of how building each custom yacht was an adventure in its own right.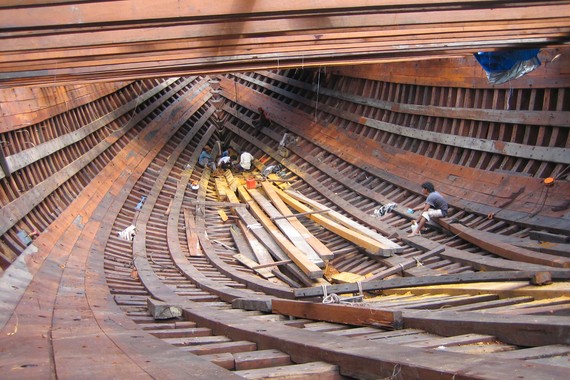 Dunia Baru's ironwood hull takes shape. Image © Dunia Baru
Indonesia's boatbuilding epicenter is in south Sulawesi, about a 12-hour drive from the nearest airport. Each yacht is hand built at the edge of the rainforest by master shipwrights from ironwood, an impermeable and rare natural material.
Nikko's excitement is apparent when he talks about the process of building the yachts, "The wooden yachts we work with are true labors of love. They start out as massive hulls in the jungle, formed from thick, heavy pieces of timber that are selected individually by master builders. Upon these hulls, the yachts take shape, outfitted with every conceivable amenity to rival the world's top superyachts."
The Indo Yachts fleet is a collection of breathtaking wooden sailing yachts that follow classic design but are outfitted with modern technologies. Each yacht is a seamless fusion of old and new, defining the meaning of an adventure superyacht custom built for sailing Indonesia's expansive archipelago.
The difference between Indo Yachts and traditional superyachts is that there is no room for pretension onboard a wooden sailing yacht.
"You can still feel like an adventurer and rough it a bit on shore, if you want, then have this immaculate yacht as your launching pad complete with every creature comfort. Pairing the amenities onboard a sophisticated yacht with nature's pristine backdrop is unlike any other experience on Earth."
Nikko continues, "The engineering systems provide the capacities and redundancies to cruise uninterrupted to as far as one's heart desires. The classic styling evokes the feeling that we're sailing back in time. These yachts are essentially the ultimate tools for experiencing adventures in the most remote regions in total comfort."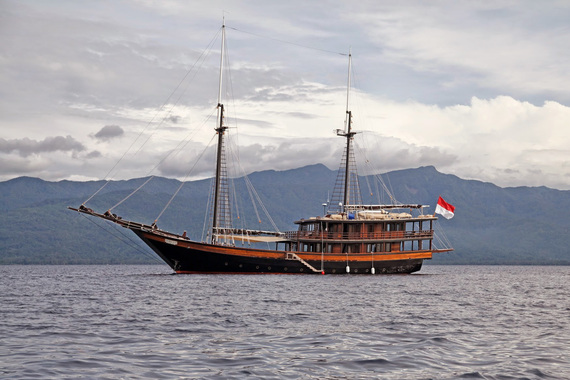 Magnificent Dunia Baru at anchor in Indonesia. Image © Dunia Baru
"Each yacht we work with represents the best in its category. We only want to work with a select handful of yachts that we know very well. It's a unique approach in the market and for us it's the only way we can recommend the yachts to our clients with full confidence. We've put together a fleet where the yachts complement each other. Each one has specific traits that will be right for a certain type of group or trip."
Indeed each of the yachts has its own charm and story behind it. But what stands out the most is that they are built around facilitating the kinds of special experiences that define an adventure.
"Dunia Baru is the crown jewel of Indonesia's superyachts. Anyone who loves boats is not going to believe their eyes when they step aboard. On a world-class scale, she's brought wooden boat building to new levels, innovating along the way of her eight-year build. The best way I can describe her is for you to imagine a treasure chest where every carving and detail is immaculate. Except inside the treasure chest is not jewels, but cutting edge technology supported by best in class engineering. The lighting, the sound system, the fresh air systems, everything is an iteration upon an iteration of seeking the very best quality and execution."
Now imagine having such a tool as means to venture to the edge of the world. In fact, in Indonesian "Dunia Baru" means "New World" which is what she was built for - family vacations to the edge of the world and back in total comfort.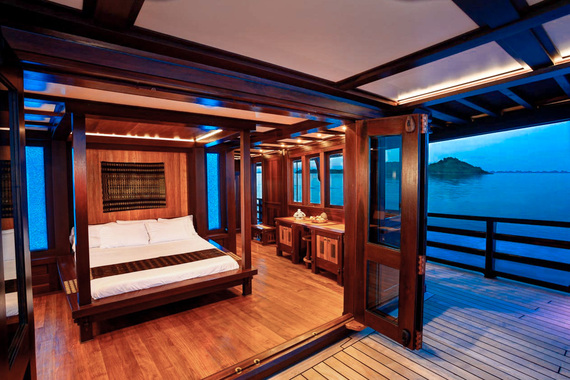 Dunia Baru's fullbeam master suite is incomparable. Image © Dunia Baru
Indo Yachts bring the elite tier of vessels together with people looking for unique experiences in the most remote and naturally beautiful places on Earth. For Nikko, it's all about the adventure to find beauty in what naturally exists.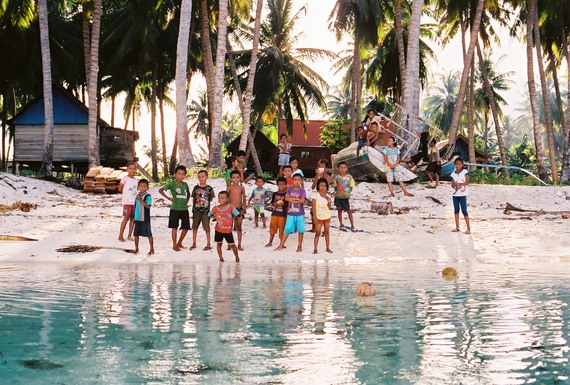 Kids bid us farewell from Pulau Kalao, Indonesia. Image © Indo Yachts
"No matter who you are, when you're on one of these small islands, you meet the kids, the people are so friendly and welcoming and you just forget the rest of the world and feel what it must have been like in simpler times. Nature is perfect when left alone, and the yachts are the ideal means for reaching these regions that are out of the reach of traditional travel."
If you've never been to Indonesia or you want to try something new, there's nothing like experiencing Indonesia's best through Indo Yachts. And as for Nikko, he's living the life of his dreams in the paradise he created for himself, which he openly shares with others.
"You know, taking the boats out to the outer island you have endless clear water, fishing, diving. It's just absolute freedom. I like the idea of raising my family out here and making our own life in nature. That's always been my dream and when I met my wife here and we shared this vision, well, it all just fell into place."
_ _
Indonesia's vast archipelago spans over 5,000km (around 3,200 miles) from Sumatra to Papua. The islands boast incomparable diversity ranging from Caribbean-like white sandy beaches to rainforest ecosystems to rival the Amazon. Under the surface, the scuba diving in areas such as Komodo and Raja Ampat is widely regarded as the best in the world.
For more information on how to begin your own adventure story in beautiful Indonesia, visit www.indoyachts.com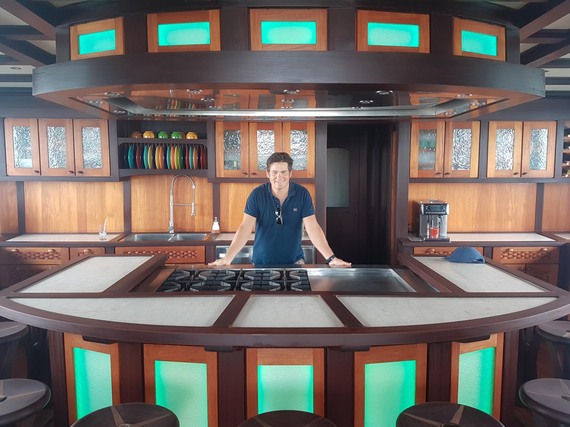 Indo Yachts founder and Director, Nikko Karki in Dunia Baru's open galley. Image © Indo Yachts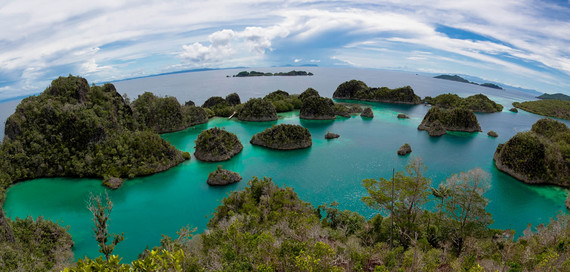 Picturesque Raja Ampat. Image © Indo Yachts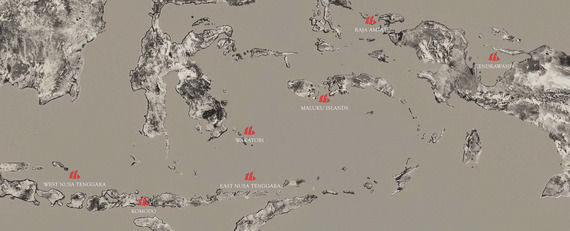 A map of some of the destinations Indo Yachts sails to spanning the length of the vast archipelago. Image © Indo Yachts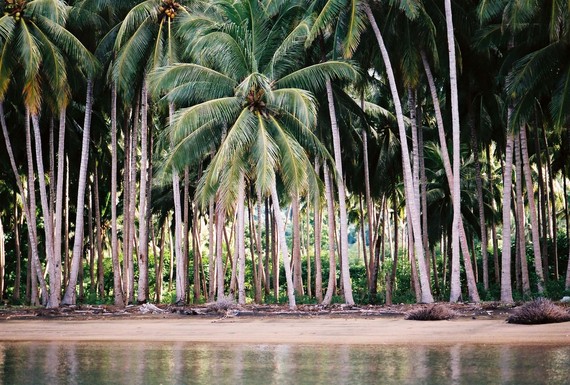 A remote island in Indonesia. Image © Indo Yachts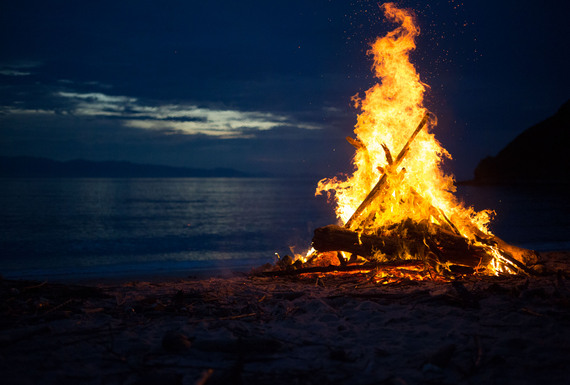 Indo Yachts traditional bonfire to end a cruise. Image © Indo Yachts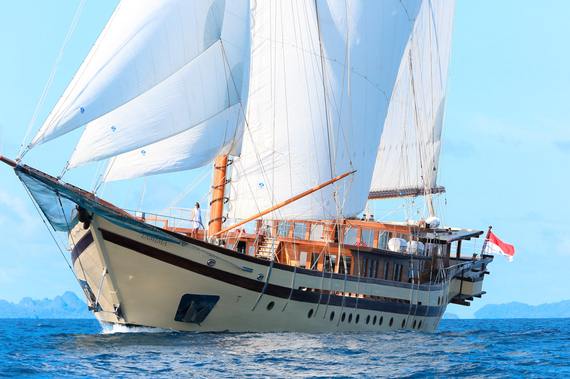 Lamima at sail. Image © Lamima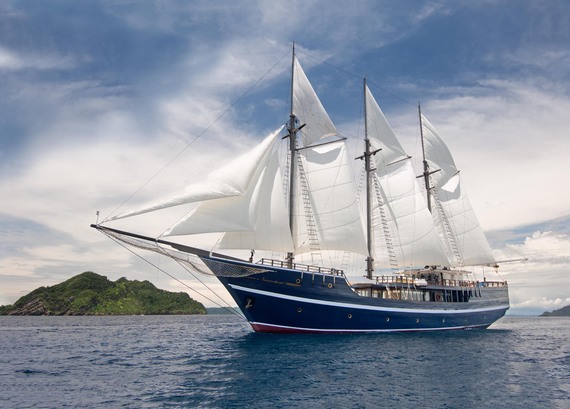 Dewi Nusantara under sail. Image © Dewi Nustantara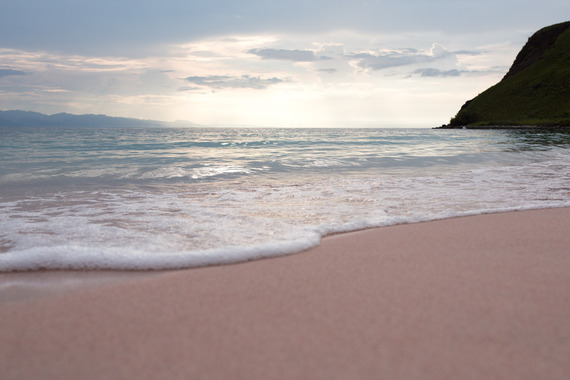 A deserted pink sand beach in Indonesia. Image © Indo Yachts