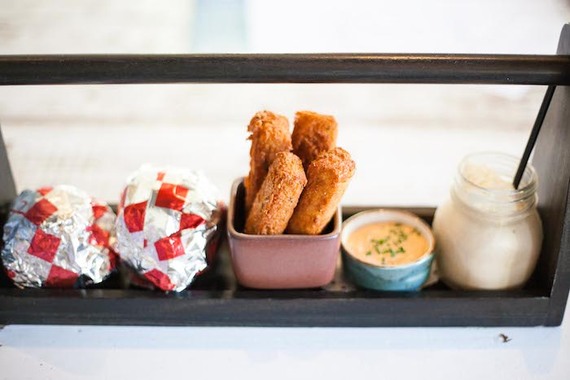 LA offers a desirable place for friends and family to vacation. Living in Downtown Los Angeles, we often welcome visitors through our door for weekends and extended stays. Happily, we get to act as tour guides, escorting our guests around the city to treasured favorites and quintessential local outposts. And, we always receive the request to dine at one of LA's "hot new restaurants", something our city is proudly known for. As of late when trying to impress with ambiance, great cocktails, delicious food and still an "LA" feel. We head to The Church Key, Los Angeles.
On the scene for a year, the whimsical dining experience is revamped, boasting new dining and cocktail menus. Recently, we arrived early (advisable) with a large group. Immediately, we dug into happy hour. It's hard not to instantly imbibe, when carts with tempting treats finding influence from all over the globe roll up table side. Satiating near starvation with delectable chickpea fries, a beautiful tomato salad, classic sliders and even a mini-rum mocha milkshake, we were in desperate need of The Church Key's seasonal cocktails to wash it all down. Creative cocktails infuse fine spirits and fruits like blackberry into drinks designed by Devon Espinosa.
While dim-sum-style options continue throughout the night, adding social and fun flair...a more intimate, upscale experience can also be achieved. Comfy seating nestled into alcoves of the restaurant complement chef/owner Steven Fretz's expansive menu, making for an ideal date night. And no matter the dining journey you choose, no visit to The Church Key is complete without an order of the delightful donuts.
Photo Credit: Robert Terrazas for 2Sense