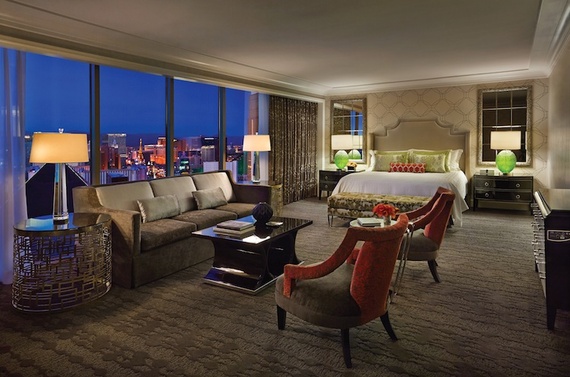 Over the past few years, changes to Las Vegas' cultural landscape developed new draws for a visit to Sin City. In other words, gambling and over-the-top performance shows now play second fiddle to luxury shopping, pool parties and seven-figure DJs. Literally, a 2013 New Yorker exposé on headphone-donning names such as Afrokack and Avicii exposed that these stars now keep the house flush in Vegas.
But what if you're a 30-something couple that now shies away from table dancing at Encore's XS? What is a homebody to do in Vegas? Aside from the obvious dining options, we found solace in an exclusive getaway right on the strip! With guest rooms sharing the Mandalay Bay Tower, a new lobby lounge and pool, minus the smokey casino, the Four Seasons Las Vegas becomes a new favorite when visiting a city in such close proximity to L.A.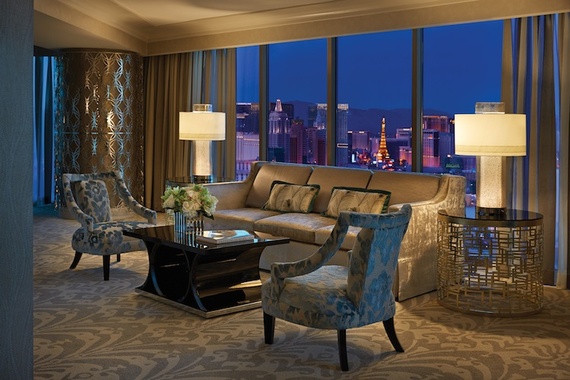 Having undergone a $30-million renovation, the restyled guest suites offer a full and half bath, spacious living room, office area, and a plush separate bedroom. Decor sits well above stuffy, but instead proclaims comfortably modern and a bit whimsical. And with floor-to-ceiling views of the strip, we see no reason to leave the lofty reprieve. Unless of course you make a reservation at the on-property Spa at Four Seasons Las Vegas.
Victor melted into his Four Seasons custom massage. The deep-tissue technique eased muscle tension and proved very calming. Mary's detoxifying body wrap was a pleasant surprise. After dry-brushing to promote circulation, an effervescent seaweed-based treatment -- yes, it's green -- slathers all over the body. You then receive burrito-style wrapping on a heated bed. As you sweat, the seaweed bubbles and the result detoxifies and relieves sore muscles. This treatment also replenishes skin with magnesium, calcium and trace elements. Lying for around 50-minutes, the most revitalizing scalp and neck massage unfolds. Post-wrap, enjoy any of the fully equipped spa features. Leave Las Vegas refreshed and re-energized... for once.