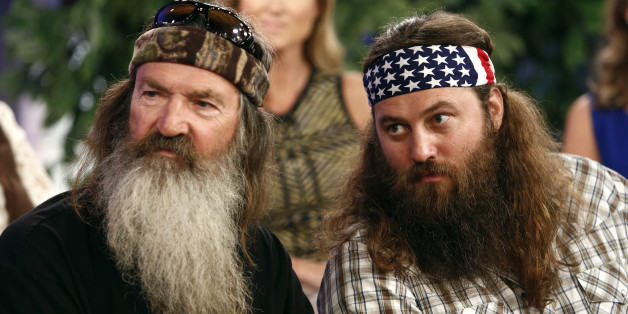 An Open Letter to Mr. Phil Robertson,

I identify as many things. It may be hard to believe that a Cuban-American queer man watches your program, but I do. I even watch reruns. Perhaps I am shameless.
While I refuse to buy your CHIA pet, I bought a rug with your face on it. Yes, this gay man has a Duck Dynasty rug.
I also tend to lure my friends into watching your program. We all generally enjoy it.
After a nice long day of having to think, it is nice to tune into your show. While I do not learn anything, I do laugh. I always wonder what will happen next and it is generally wholesome in nature.
Now I feel a little funny telling you what I am about to, but here goes.
Even if your show portrays you as a backwoods hillbilly, we know this is not the case. You received your B.A. and then M.A. and chose to come home to teach over being drafted in the NFL. Those are not the actions of someone without common sense.
You also run a company, have a family and have decided to become a public figure. Your grandchildren could later come out as being gay. I do not pretend to know you. I am not that naive. However, you have a duty to understand that the words you say, however benign they seem to you, potentially hurt people.
You have acquired a great deal of success. Doubtless you or anyone in your family will suffer from any loss. In other words, you are not a minority. You will never be a minority. You have both fame and fortune. Sure, you get old and die. You will do so with the benefit of having come out on the other side without having someone deny your rights. The wealth and fame your family have acquired assures the kind of privilege some can only dream of.
You even have people behind you hollering "free speech" as if it is a badge of honor they understand. One million folks are naive, if not ignorant, enough to believe they are like you. We both know that is not true. What they are too afraid to understand is that A&E should be lauded for sitting you in a time out. You deserve it; shame on you. You have squandered your fame and used it to shamelessly point out how horrible queers are. I will not begin to start on the civil rights of black folks (which never appear in your show) you trivialized through your interview. Not surprisingly you used your Lord and Savior to further your point.
Well, praise Jesus. The god I have studied and read, believes in a kind of compassion that you have not exhibited through your words.
You owe the community you bashed more than an old fashioned "kumbaya" that your recent press release tried to sing.
You owe me and everyone who has watched your program an apology. This is a chance to make lemons out of lemonade. This is an opportunity for you to do the right thing. Acknowledging how harmful your comments are and bringing awareness to how those words continue to condemn some of the most stigmatized groups, will go a long way to bring on healing.
And personally, to me, the queer Cuban-American who has been ridiculed for having a rug that bears the Duck Dynasty family faces at my front door; you owe me an apology.
I would like to go on watching your show and do not wish to see you condemned.
Ultimately this could turn into a very civil talking point for everyone involved. After all, you did not do an interview in your church's newsletter. This interview took place in GQ Magazine, hardly a conservative publication.

While I do enjoy your show, I value my civil rights and equal treatment above all. A lion's share of the American public does too. It would be disappointing to see you all off the air. However, I think it is the only acceptable action if you continue on with your willful ignorance.
This is a come to Jesus moment, Phil. I suggest you answer his call.

A Humble Viewer,
Victor