LGBTs do it right, especially in Miami Beach during their Pride weekend extravaganza. This year the grand marshals were singer Gloria Estefan and choreographer Kenny Ortega.
The queer community came out in all shapes and sizes, which is what we expect from Miami Beach, a gay mecca. Not only were there hard-bodied men but lesbians, transgender people and everyone in between.
And then, all of a sudden, the crazies showed up. They were carrying signs saying that gays were going to hell, and wearing shirts that said "Jesus."
False prophets, I say.
The parade was minutes away from starting, and a man (pictured below) decided to get into the middle of Ocean Drive with his sign.
Tiffany Taylor Fantasia, a drag queen who has been working at the Palace in South Beach for over 10 years, said, "Oh, hell no."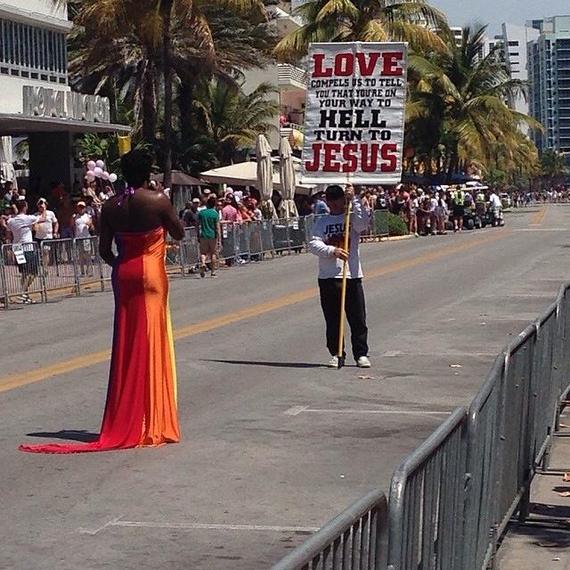 Photo by Ron Smothers via Facebook (used with permission)
"I proceeded to read his sign, and then read him," Fantasia says. "I let him know that he's wrong for carrying that sign. And after Roxy from NBC channel 6 said that she was standing by my side, he said that she was going to hell for supporting me."
Fantasia responded with her own testimony, taking the protester to church in the middle of Ocean Drive.
"I started to sing 'What God Has for Me, It Is for Me,'" she says. "After that he walked away. I told him to go eat some shrimp and told him that his shirt was a sin because it was a cotton/polyester blend." No one should pick and choose which "sins" to fight against, she explains.
Anyone who has visited the Palace knows Fantasia.
"I'm a South Florida native," she says. "I grew up singing in church and school, studied jazz voice in college. I've performed for many celebrities, including Nene Leakes, Andy Cohen, and Queen Latifah. I'm a high-energy drag queen that likes to infuse comedy into her acts. I'm the mouth of the South, the ebony legs of South Beach, Miss Tiffany Fantasia."
If you're wondering whether a man in a dress can be a Christian, the answer is an emphatic "yes."
"I still go to church to this day," she says. "I'm a member of Unity on the Bay. I also sing in the choir there."
To the Christ-killing Christians -- that is, the kind of Christians who would hang Christ on a cross again -- leave the queer community alone. And if you come to pick a fight, please don't do it with South Beach's very own Tiffany Fantasia.