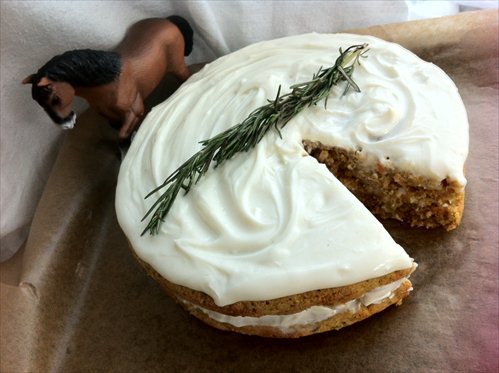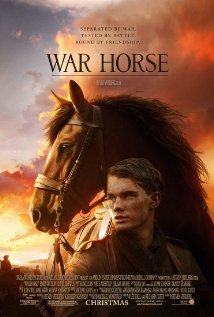 To be sure, there wasn't a lot of cake in the trenches of World War 1. And there certainly weren't many treats for the horses. This cake celebrates the highs and the lows of Stephen Spielberg's War Horse. In it you'll find the apple which Albert (human) first uses to befriend Joey (horse). There's carrot, which may proved a better motivating tool to get beasts to lug artillery through mud than a big stick. There are oats for fortitude and rosemary for remembrance (though its visual resemblance to the tangles of barbed wire that dogged No Man's Land is hardly coincidental). The cake itself is as orange as the Gone with the Wind hued skies that streak the frames of the film, and the icing is as white as the well loved bands down Joey's nose and shins.
If there aren't any strapping 16 hand bays around to eat this cake beside, feel free to consume it all yourself (or buy a novelty miniature one to adorn your serving plate). I know not all of us were blessed with drunk dads who irresponsibly brought home a thoroughbred when we were kids -- certainly my little pony was a wee bit different -- (and very, very plastic).
Carrot, oat and apple cake: Makes one two layered cake
Equipment: Two 9 inch/ 23 cm cake tins (or 1 that you use twice). Baking paper. Electric mixer/beaters. One box grater/microplane. Vegetable peeler. One heat proof bowl. One mixing bowl.
3/4 cup oats
3/4 cup boiling water
1/2 cup/115 grams unsalted butter, softened
1 cup white sugar
2 eggs
1 teaspoon vanilla
1/2 tablespoon of dark rum
1-3/4 cups self raising flour
1/2 teaspoon salt
2 teaspoons cinnamon
1 apple, peeled, cored and diced into 1cm cubes
3 medium carrots, peeled and grated (about two cups)
1 teaspoon of fresh rosemary leaves, finely diced (optional, but does add a nice flavor note against the sweetness of the apple)
Icing, filling and garnish
3/4 cup of walnuts
375 grams cream cheese
3/4 cup of powdered sugar/icing sugar
1 tsp dark rum
1 stem of rosemary
1) Preheat the oven to 350ᅡᄚF/ 180 C.
2) Grease two 9"/ 23 cm round cake pans with parchment and grease lightly (if you only have one baking pan bake the cake in two batches).
3) In a heatproof bowl pour the boiling water over the oats. Stir and set aside.
4). Beat together the butter and the sugar until light and fluffy, then add the eggs one by one and beat until smooth. Add vanilla and rum and then stir in the water and oat mix and rosemary.
5) Add the grated carrot and diced apple to the mix and stir together.
6) Sift in the four, cinnamon and salt. Combine gently with a spatula.
7) Divide the mix in two and pour into the prepared tins. Bake for 40 minutes, until the top is gold and a cake skewer comes out clean.
8) Let the cakes cool for 15 minutes then remove them from the tins. Gently turn upside down (use the guaranteed flat bottom of the cakes as the top).
9) To make the icing beat the cream cheese together with the icing sugar and rum.
10) Spread half of the mixture on the top of one cake. Sprinkle the walnuts over, then sandwich the second cake on top of that, pressing down gently so the filling spreads to the edge.
11) Add the remaining icing to the top. Garnish with the rosemary, for remembrance -- and a novelty horse, if that's your kind of thing.
For illustrated step by step instructions go here