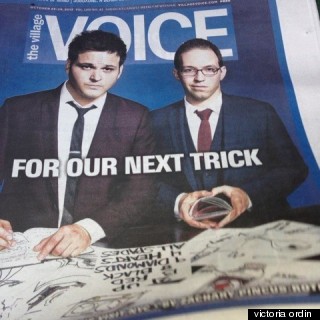 When a play is extended four times at the Geffen Playhouse, a theater lover in LA (if only part-time) has to buy a ticket. I had read a few favorable blurbs of Nothing to Hide, starring Magic Castle sensations Derek DelGaudio and Helder Guimaraes, but didn't understand the fuss until I saw the remarkable 70-minute magic show directed by the multi-talented Neil Patrick Harris, himself President of the Academy of Magical Arts at the Magic Castle.
DelGaudio, artist, magician and founder of the experimental performance art duo, A. Bandit, and the Portuguese wonder, Guimaraes, the youngest ever World Champion of Card Magic in 2006 at just 23, have the kind of rapport and chemistry you expect from a comic duo together for decades.
DelGaudio reminds one of a young, thin Vincent D'Onofrio, striking a perfect balance between cockiness and self-deprecation, while Velder strikes one as a low-key Roberto Benigni. Both are wonderfully sarcastic, so it's not a traditional funny/straight man dynamic. At 10 or 11, I went to the Magic Castle with St. Augustine classmate and now TV writer/producer Chris Levinson (Charmed, Law and Order) and her parents, writer/producer Richard Levinson (Columbo, Murder She Wrote) and stage actress Roseanna Huffman.
Richard was a member at the exclusive club, which has always retained an aura of mystery absent from even the most exclusive Los Angeles country clubs. (Los Angeles isn't a club culture in the way East coast cities like New York are, and we don't have dining clubs, at least not ones which matter.)
My second and last time at the Magic Castle was during college for a fundraiser. I had therefore not been to a magic show in some twenty years, not even a cheesy, terrible one, as Derek quips this show is not.
As I walked to my car, I had a silly smile on my face because as much as Derek and Helder's sleight of hand boggles the mind, I was genuinely touched by the only "message" moment of the play: Magic is all gone in a world with iPhones, iPads and 3D, paradoxically because these devices make the magical commonplace. My WWII veteran father regards smart phones as the most miraculous invention of his lifetime after the war, continually amazed that my mother and I can find out almost anything on an 4x3 inch object.
That, as Derek put it, a bunch of people got "dolled up" and braved LA traffic on a Saturday night to sit in a small theater with complete strangers in the collective hope of witnessing something inexplicable and mysterious is a kind of magic in itself.
There were cursory gestures in the direction of a message early on, with mention of the distinction between the natural and supernatural and a mild exhortation to look at things from a different and perhaps uncomfortable perspective.
But the literary critic in me marveled at the subtlety with which the vignettes are woven together. The show is loosely structured with plenty of margin for error -- ad libbing and riffing off the audience, even at the Geffen with a heavy industry crowd is chancy -- yet maintains a delicate balance throughout.
Nothing to Hide is a kind of meta-play. The conventional structure of a play with even a highly diffuse plot is immediately renounced in the opening scene: an entirely silent card cutting contest with more emotional content and character development than whole episodes of many TV shows.
Like much good art in which content and form are in dialogue, the play operates on two levels: Nothing to Hide is about magic but it also asks how a play about magic can work at all. J.L Austin's How to Do Things with Words defined a performative utterance as one in which the language performed the action it described. His quintessential example was the "I do" in a marriage ceremony.
Years after Austin (via John Searle's theory of speech acts), performativity became a hot topic in literary and critical theory. Ever so gently, the show conjures up the performative for an audience member even faintly aware of theory. Without being heavy-handed or ponderous, the show questions the categories of truth and falsehood and perhaps more important, the source of our attachment to the certitude those categories purportedly provide.
Nothing to Hide is at The Romulus Linney Courtyard Theatre at The Pershing Square Signature Center (480 West 42nd Street between 9th and 10th Avenues) through December 8th.