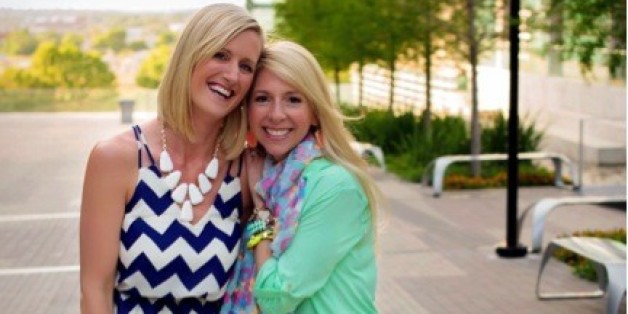 This essay was produced in partnership with Facebook Stories. Facebook is a cosponsor of National Small Business Week, May 12-16. Read about other small businesses on Facebook Stories.
---
A few years ago, my friend Meredith and I combined things we personally love -- jewelry, accessories, friends and Facebook -- and made a business out of it. What we thought would be a fun side project has turned into a business with more than $1.5 million in annual sales. And it all started with a playdate.
Meredith and I had been friends for a while. We have seven kids between us so we can definitely relate to what it's like to be a busy mom. Both of us had careers before kids, and we were each itching to do something on the side to get back to work. I'm a former jewelry business owner and product development director, and Meredith had been a VP at a commercial real estate company. We talked about how we could combine our backgrounds and come up with a fulfilling project to work on together.
During our kids' playdate one day in June 2011, we came up with an idea to sell jewelry through an auction on Facebook. We thought about all the moms like us who have a hard time going shopping and finding stylish pieces when they have about a million other things to do. We realized we could curate the best designs for people and make it easy for them by selling during nightly auctions on Facebook. This kind of model was working well for some children's clothing companies, and we recognized there was an untapped market for jewelry and accessories that could fit in anyone's busy schedule.
We got to work sourcing designs and planning our auction structure. On Sept. 1, 2011, we held our first official sale through our Facebook Page, Jewelry Nut Auctions. The way it works is we host an auction at a set time every week. People can visit our Page or watch for our posts in their News Feeds to see what's available. The first person to comment "sold" on the post will receive an invoice from us to purchase the item using Paypal or their credit card. Once the person pays, we ship the items.
We reached out to friends and used Facebook ads to bring in an initial fan base of about 500 people, and things just took off from there. Our idea of offering trendy and classic jewelry to those of us that are time-crunched and on a budget struck a chord. Women loved how easy it was to find and buy stylish accessories just by visiting Facebook and leaving a comment on our photos. Our fans were spreading the word to their sisters, friends, moms, and co-workers. They were literally shopping together on Facebook. We loved to hear the stories of how the auctions were becoming a ritual for them and how they might sneak in a comment while on a date or getting their kids to bed.
Our initial success was exciting, even though it meant a ton of work for us. Meredith and I, along with our husbands, worked through the night on auction days manually tracking orders and processing invoices. Our side project was becoming a 100-hour-a-week job as we were every facet of the company from photographer/model, shipping/receiving, AP/AR, buyers/stylists, customer service and the list goes on. It was imperative that we begin hiring our first staff, many of whom are still with us today.
Luckily, we were able to move out of Meredith's playroom and into our first office. We also started to find ways to automate more of the auction process and hired developers to create special software for us. We now have 13 employees that keep the day-to-day process moving. We continue to source new designs from markets, and even design some of our own products to keep our fans coming back for the best of the best. We've also expanded beyond jewelry to fashionable clothing as well.
Jewelry Nut Auctions is something we are very proud of. To have our daughters and sons see their moms create something like this and to understand that we're the bosses of our business is really important. The day our company was covered in the business section of the newspaper rather than the lifestyle section was validation for us. What may have appeared to be an instant success was actually a lot of work and learning from our achievements and mistakes. Most of all, we want our staff and customers to have fun and enjoy what we are doing. That's always been our motto.
We didn't set out to be a big company, but the partnership Meredith and I have and the work we put in to offer the best products, stay ahead of the competition and build a community of people who love our business has meant that Jewelry Nut Auctions could become not only profitable for the two of us but could create jobs for other women.
Victoria Wise lives in Fort Worth, Texas, with her husband and four children. Victoria and co-founder Meredith Miner are part of Facebook's Small Business Council, a community of advocates that Facebook listens to in order to understand small business needs and improve the Facebook experience. Like Jewelry Nut Auctions on Facebook and visit the Page on Monday, Wednesday and Thursday nights to participate in weekly style auctions.