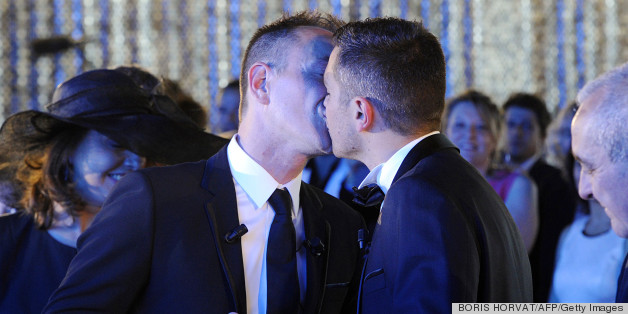 Today, May 29, 2013, we were married by Hélène Mandroux, mayor of Montpellier. Through our union, she celebrated the end of a form of institutionalized discrimination that has existed since the promulgation of the French Civil Code of March 21, 1804. This 209-year-old discrimination gives way to the recognition of gay people as full citizens of the French Republic, allowing marriage and adoption by same-sex couples.
In challenging circumstances, we must salute the victory of Christiane Taubira's law even though many battles must still be fought. Indeed, assisted reproduction, the universal decriminalization of homosexuality, transgender issues, the fight against homophobia in schools -- these are all struggles that we must never give up on.
We noticed -- and, sadly, we keep on noticing -- that the past months have unleashed latent homophobia in French society. How many hurtful words, intolerable assaults or unspeakable misrepresentations have tarnished the quest for equal citizenship? The suffering generated by seeing hundreds of thousands of people mobilized to prevent some of their fellow citizens from having access to a right, when no right was being withdrawn from them, remains real. Usually people demonstrate to acquire a right, not to prevent part of the population from having access to it. This is what is troubling. It really was an injustice. It is necessary to give back to French men and women the rights that their republic took away from them when they discovered themselves to be gay -- the same rights they enjoyed previously.
Nevertheless, we salute the extraordinary solidarity shown by people eager for democracy and equality. Fortunately, "marriage for all" doesn't need to be viewed only through the prism of its opposition. How many sources of support, how many elected officials, how many citizens have defended the march toward equality? The National Assembly, the Senate and the Constitutional Council did not get it wrong.
We are also touched by all these strangers who sent us tokens of their affection through Facebook messages, invitation requests or greeting cards as adorable as they are kitsch. It is with special fondness that we think of them today.
Personally, we feel great joy that we can celebrate our love with our friends and our families. We feel great pride to be among the first gay couples to say "yes" to each other, to validate our love legally.
Finally, our thoughts are with all those organizations, gay or straight, that rallied to make this possible, and with all the gay people who fought for their rights and who are unfortunately no longer here to live this celebration. It is with particular feeling that we say to them, "Thank you."
WATCH:
Translated from the original French.