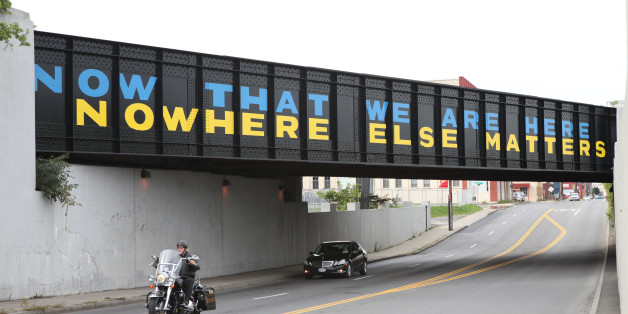 Recently Syracuse, New York, the city in which I was born and raised has become national news in regards to the humanitarian crisis at the southern border. As the Washington Post reported, Syracuse Mayor Stephanie Miner made clear in a letter to President Obama her desire to temporarily take in some of the child refugees from Central America. Her plan was to use an abandoned convent in the Northside neighborhood of Syracuse. While many Northside residents support Miner's decision, there is a number of those who have become quite vocal in their opposition.
The Northside has historically been home to Italian immigrants, including my grandfather. He arrived on Ellis Island in 1938. He was twelve years old, did not speak English, alone, and hoping to achieve a better life. People greeted him with screams of "Go home." Today he still does not speak "proper" English. However, no one in the community calls him an "alien." For years, the Northside was home to a Catholic church, in which one mass every week was recited in Italian. No one told the priest to "speak English." So one must ask the obvious question, "Would Northside residents be this upset if the children were from Europe?
Some of those who have expressed outrage at Miner's plan are simply driven by racism, referring to the children "aliens" and refusing to engage in any meaningful dialogue. That said, for many Northsiders, a common belief is that the rise in crime and poverty is a direct result of Vietnamese, African, and African Americans "invading" their community. And this current situation is simply an extension of the problem. However, what Miner's opponents fail to recognize is not only their obvious hypocrisy, but also the fact that most of the issues that plague Northside residents are not due to their neighbors being of a darker hue.
No one is denying that some of these issues are related to personal responsibility and respect for the community. Moreover, crime is certainly a major problem on Syracuse's Northside, as one resident stated. However, at thirty-nine years of age, I can attest that there were plenty of white juvenile delinquents in the neighborhood throughout my childhood. Indeed, another resident mentioned her concern that the Salvadoran gang, MS-13 would move in as a result of these children. But the reality is that one of the most notorious gangs in the recent history of the Northside, "Ruthless," was comprised almost entirely of white Italian-American males.
The truth is that a majority of the residents' concerns have existed in the city long before any influx of nonwhite immigrants. They are structural. Part of the problem is a lack of resources for jobs, infrastructure, and police. All levels of government have forsaken this particular neighborhood. Local politicians care mostly about downtown Syracuse; state representatives focus mainly on New York City, and U.S. senators rarely visit Upstate New York. The result is a neighborhood that suffers from broken down infrastructure, job loss, and a housing crisis, all of which have caused the younger, more educated generation to flee.
But Northsiders must ask: What role have economic recessions played over the last four decades? How did predatory lending lead to foreclosures and the plummeting values of homes? Who are the landlords of neighborhood properties? Who owns the strip clubs that are such a concern to some residents? Why are there not more police officers on the beat?
I am passionate about this issue not only because the city in which I grew up is now in the spotlight. Twelve years ago, I traveled to El Salvador to research the effects of President Reagan's polices in Latin America. I lived in some pretty harsh conditions with families who had children similar to those on the border. I remember bringing a teddy bear for one little boy. I can still hear him laugh every time he pushed in its stomach and the song "Mambo #5" played while the bear danced. I am reminded of the teenager who welcomed me into his home, loved American music and was the farthest thing from MS-13 anyone could be. At the end of the day these are human beings. They are children.
Syracuse is a city with a long and rich history of resistance and fighting for equality. Throughout the 1800s, Frederick Douglass visited and spoke many times in Syracuse for emancipation. It was Syracuse that became a pivotal stop for slaves on the "Underground Railroad." It is a city that always welcomed Italian and Irish immigrants. I am quite certain this is the Syracuse Stephanie Miner thought of when she wrote to President Obama. I hope the city I know and love opens its arms, embraces these children, and shows the nation its true nature: one of tolerance and aiding those in a time of need.