It is a grim job. My siblings and I sift through the items my mother cannot take with her to her new "home" at the assisted-living facility. Divorced for 27 years, she lived independently into her early 80s, but the combination of her macular degeneration (which led to legal blindness) and the early stages of Alzheimer's disease has forced our hand.
Among the nostalgic items, we can't resist perusing my mother's wedding album from 1957. The final black-and-white photo strikes me silent as I gaze at the close-up of my mother and father on their wedding day. Through an open window, they look out at me from the back seat of a classic '50s car with the biggest grins I've ever seen them wear at the same time. He sports horn-rimmed glasses; she wears a stylish white hat. In every sense of the word, they seem "home."
One would think that seeing this image makes me sad, given where that car ultimately leads my parents. And that is part of my reaction. In fact, a shaded peephole frames the photo, like an eye closing slowly.
But I also can't stop admiring the photo for its simple beauty. I think all adult children have to acknowledge that no matter the course of our relationship with our parents, highlights along the way inevitably frame themselves on the walls of our minds. Such moments help explain key parts of our saga. As the youngest of my five siblings, I am the furthest from 1957 -- hence the pull of seeing my parents' original bliss.
My wife, Michele, and I have been married for 18 years. As I think about our wedding photos, I suspect the one my children will cherish someday is of Michele and me about to cut into our three-tiered chocolate wedding cake. Indeed, my 13-year-old daughter recently tried on the wedding dress in the photo, which was worn by both my wife and mother-in-law. As she twirled, three generations danced.
If I could choose, however, I'd prefer my children favor a goofy picture of Michele and me during our courtship. It features me with a ridiculous beard and her with a ridiculous head of big, fake-blonde hair. But our grins also feature ridiculous happiness.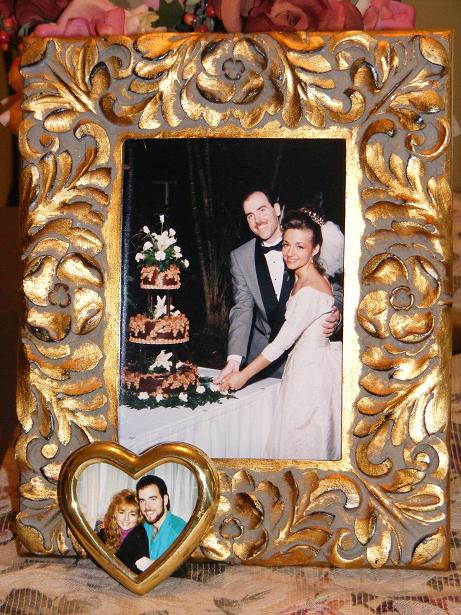 My parents were married for 28 years, just one shy of how long they've been divorced. I don't know what to make of that symmetry, but I do know that via a photograph, their wedding day still exists.
As my mother's condition progresses, memories and verb tenses are starting to jumble through her speech. While this is often frustrating for her and heartbreaking for her children, there are also moments of timeless joy. Thanks to an image in an album, on a wall, or in a mind, you can indeed go home again -- if only for a flash.