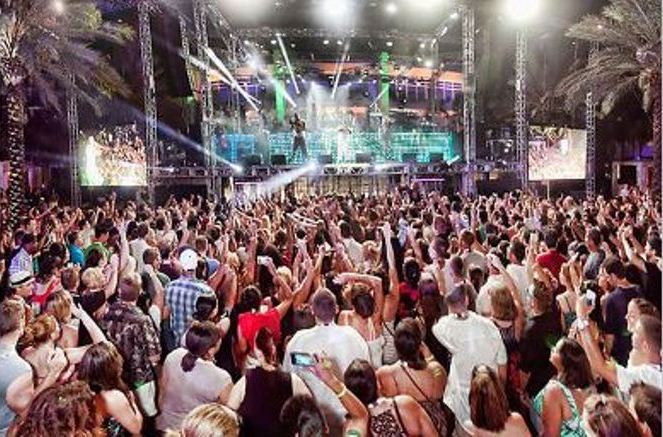 It's the rich, randy stuff of MTV fantasies, the hottest bash in the hottest city thrown by the hottest pop stars and DJs: Pitbull, Ke$ha, Miley Cyrus, Jason Derulo, Icona Pop, Krewella, Afrojack and others.
Not bad, huh? Stop drooling, it's embarrassing.
The iHeartRadio Ultimate Pool Party, lavishly thrown at the legendary Fontainebleau Miami Beach hotel on June 28-29 - and sponsored by VISIT FLORIDA - is a can't-miss, two-day affair. Here are 13 wet wishes that would make the weekend EVEN BETTER:
1. The full Pitbull. A few years ago, we saw hip-hop mogul Pitbull (real name: Armando Christian Pérez) play Tampa with a ferocious Latin rhythm section behind him. It was TREMENDOUS. This is a different sort of concert; you don't want your maracas getting damp. Still, we want Pitbull, playing in his native Miami, to blow us out of the deep end.
2. Dance Request #1: We wouldn't mind someone beautiful to boogie with during Pitbull's I Know You Want Me (Calle Ocho).
3. No sunburn. That would suck.
4. No wardrobe malfunctions. That would suck worse. Unless it's the model next to you.
5. Cannonball Ke$ha. The Tik Tok star is a certified nut, and we flat-out love her for that. Ke$ha (actually her real name!) will certainly do something zany and borderline dangerous, so why not make a brilliant kersplash among her sing-along faithful?
6. Dance Request #2: We wouldn't mind someone pretty to dance with during Ke$ha's Blow.
7. We Heart Miley Cyrus. Our simple wish is that the incandescent former Disney doll makes the gig without any paparazzi-intense madness killing her buzz. New song We Can't Stop is a gem, and everyone (yes, everyone) loves Party in the U.S.A.
8. Oh, and absolutely no Speedos. We're not kidding, Hairy Guy from Scranton.
9. We like hip-hop star Jason Derulo just fine, but we adore his girlfriend, former American Idol champ Jordin Sparks. Sparks isn't on the bill (yet), but we wouldn't mind if she made a surprise appearance. Maybe a take on No Air?
10. A 20-minute, full-throttle version of Icona Pop's I Love It. Swedish DJ duo Caroline Hjelt and Aino Jawo, both from Stockholm, could wind up being one-hit wonders. But man, what a hit! The throbbing, insistent assault of girl-power pop is an irresistible single, and might wind up being the live song of the whole party. Why not stretch that sucker out?! "I crashed my car into the bridge / I don't care / I love it!"
11. Dance Request #3: We wouldn't mind someone pretty to dance with during Krewella's Alive. There's going to be a lot of splashing during the Chicago trio's EDM set. But please, no swim goggles. That's embarrassing.
12. Afrojack (real name: Nick van de Wall) is a Dutch DJ of Moroccan descent and he's ferocious with the beats. The waves in the pool during his ripsnorting EDM set are going to be tsunamic. But please, no water wings. That's embarrassing, too.
13. Through wacky circumstances, a concierge at the Fontainebleau Miami Beach mistakes us for Justin Bieber (or at least his creepy Uncle Larry) and grants us comped access to a suite, preferably Whitney Houston's penthouse digs in The Bodyguard.
-- Sean Daly for VISIT FLORIDA. Daly is the pop music critic for the Tampa Bay Times.
Find out more about the iHeartRadio Ultimate Pool Party and other things to do before and after the bash by clicking on the following links:
Before and After iHeartRadio's Ultimate Pool Party
Miami's Handcrafted Cocktail Scene
Five Cool Places to Propose in Key West