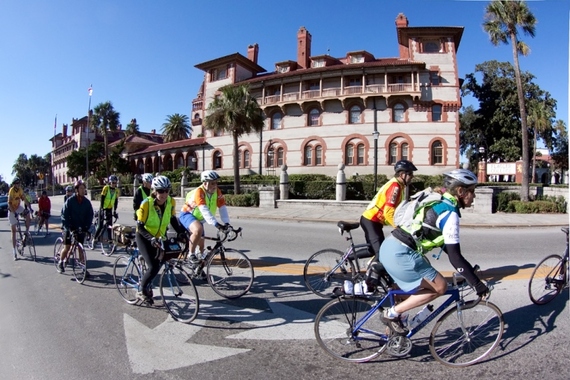 Cyclists roll by Casa Monica in St. Augustine on Bike Florida's St. Johns River to the Sea Loop tour. Photo by Bike Florida
Some people travel to Tuscany and Provence to take bike tours through scenic rural landscapes by day and stay in quaint villages and inns at night.
Now, thanks to a non-profit devoted to bicycle safety, tour cycling enthusiasts can come to Florida to do the same.
"So many people think Florida is all about theme parks, South Beach and Miami," said Ron Cunningham, executive director of Bike Florida. "The truth is there are stretches of this state that will knock your socks off in ways that are totally unexpected. That's where we try to put our riders.
"Our bike tours give us the opportunity to show off parts of Florida that people never knew existed."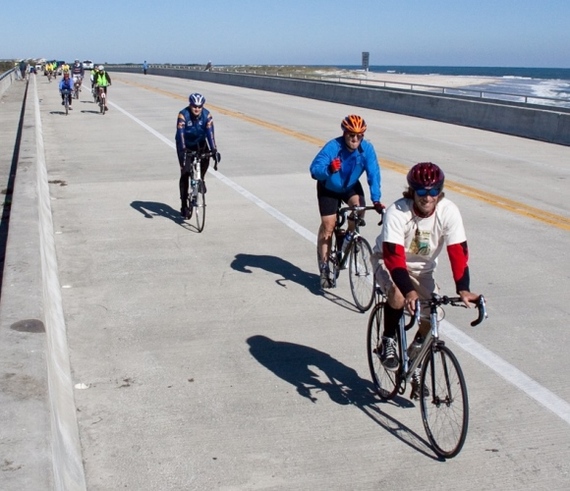 Bike Florida's St. Johns River to the Sea Loop tour takes riders across the bridge at Matanzas Inlet. Photo by Bike Florida
Bike Florida currently operates three boutique tours -- St. Johns River to the Sea Loop, Horse Country and Springs and Caverns to Coast. On the St. Johns River and horse country tours, bicyclists stay in hotels or inns with a focus on comfort and support. On the Caverns to Coast tour, cyclists enjoy supported camping (tent and gear transportation, shower truck service and other amenities such as on-site massage) and catered meals, with the option to stay in local hotels.
When it comes to bike tours, Florida has two features that make it an ideal destination: It's relatively flat, and when the rest of the country has stored the bikes in the garage for winter, the state's warm bike-friendly weather make it the perfect time of year for pedaling.
Those qualities attracted Michael Sinner, a service representative for a Chicago medical group. Over the years, he said, his vacations have gravitated more and more to biking and hiking trips, including multi-day bike trips along the Erie Canal, the Great Allegheny Passage and in Alaska.
Those were great, he said, "But I'd never been to Florida (with or without the bike) and had in fact never even seen the open Atlantic Ocean.
"Disneyland and Miami Beach are not really my thing. I'm more interested in natural beauty and wild places."
And that's what he found.

Sinner took the St. Johns River to the Sea Loop tour. Highlights for him included dipping his feet in the Atlantic, admiring the postcard-perfect lighthouses and walking the broad beaches lined with palm trees.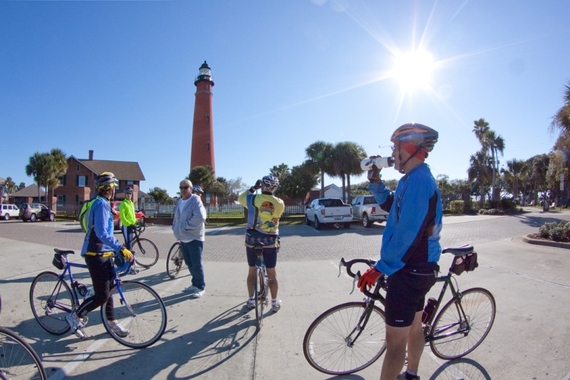 Riders on Bike Florida's St. Johns River to the Sea Loop tour stop for a water break at the Ponce Inlet Lighthouse. Photo by Bike Florida
But there were views he didn't expect in Florida. Cyclists biked to a fish camp in Welaka on the St. Johns River and pedaled through "pine woods that reminded me of places I love in Wisconsin," he said.
With or without spectacular scenery, Sinner said he "simply relished the bicycling through Florida -- it was something I wanted to soak in as deeply as I could."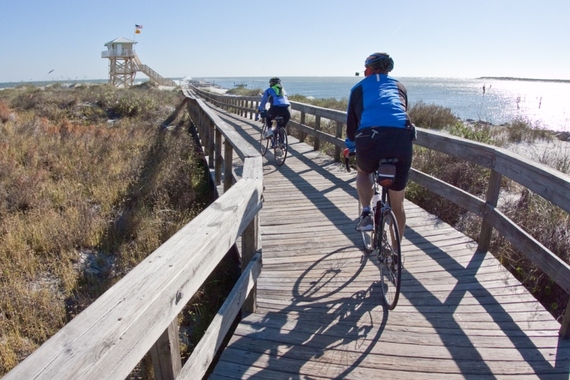 Cyclists ride through the dunes at Ponce Inlet on Bike Florida's St. Johns River to the Sea loop tour. Photo by Bike Florida
The seven-night St. Johns River to the Sea Loop Tour averages 40 miles of riding a day. It explores rural communities along the St Johns River and the Atlantic Coast, starting and ending in St. Augustine. The tour pedals along A1A with spectacular Atlantic Ocean views to New Smyrna Beach, where riders explore the Canaveral National Seashore and Merritt Island National Wildlife Refuge. A shuttle brings riders to DeLand, where they wind along a hilly route to De Leon Springs State Park for its famous pancake breakfast. Along the way, cyclists take a river pontoon boat ride in search of manatees. Registration is open for the 2015 tour, which takes place Nov. 8-15, and is limited to 20 riders.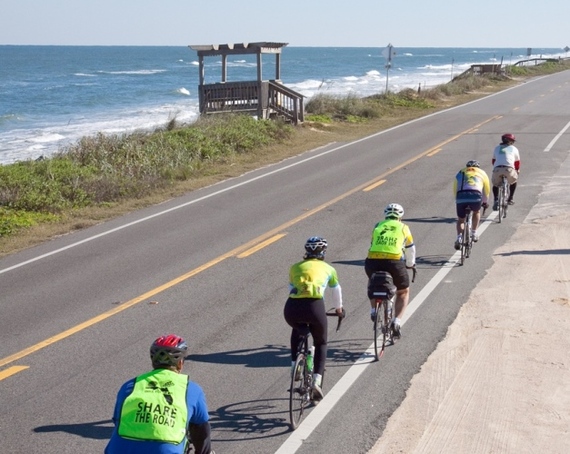 Riders roll down A1A on the Atlantic Coast on Bike Florida's St. Johns River to the Sea Loop tour. Photo by Bike Florida
The six-night Horse Country and Springs Tour averages 50 miles of riding per day. This tour is based in Gainesville and High Springs and includes visits to Paynes Prairie Preserve and the Alachua Sinks, the historic home of Marjorie Kinnan Rawlings (author of "The Yearling") at Cross Creek and cycling in the horse country around tiny charming Micanopy. Riders stop at several pristine springs and kayak on the Santa Fe River, which is fed by dozens of springs. Dates are April 19-24, 2015 and registration is open and limited to 20 riders.
The Caverns to the Coast tour is a seven-day ride with five-day, two-day and one-day ride options. Riders will rack up a total of 151 to 520 miles over the course of the ride. Gear is transported from site to site and catered meals are provided by Dixie Grill Bike Catering. The tour starts in Blountstown, rolls along the Apalachicola River, passes through Marianna (home of Florida Caverns State Park) and ends at Port St. Joe on the Gulf coast. Registration is open for the 2015 spring tour, which runs March 20-27.
Bicyclists usually bring their own bikes or have them shipped, though Bike Florida will arrange rentals too.
Bike Florida is a non-profit that was created to promote bicycle tourism and to support bicycle safety education. For more information about all Bike Florida tours, visit the website.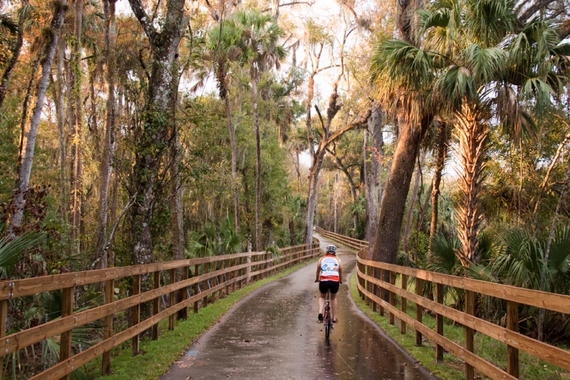 Cyclists ride through a Volusia County palm hammock on Bike Florida's St. Johns River to the Sea Loop tour. Photo by Bike Florida