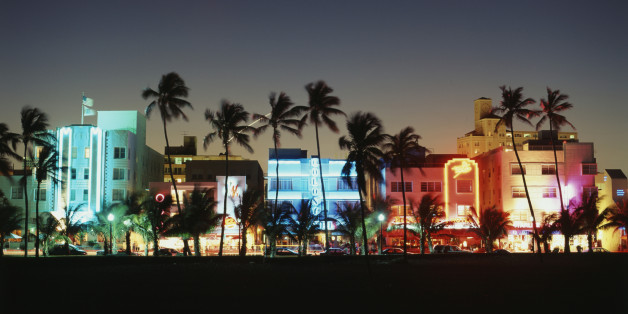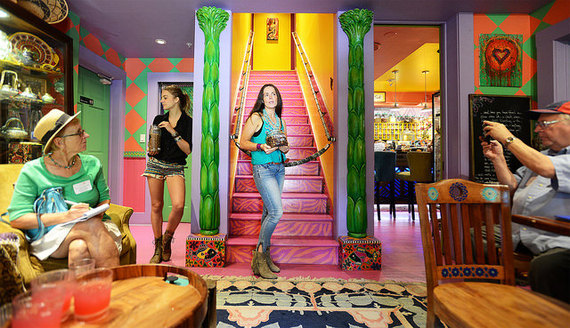 Shaffer's Tea Room owner Alexandra Wayne talks to Delray Beach food tourists about tea. The venue is changing its name to Goodwater Tea Room. Photo by Peter W. Cross for VISIT FLORIDA
Visitors to Florida are snacking their way through the state's cities, visiting off-the-beaten-track eateries and learning about regional history and culture, thanks to the growing popularity of a new type of group sight-seeing -- food tours.
Food tours take visitors to a number of interesting restaurants over the course of an afternoon or evening. Tour members taste a sampling of local dishes, hear about local history and culture, and do a little sightseeing.
Lawyer Mariela Rexach and cardiologist Jose Rodriguez, visiting from Puerto Rico, started their most recent visit to Miami Beach's popular South Beach neighborhood with the SoBe Tour des Forks from Miami Food Tours.
"When you travel, food is the best way to learn about a place and its culture," Rexach said. "We always plan our days around the food.
"I like this because it's a less touristy tour. You feel like you're seeing the real city, the places where people who live here go."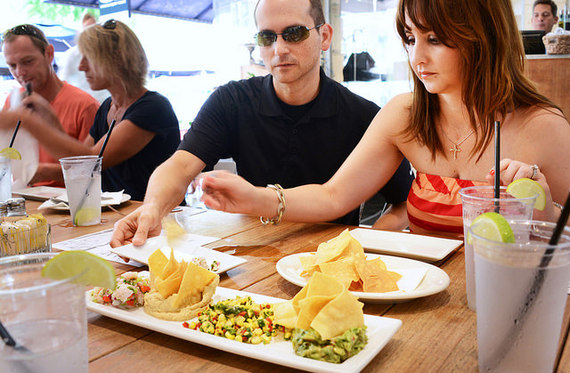 Mariela Rexach and Jose Rodriguez, visiting from Puerto Rico, enjoy a plate of appetizers - hummus, corn salad, guacamole, ceviche and homemade corn chips - at Books & Books in Miami Beach. Photo by Peter W. Cross for VISIT FLORIDA
The Miami Beach food tour (one of several food tours in the South Florida culinary capital) starts at Books & Books, an institution in the Lincoln Road shopping and dining mall. It's a great example of how a tour can weave a city's history into its food.
While tour members sampled a platter of appetizers that included hummus, corn salad, guacamole, ceviche and homemade corn chips, tour guide Juanita De Castro described how the popular book store was founded in the 1980s by Mitchell Kaplan, a member of a unique cultural group in Miami -- Cuban Jews, who fled Castro and settled in Miami after the Cuban revolution.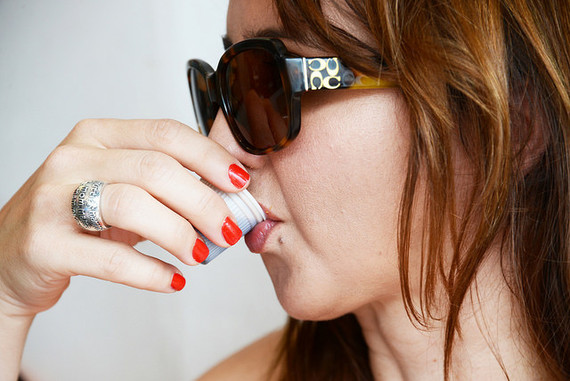 Mariela Rexach sips a colada, or Cuban-style espresso, at Abuela's in Miami Beach. Photo by Peter W. Cross for VISIT FLORIDA
Then it's off to the next stop, Abuela's, a traditional Cuban restaurant with a take-out window where De Castro ordered a colada, a Styrofoam cup with enough Cuban-style espresso to share and serve four to six shots of the powerful brew. This is the way Miami workplaces are fueled, she explained. As tour members sipped their coffee and tasted pasteles (Cuban pastries), they learned about the various types of Cuban coffee, from sweetened cortaditos to the milder café con leche.
The Tour de Forks includes individually owned restaurants only, which is typical of most Florida food tours. It stopped at a family-owned Peruvian spot and a Brazilian restaurant. At each, heaping platters of food were served family style and the cuisine and restaurant's story were described. Along the way, visitors learned about Art Deco architecture, the enduring legacy of the TV show "Miami Vice" and the Hollywood-worthy story of Miami Beach founder Carl Fisher.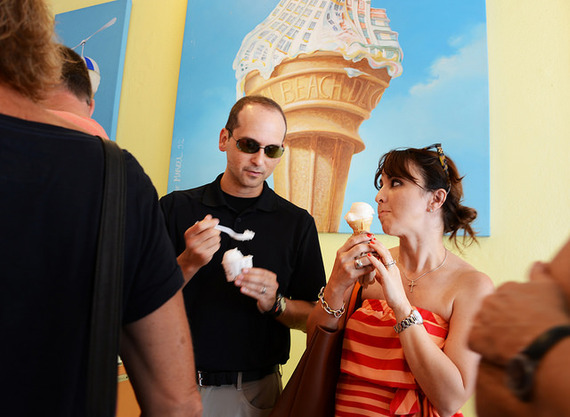 Participants in the Tour de Forks Miami food expedition sample choices in regional flavors at the Frieze Ice Cream Factory. Photo by Peter W. Cross for VISIT FLORIDA
The final stop: The Frieze Ice Cream Factory, with choices including some specific-to-Miami flavors - dulce de leche, tamarind, key lime pie and guanabana sorbet.
The Miami tour covers 1.5 miles on foot and tour members pay a single price. There are no transactions after that - no bills, no tips, no hassles - and that's a standard feature of food tours.
"You don't have to decide what to order. In fact, you get to try something you would never order," said Rodriguez. "You get to taste a little of this, a little of that. A little fish. A little steak.
"I've been to Miami on business several times, but I didn't get any real feel for the city like I did with this."
Dining Your Way Through Delray
Ninety minutes north of Miami, there's a tasty tour of one of three historic Palm Beach County areas every Saturday. These tours are operated by a non-profit organization, the Museum of Lifestyle and Fashion History, and its mission is both education and entertainment.
The tour travels by bus. The Delray Beach/Boynton Beach tour makes eight stops, including a historic church and an urban garden. It's chock-full of Florida history, with a particular emphasis on pioneer African-Americans and Seminole Indians in addition to the white settlers.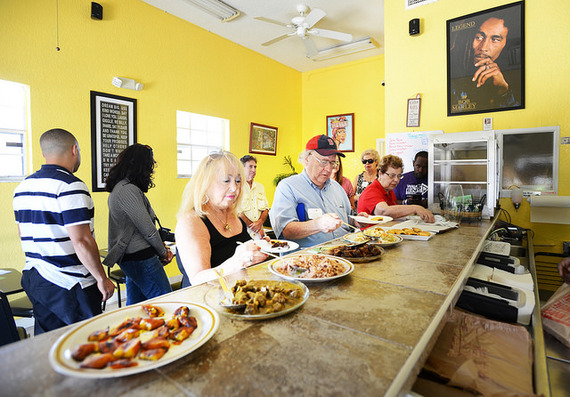 Guests on a culinary tour of Delray Beach/Boynton Beach sample Jamaican delicacies at Sweet's Sensational Jamaican Cafe. Photo by Peter W. Cross for VISIT FLORIDA
Like the Miami tour, the Delray Beach tour highlights family-owned restaurants, starting at Sweet's Sensational Cuisine. There, delighted tour member Carol Newman texted her son, "I just had curried goat!"
The Jamaician specialties were served on big platters and included Jamaican beef patties, oxtail, rice and peas, curried chicken, and plantains.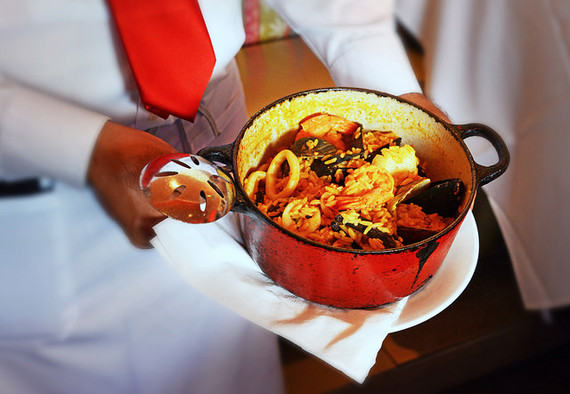 Shrimp, octopus, calamari, scallops, clams and mussels are simmered with saffron and garlic in a caldera of valencia rice to make the paella marinara at Cabana El Rey in Delray Beach. Photo by Peter W. Cross for VISIT FLORIDA
As the tour continued, Newman and tour mates sampled their way through herbal teas, paella, sangria, coconut-crusted tofu, meatballs in jerk-seasoned sauce, lemonade from a secret recipe, macarons, grass-fed beef sliders and almond-crusted swai (a fish), finishing up at Sicilian bakery featuring a huge variety of cookies and pastries that few had room for at that point.
The quantity and variety, Newman said, "is more than I ever dreamed."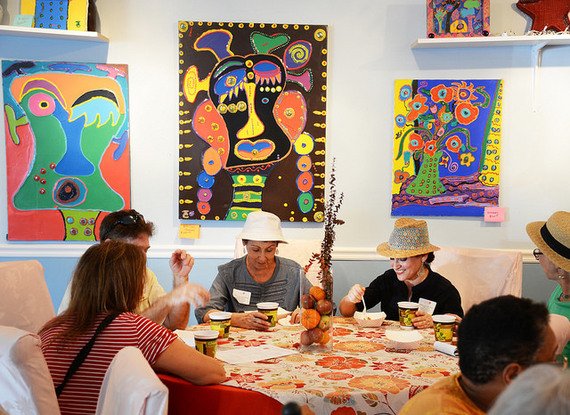 The Secret Garden Cafe serves fresh, locally produced food and is located just around the corner from the Urban Farm in downtown Boynton Beach. Photo by Peter W. Cross for VISIT FLORIDA
Wine and Dine in St. Augustine
In St. Augustine, one popular food tour travels the cobbled streets by horse-drawn carriage. And the tour isn't only about the food and the city's history - tour members sample wines, too.
The three-hour-long Vittles and Vino VIP Carriage Tour offered by Tasting Tours includes four to five food tastings, three to four wine samples and a bottle of wine to share on the carriage ride, according to co-founder Andrea Jones. The company offers wine-only tours, beer-tasting tours and a food-wine walking tour called Corks and Forks.
For restaurants, participating in these tours is a good way to reach new customers, especially visitors from out of town.
"We're going off the beaten path," Jones said. "We take them to places they would never find in a million years."
Tips for visitors
Visitors interested in food tours may want to find out whether vegetarians and those with food allergies can be accommodated.
Most tours involve walking, so you'll want to wear comfortable shoes. Most tours go rain or shine and you must pre-pay to hold your spot. Almost all tours can be booked as private tours for groups. Food tours, in fact, are a growing trend for bachelorette and birthday parties and other special occasions.
Here's a list of several established food tours. New ones are popping up all the time.
Taste History Culinary Tours of Historic Palm Beach County
The Tasting Tours, St. Augustine
Las Olas Food Tours, Fort Lauderdale
Ybor City Food Tours, Tampa
-- Story by Bonnie Gross for VISIT FLORIDA