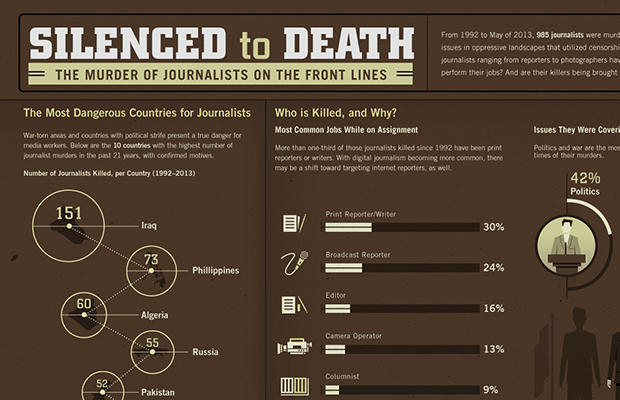 For many journalists, their day-to-day lives aren't always thought of as being dangerous. For many, the clacking of keys, insider scoops, and getting those page views up is their normal routine. However, there are journalists whose lives are in grave danger every time they show up to work. These journalists are reporting from the front lines of some of the worlds most embroiled conflicts. Dodging bullets, grenades, and mortar fire to get that epic picture, or information that will give the world a first hand account of how things aren't really all quiet on the Western front. To these brave souls, their job is hazardous to their health. From 1992 to May of 2013, 985 journalists were murdered around the world. This graphic looks to find out where it has been most dangerous for media workers to perform their jobs, and if their killers are being brought to justice?
These types of journalists are often pursuing critical -- and often controversial -- issues in oppressive landscapes. These places aren't how we experience life, they're war torn places who live under regimes of censorship and control to muffle the freedom of press and the right to bear witness on what's going on around them. It doesn't matter if you're a reporter or photographer, both are being killed.
The most dangerous place to be a reporter is in Iraq, where 151 reporters have been killed since 1992. Followed by the Phillippines with 73, and Algeria round out the top 3 with 60. It may not be surprising that more than one-third of the total journalists killed have been print reporters or writers. There's also the chance, with digital journalism becoming more prevalent, that they will soon be targeted as well.
It's not just war zones where these journalists are being killed. Many of them cover politics as well. In murder cases involving journalists, more than 1 in 3 suspects in the murder cases belong to a political group, and their murderers may be getting away with it. While formal complaints may be filed, justice is rarely served against the perpetrators. Especially because many of the countries they report from suffer from corruption and firm systems of political patronage. Ninety percent of the people accused of the murder of a journalist walk free.
Check out the graphic below for more information.
via: GOOD