On a recent trip to Southern California, Caroline Gault, guest editor to Vitamin Daily, was so blown away by the beachy-chic lifestyle of Santa Monica that she has decided to drop everything and move there.
Sleep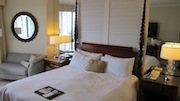 Overlooking the Pacific Ocean, the luxury Fairmont Miramar Hotel & Bungalows used to be the private mansion belonging to Senator John P. Jones, the founder of Santa Monica. With that history lesson in mind, it's easy to see that this 123-year old SoCal staple is one lavish and classy stay. Work up a sweat (for real) in a barre class at Exhale Spa, and reward yourself later with a dip in the outdoor hot tub and a nightcap at FIG Restaurant before returning to your elegant suite and freshly turned-down bed. Fairmont Miramar Hotel & Bungalows, 101 Wilshire Blvd., Santa Monica, 310-576-7777, www.fairmont.com/santamonica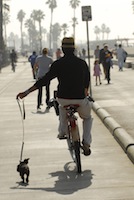 Do
Apart from the obvious beach appeal, Santa Monica is a bike lover's paradise, spanning just 8.3 square miles. The city's new Bike Center is the largest in the U.S., and has two downtown locations for rentals, valet parking and tours (we did a self-guided exploration of the excellent vintage shops). In the next few years, look for the light rail system that will connect to Los Angeles and Hollywood. Bike Center, Unit A 1555 2nd St., Santa Monica, 310-656-8500, and one other location, santamonicabikecenter.com
Dine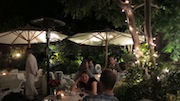 West Coast hot spot Michael's Restaurant, just a few blocks up from the Fairmont estate, has a romantic garden patio, mind-blowing seafood dishes, "California Cults" wine list and another equally successful restaurant New York. (Anna Wintour is rumoured to be a regular, and allegedly likes her steak blue-rare). Michael's Restaurant, 1147 Third St., Santa Monica, CA, 310-451-0843, www.michaelssantamonica.com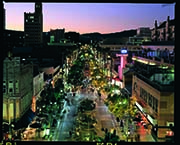 Shop
In this town, beach is the new black, but that doesn't mean they're short on clothing. Stroll Third Street Promenade for classic American retailers and the first West Coast Converse store, where you can customize your own souvenir-pair of kicks à la Santa Monica, complete with palm trees and the infamous pier. At the end of the strip, get lost in Bloomingdales, Nordstrom and Barneys Co-Op at Santa Monica Place.
Watch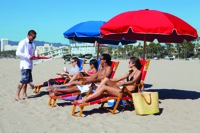 For celebrities. While our brush with fame happened in our hotel lobby with funny man Adam Sandler, the Fairmont Miramar has a history of welcoming celeb guests (like Greta Garbo, Cary Grant, Eleanor Roosevelt and the Kennedys, to name a few). Outside the hotel, the place to see -- or be seen -- is Montana Avenue.
Find loads of California travel info at visitcalifornia.com.
--Caroline Gault