Imagine: Your current car is unreliable but a new one is not in the budget. Every time your car doesn't run, you can't get to work. If you don't work, you don't get paid. If you don't get paid, you can't fix your car or you go into debt in order to do so. This is the cycle of poverty. As soon as you progress one rung up the ladder, circumstances shove you back down and you end up on the bottom with a long way to climb back up.
The same is true with the medical facilities in Uganda. The Asili Hospital was in a very similar position when Just Like My Child Foundation first became aware of their needs. The hospital had more and more people coming into the facility for assistance but there was no electricity or running water. They had no doctor, no AIDS treatments and no Malaria protection. The patients couldn't get well enough to contribute to supporting their families. In addition, the hospital was using their dwindling resources to care for people in a reactive way rather than with preventive measures.
Meanwhile, the community as a whole continued to slip because its members weren't healthy. As in all situations like this, children are the most affected -- nothing is more vulnerable than a child living in abject poverty. This is a cycle that creates desperation and, like a virus, affects large portions of communities across multiple generations.
This is the cycle of poverty.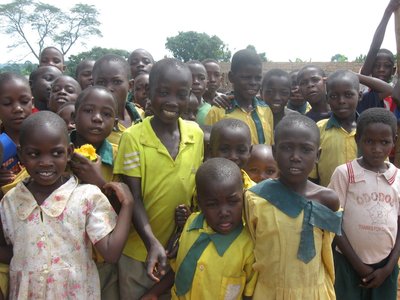 Photo by Vivian Glyck
And what happens when you live in a constant state of poverty? Depression, illness, anger and sometimes abuse can become a way of life.
Within the community of Kambala, Africa, Bukenya got caught in this cycle. He's a small child around two-years-old. He is malnourished; his head is large and his legs are skinny. His father took the children from their mother when they separated and wouldn't let her see them. There were three children in the family, all in bad condition, and since the father drank a lot, the 6-year-old was often in charge of running house and finding food. One day the father decides he doesn't want the children anymore and leaves them in the forest. Eventually the two older kids find their way out, but this two-year-old was left by himself in the woods for several days before someone found him. Once in the police station, he sits in the chair and rocks back and forth and sings and taps his hands on his legs
So what can be done at a grassroots level to break the cycle? Get the community healthy so they are able to work and contribute to their community rather than break it apart.
Over the last four years, Just Like My Child has worked together with community leaders and the hospital to dramatically shift the outcomes of this Ugandan community of nearly 600,000 people. The hospital can finally provide treatment to its communities in a proactive way, while they develop income-generating opportunities. Now the hospital not only has lights and running water, but they have two surgeons providing 20 different types of surgeries in a fully-equipped surgical center. Asili Hopsital is now able to charge low rates for every service, such as a C-section, ultrasound, etc. They are able to provide AIDS treatments so their patients can be strong enough to work and provide for their families. A cafeteria has also been built, not only for convenience but as a revenue source.
Through the revenue that they have been generating they were able to hire another doctor, so they don't burn out the existing one and so he can spend time getting certified in additional surgical procedures, which will lead to more offerings and income. Once the surgeon completes this additional schooling, Asili will become a teaching hospital that benefits from interns who can serve more patients while the hospital receives financial support from the school.
This is a cycle of progress! This is true "Deep Development."
You can help support our efforts to continue to provide self-reliant medical resources to "resource-poor" communities such as Uganda. You can contribute to our life-saving and life-empowering programs here.
Learn more at JustLikeMyChild.org or email Vivian at info@JustLikeMyChild.org