When I was a little girl, my parents, who were Holocaust survivors, were virtually penniless. I grew up in a tenement in Spanish Harlem in New York City.
Every day was a challenge to get through to the next measly paycheck. My big brothers and I learned about the word "value" much more than we would have liked. I learned how little we really needed to survive.
Through my parent's (mostly my mother's) ingenuity, I took advantage of EVERYTHING that's great about the United States of America:
I received a great education through the Public School System and scholarships to private schools.
We qualified for food stamps and never went hungry
When I suffered a severe infection in my shin bone, Medicaid paid every cent of the medical care that saved my life. And I received care from an outstanding surgeon at one of the best hospitals in the WORLD.
What might have been a devastating memory for my mother is now a footnote in my childhood history (and a long scar down my leg.)
This great country (for the most part) provides children like me with a safety net -- and like it or not, the U.S. Government is doing everything it can to spread that safety net as far and wide as it can during this current financial crisis.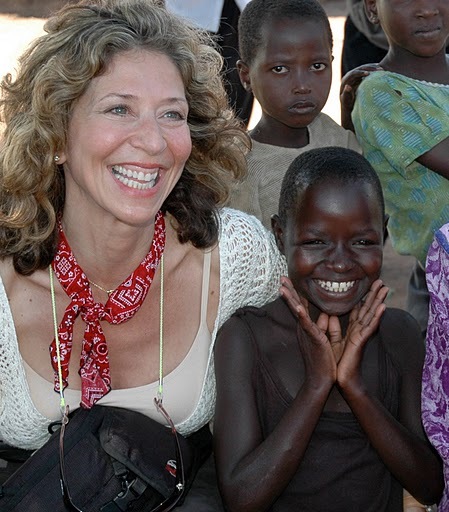 Photo by Vivian Glyck
But the world economic crisis is affecting people all around the planet. Nowhere is the financial crisis more devastating than in the developing world, nearly half of which is in Sub-Saharan Africa.
The families we work with in Uganda do not have a safety net -- so many of them succumb to the fault lines of poverty and fall through the gaping cracks.
I have seen and felt directly that high fuel costs, soaring food prices together with fears of global recession are severely impacting our friends in Uganda.
While the media's attention is on the global financial crisis (which predominantly affects the wealthy and middle classes), the effects of the global food crisis on people who earn less than $1 per day seems to have fallen off the media's radar. In many parts of sub-Saharan Africa, there is no margin for survival.
In countries like Uganda, poverty is the result of a combination of personal, regional, national, and -- importantly -- international influences.
There is little in the way of bail out for these people, many of whom are not to blame for their own predicament, unlike with our financial crisis.
Now, more than ever, is the time to reach out and care for the rest of the planet. We are all in this together. The work that we do now to take care of our brothers and sisters will pay off exponentially to shield us from terrorism, shorten the world economic crisis by creating productive workers... and most importantly, bring JOY and RELIEF to families who are living in severe crisis every day.
The Just Like My Child Foundation works directly with communities on the ground to get funding and programs to the people who need it most. We don't work through corrupt governments, we know exactly where money is going, and we are achieving remarkable results.
We know these are challenging times, but there's no limit to what we can do if we pull together.
Learn more at www.JustLikeMyChild.org or email Vivian at info@JustLikeMyChild.org