If you have ever been pregnant then you will understand the trials and tribulations I am about to write. When you first find out you have a life growing inside of you, you feel scared. Scared about the type of mother you will be and maybe, "how in the world is my body going to do this?" Or, maybe not? Maybe you first feel joy and then the reality sinks in as the weeks pass and the doctor visits became a little more overwhelming, then maybe you feel a little fear. Thankfully here in the States we have a support system of knowledgeable people, from our friends who know it all, our family who knows best, and our team of medical experts who keep it real.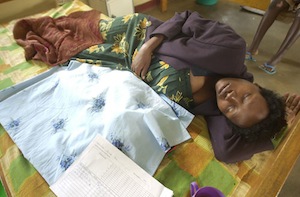 Photo by Vivian Glyck
The pregnant women in the Ugandan villages are often adolescent girls who should be worried about tomorrow's spelling test or having silly talks with their girlfriends. Sometimes they are married women or young women forced into their situation. Nonetheless, they inspire me because despite many obstacles they carry on without showing much fear. With very little to no exposure to prenatal care or access to delivery services or emergency obstetric care, these young women appear to be fearless and ready to face their future, which may include a motorcycle ride on uneven dirt roads, while in labor, to the nearest medical facility.
However, according to experts, adolescent mothers are twice as likely as older mothers to die during childbirth and only 41% of births are attended by skilled personnel. Furthermore, most of those young mothers are poor, uneducated, and are more likely to deliver at home than in a hospital which puts them at the highest risk of death.
"Pregnant adolescents are in a dark void of helplessness and hopelessness, waiting to be rescued," says Dr. Olive Ssentumbwe Mugisa, the WHO advisor on family and population health.
A young mother-to-be should never feel hopeless. One of my wishes for these young women is that they have a safe place where they can learn about pregnancy, the importance of prenatal care, and a skilled person or doctor who can deliver the baby in any situation.
Since its founding, Just Like My Child Foundation and Bishop Asili Hospital have been providing pre-natal care and education and most emergency obstetrical interventions, including C-sections, ultrasound diagnosis, infrastructure for blood supply and AIDS treatment and medical staff to care for post-partum mother and child.
Photo by Vivian Glyck
I am very happy to report the maternal mortality rate in the catchment area of Bishop Asili has been drastically reduced because of access to this care. A gleaming new surgical facility staffed by highly trained physicians awaits a mother in any form of distress. An ultrasound machine allows doctors to diagnose quickly, and allows a mother to see her baby's heartbeat. Two ambulances are available to bring her to the hospital if she's waited until labor has already started, no motorcycle required.
That is Project Keep A Mother Alive. It's as simple as educating and alleviating some fears in young expectant mothers and even seasoned veterans in motherhood. Changing a life for the better isn't hard - Just $30 will help save a mother's life today. By clicking here, you can donate and jump-start a new life in the right direction.
*New image uploaded