Last November, I had the incredible opportunity to travel to India.
We went to many of the holiest cities in the North, including Rishikesh, made famous by The Beatles. They wrote many songs during the brief time they were there, including "Why Don't We Do It In The Road," -- a paean to the many monkeys who do whatever they want "in the road." We also traveled to Haridwar, and to the ultimate in overwhelming Indian chaos: Varanasi.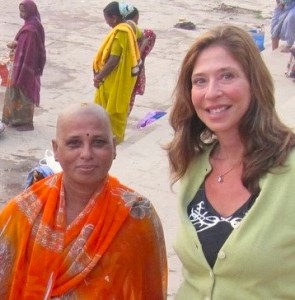 Photo by Vivian Glyck
Varanasi is famous for its "burning ghats" -- funeral pyres along the banks of the River Ganges where holy pilgrims come to die so they can have their ashes released in the Holy (and dirty) Ganges.
It is fantastically surreal and challenges everything we think we know about death, spirit, and the importance of a sanitary environment.
Throughout India, men who have taken a vow of poverty to pursue spiritual transcendence are revered as a national treasure -- the soul of India's collective body.
But my most spiritual moment did not come in the presence of a Holy Sadhu, but rather through the radiance of a simple woman who had likely spent her entire life's savings to travel to Varanasi. On this day, she joined tens of thousands of women on the banks of the Ganges for "Women's Day" -- a holy day to celebrate motherhood and the power of the feminine.
When I met her, she was freshly bathed in the Ganges, her head just shaved as she offered the only thing of value she owned to the river of life -- her beautiful hair. In her eyes, I saw deep serenity; radiance and oneness that resulted from her pilgrimage and sacrifice.
The buoyancy of her spirit was so large and happy that I imagined she was taller than me as I posed by her to take a photo. I was stunned when I looked at my photos later that night and realized that I dwarfed her by nearly a foot!
She is the spirit that I conjure up each day when I bring attention to my own spiritual core. I won't leave my yoga practice until I bow to the full radiance of her feminine power.
She is the spirit that I bring to our Project Justice work and our Girl Power Project: fully maternal, fully fierce, fully loving, fully healing. This spirit can, will, and has healed the planet.
On Thursday, October 13, at our fifth annual gala, we will pay homage to this fierce and healing feminine essence as we honor three amazing women who sacrifice and love every day in order to bring joy and empowerment to others. Read below about one of our amazing honorees: Monica Nyiraguhabwa, leader of our Girl Power Project. She is power and grace in action!
Please join us for a Hand Up, Never a Hand Out.
Namaste!