As I stood watching helplessly, all I could think of was:
"What would I do if this was my child?"
One evening two years ago when I was in Uganda, I met a beautiful little girl named Violet at the Bishop Asili Hospital. She was seven months old and was just fat enough to let you know that she was well taken care of.
As soon as her eyes met mine, she turned to her mother, as if to ask, "who is this very different-looking creature?"
I was probably the first and last white woman she would ever see.
Dr. Charles Lwanga was trying to locate a vein anywhere on Violet's tiny body to begin hydration and first line malaria treatment. A lab test had diagnosed her with malaria. The fluid depletion caused by high fever and other symptoms of malaria make a baby's veins virtually disappear. Violet's head had to be shaved in search of a vein that could be entered. Treatment could not begin until a viable vein was located.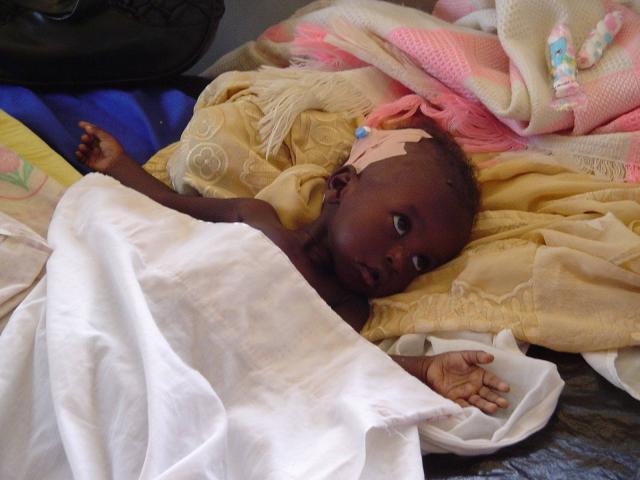 Photo by Vivian Glyck
In Violet's case, the treatment came too late. In the middle of the night, Violet passed away.
Malaria from the type of mosquito found in Uganda can kill in as little as 36 hours in a small child. Even faster in a little baby.
Of the 1.5 to 2 million people who die of malaria every year, 90 percent of those deaths occur in Africa. A child between the ages of one and five dies from the disease every 30 seconds.
Economically and emotionally, how would your community function under these conditions? How healthy and productive would it be? It would make sense that if the cases of malaria could be reduced, the economic growth of the community could improve. In Uganda, the economy is already one of the poorest on the continent which only adds to the problem. There are very few resources to provide preventive education and limited access to nearby medical treatment.
As stated by Stephen Yeboah in his article on GhanaWeb,
"...Malaria has indeed drained and is draining a lot of state funds. We should all as a country rise up to this challenge and reverse conditions to the benefits of the rural poor who are more exposed to these dangers. Malaria is, indeed, the unrelieved burden on the economy. Funds wasted in providing for curative mechanisms should rather be directed to the preventive aspect to culminate in the provision of lasting solutions to the rise in malaria cases day by day."
The good news is progress is being made. Education and Insecticide Treated Mosquito Nets are making a difference. In just the past two years, 578 million people have been protected by nets, according to the World Health Organization. However, getting these resources to the impoverished communities is still a challenge and we have a long way to go in reaching the most vulnerable.
To find out more about how to help educate the Ugandan communities about sanitary conditions and eliminate the breeding grounds for mosquitoes, contact me directly. I work with Just Like My Child to provide netting for families to help prevent infections, but we need help in creating stronger distribution channels for these nets and medical treatment for the communities in Uganda.
Source for quotes within this blog can be found here "Breaking the Curse of Malaria," by Stephen Yeboah.
Learn more at www.JustLikeMyChild.org or e-mail me at info@JustLikeMyChild.org.