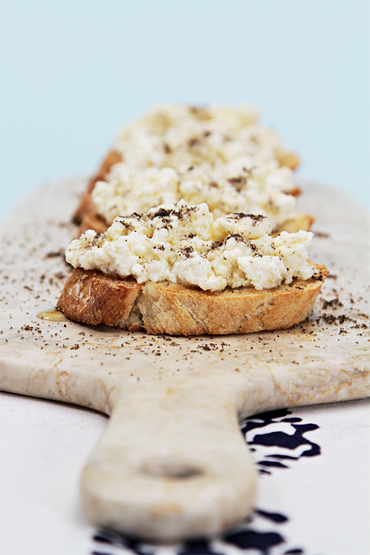 Four ingredients: bread, ricotta, honey and salt -- the essence of simplicity.
Let's take that freshly baked baguette from your corner bakery, light and fluffy homemade ricotta, ambrosial truffle honey and pungent smoked salts and transform a simple dish into a celestial one.
These crostini make a superb hors d'oeuvre, but you can also serve them as a light cheese course, a prelude to dessert. Either way, they're pure heaven to the taste buds.
On a side note, I tend to prefer white truffle honey because it has more flavor than honey infused with black truffles. Favorite brands include Gourmet Attitude and Da Rosario. As for the smoked salts, I use the extraordinarily potent smoked alderwood salt from The Filling Station. Although the company is based in NYC, they do ship anywhere in the US.
You can also find truffle honey and smoked salts in gourmet and specialty food stores.
Now I'm craving one of these crostini... Off to the kitchen I go!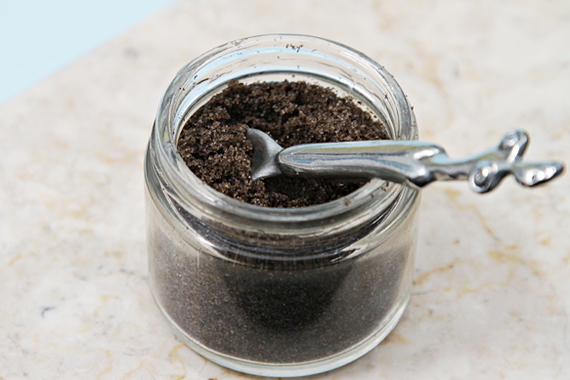 Crostini with Ricotta, Truffle Honey and Smoked Salts
makes 16 crostini
active time: 20 min
16 baguette slices - cut on the diagonal in 1/4" thick slices
1 1/2 cups ricotta
1/4 cup white truffle honey
fine smoked alderwood salts to taste
1 jellyroll pan
Preheat broiler on high.
Step 1: Place the bread slices on the jellyroll pan and toast under the broiler on each side until golden-brown.
Step 2: Top each bread slice with 1 1/2 tablespoons of ricotta. Place the crostini on a serving platter. Drizzle each slice with a little truffle honey (about 3/4 teaspoon). Generously sprinkle the crostini with smoked salts and serve immediately, while the bread slices are still warm.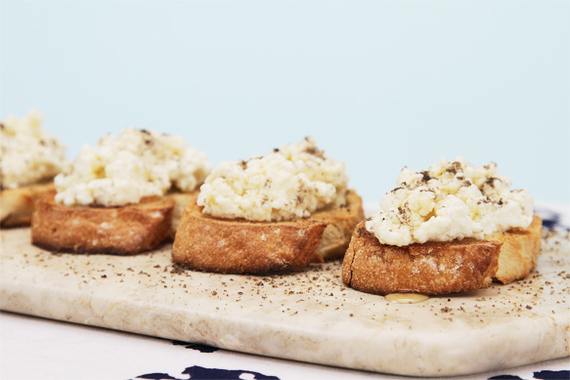 * * *
Here's another festive crostini: Fresh fig crostini with bûcheron cheese and thyme.