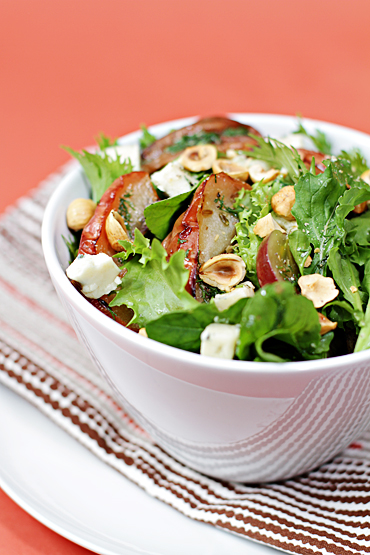 Raw apples are stunning in salads -- they're crunchy, not too sweet and delightfully refreshing. They add an addictive crispness to anything they're tossed with.
But oven-roast the slices before adding them to your favorite greens and you have a whole new way to experience your apples!
Here the apple slices are coated with crushed fennel seeds and Calvados (the powerful French apple Cognac) before being baked. As the apples roast, their flavor deepens and their natural sugars intensify.
Paired with grapes, blue cheese (or feta!) and toasted hazelnuts, the succulent fennel-roasted apples make every bite of this autumn salad a true celebration of fall's bounty.
Wine pairing: Ravines Wine Cellars 2008 Chardonnay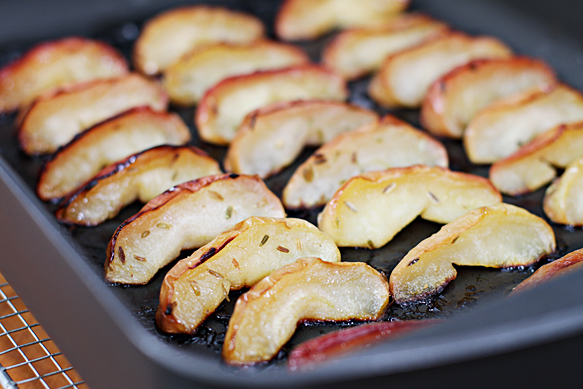 Autumn Harvest Salad: Fennel-Roasted Apples, Grapes, Blue Cheese and Toasted Hazelnuts
Serves 4
Active time: 30 min
For the roasted apples
3 firm-fleshed apples (Gala, Braeburn, Fuji, Honeycrisp, Macoun...) - unpeeled, quartered, cored and each quarter cut in half
1 tablespoon lemon juice
1 tablespoon unsalted butter - melted
1 tablespoon grapeseed or vegetable oil
1 tablespoon Calvados or brandy
1 teaspoon fennel seeds - coarsely crushed in a mortar
For the vinaigrette
1 tablespoon apple cider vinegar
3 tablespoons roasted hazelnut or roasted walnut oil
1 tablespoon finely chopped fennel greens or dill
1/8 teaspoon sea salt
freshly ground white pepper to taste
For the salad
5 oz (140 g) baby mizuna, baby arugula or mesclun - rinsed and spun dry
24 large seedless grapes - halved lengthwise
8 oz (225 g) blue cheese or feta - cut in 4-1/4" cubes
1/4 cup toasted hazelnuts (see cook's note) - coarsely crushed in a mortar
freshly ground white pepper to taste
1 medium non-stick baking pan
Preheat oven to 475ºF (246ºC).
Step 1: Place the apple slices in a medium bowl. Drizzle with the lemon juice, melted butter, oil, Calvados and fennel seeds and toss with your fingers until the apple slices are well coated. Lay the slices in a non-stick baking pan and drizzle with the juices left in the bowl. Bake, uncovered for 20 minutes. Remove from oven, flip the slices and return to oven. Bake for an additional 8 to 10 minutes until golden brown. Remove from oven, transfer to a tray and cool to room temperature.
Step 2: To make the vinaigrette - Place all ingredients in small bowl and whisk until well blended. Set aside.
Step 3: Place the baby greens in a large bowl and toss with half the dressing. Place a small mound of the baby greens in the center of four individual plates or salad bowls. Garnish each salad with 6 apple slices, a few grapes and the cheese cubes. Drizzle with the balance of the dressing. Sprinkle with the hazelnuts and finish with white pepper. Serve immediately.
Cook's note: To roast the hazelnuts - Preheat oven to 350ºF (177ºC). Place hazelnuts in a small baking dish and bake for 10 to 12 minutes until golden and skins have split. Remove from oven, transfer to a bowl and cool to room temperature. Once cooled, rub the nuts between your fingers or between clean kitchen towels to remove the skins. Discard skins and store nuts in a sealed jar until ready to use for up to 1 month.
* * *
Here's another easy-to-prepare yet elegant fall salad: Mâche and Asian pear salad with hazelnuts and truffle vinaigrette.