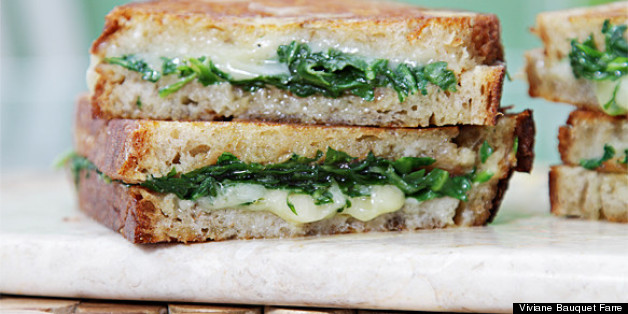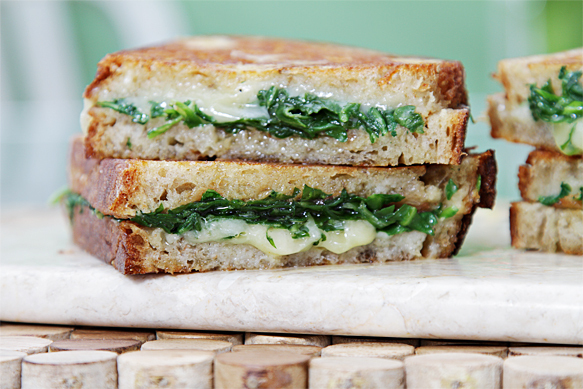 What is it about melted cheese? Just about anything oozing with melted cheese tastes delicious -- like melted mozzarella on a pizza; sweet, nutty asiago in a luscious mac and cheese; or earthy fontina in a sinful fondue.
But perhaps the simplest recipe -- the most adored of all -- is the grilled cheese sandwich. When prepared with a crusty bread and stuffed with a cheese that melts to perfection, it is essentially irresistible.
Here, this beloved sandwich takes on a gourmet twist. The secret ingredient: garlic confit!
When garlic is gently poached in olive oil, it becomes sweet, with a subtle flavor. The cloves become so soft that you can spread them on your toast -- or in this case, in your grilled cheese sandwich.
Pair the mellow garlic confit with zingy baby arugula and a nutty, pungent aged cheddar, gruyère or fontina, and every luscious bite is mouthwatering.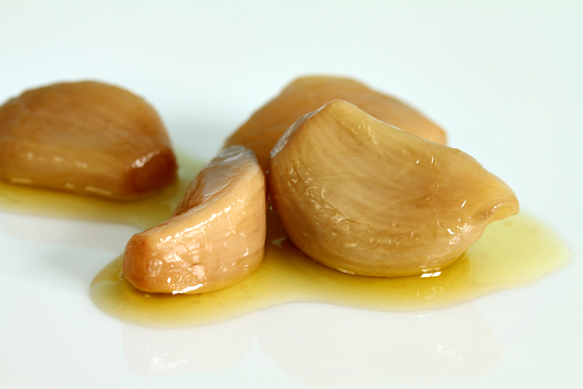 Grilled Cheese Sandwich with Garlic Confit and Baby Arugula
serves 4
active time: 30 min
8 thin slices rye country bread
1/4 cup olive oil from Garlic Confit
8 oz (225 g) aged Cheddar, Gruyère, Fontina or Manchego - coarsely grated
2 large handfuls baby arugula (4 oz) (115 g)
1/2 cup Garlic Confit cloves
sea salt to taste
freshly ground black pepper to taste
Step 1: Place four slices of bread on a cutting board and brush with the olive oil reserved from the garlic confit. Turn slices around and spread the grated cheese on the non-oiled side. Top each slice with a heap of the baby arugula. Sprinkle with salt and pepper to taste. Spread the garlic confit on the other four slices of bread. Place the garlic confit slices on top of the slices with the arugula and press firmly to seal the sandwiches. Brush the top of the sandwiches with the balance of the oil.
Step 2: Heat a large heavy-bottomed frying pan to medium-high heat. Add the sandwiches, reduce heat to medium/medium-high, and sauté four to five minutes until golden-brown. Flip the sandwiches and continue to sauté for three to four minutes until golden-brown and the cheese has melted completely. Serve piping hot!