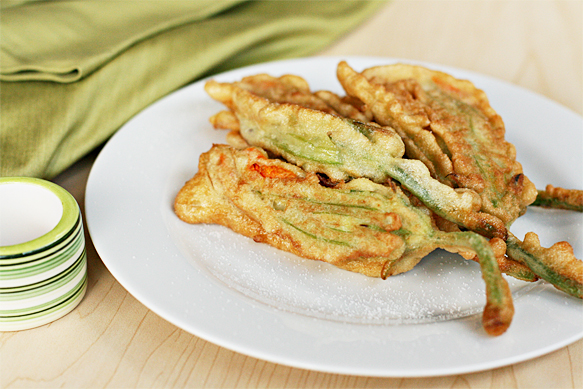 Imagine being in Tuscany, sitting on a terrace surrounded by vines and lavender, sipping a lovely glass of Vernaccia di San Gimignano and perusing a most enticing menu when you spot fried zucchini flowers! How can you not order them?
That's exactly what happened to my husband and me several years ago at Il Pozzo, a restaurant that became a destination on our yearly pilgrimage to the beautiful medieval village of Monteriggioni.
We hadn't gotten back home for more than a few days when I set out to buy fresh zucchini flowers. I finally found some at one of the Green Markets in New York City. Ten years ago, they were not as readily available as they are today.
Every summer, I look forward to certain vegetables and fruits that cannot be bought at any other time of the year. Zucchini flowers are one such treat! I love them so much that this year I decided to plant zucchinis next to my herb garden just to harvest the flowers. Unfortunately, our neighborhood's very-fat-and-happy groundhog thought it was a good idea too! He has eaten most of my plants, leaving me only sad leafless stems. So I guess I'll be heading back to my Farmers' Market for them all summer long...
On a side note, the zucchini plant produces both male and female flowers. The female flowers will eventually grow into a zucchini, while the male flowers will die off. If you are growing plants for the zucchinis, make sure to pick only the male flowers to make this recipe.
Here's a video I shot a couple of years ago, demonstrating how to stuff the flowers, dip them in batter and then pan-fry them.
I just made some for lunch and they were sublime!
Pan-fried zucchini flowers
Makes 20 medium flowers or serves 4
Active time: 45 min
For the batter
1 cup unbleached all-purpose flour
1/2 teaspoon sea salt
3/4 cup warm water
1 large egg
For the stuffing
1 large egg - lightly beaten
1 cup fresh ricotta cheese
1 shallot - skinned and finely chopped
3 tablespoons finely chopped garden herbs (Italian parsley, basil, oregano, thyme and sage)
1/2 teaspoon sea salt
freshly ground pepper to taste
20 medium fresh zucchini flowers
olive oil for pan-frying
Step 1: For the batter - Mix the flour, salt and water in a large bowl. Set aside and let stand for 1 hour. Just before dipping the flowers into the batter, whisk in the egg.
Step 2: For the stuffing - Mix the egg, ricotta, shallot, herbs, salt and pepper until well blended and set aside.
Step 3: To stuff the flowers - Make a slit lengthwise in each flower and remove the stamen. Using a dessert spoon, place a small amount of the stuffing at the base of each flower and twist the petals so that the stuffing is held safely inside the flower. Place on a baking sheet.
Step 4: Heat a large heavy-bottomed skillet to high heat. Add enough oil to the pan to reach 1/8" up the sides. When the oil is hot, dip each flower in the batter and add them to the pan. Sauté for 2 to 3 minutes until golden. Flip the flowers and continue to sauté for 1 to 2 minutes until golden. Remove from pan and drain on paper towels. Repeat until all flowers have been used, reducing the heat when the pan gets very hot so the oil doesn't burn. Alternatively, use 2 pans.
Step 5: To serve, overlap 5 flowers in the center of each plate and serve immediately.
Cook's note: The flowers must be served piping hot; they become soggy as they cool.