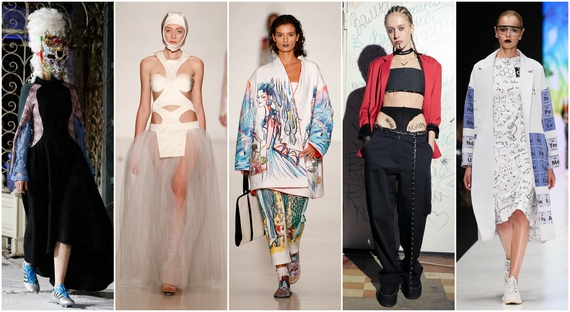 Looks from collections by Ria Keburia (far left), Carmen Emanuela Popa (left), Tatyana Parfionova (center) , ZDDZ (right), and Dasha Gauser (far right)
17 years ago Russian Fashion Week was launched in 1999 (since then it's become Mercedes Benz Fashion Week Russia) and the designers are currently showcasing their Spring/Summer '17 collections in Moscow. Over the past 20 years Russian designers have been making names for themselves on the world stage getting recognition for their unique points of view and bold designs. The post-Soviet styles are unexpected, fresh and memorable and can be seen from October 13 - 17 during Mercedes Benz Fashion Week Russia. As #MBFWR is underway take a look back at 11 unforgettable collections from some of Russia's and Georgia's most talented designers.
Alena Akhmadullina
Set in a mythical underwater locale, Alena Akhmadullina's Spring/Summer 2016 collection proved that fashion is more than pretty dresses and expensive handbags but rather walking artwork. Inspired by Sadko, a medieval Russian epic and Hokusai's The Great Wave of Kanagawa, Akhmadulina transformed satin, denim, fur and chiffon to look almost otherworldly. The collection's dreamy color palette of soft aquamarines, sea foam greens and navy blues was complimented by a few unexpected pops of scarlet and lemon. The designer's ability to create waves and foam out of denim and fur is truly nothing short of ingenious. This collection's feminine silhouettes and wispy fabrics demonstrate the designer's forward-thinking perspective making it unforgettable.
Most unforgettable look: Akhmadullina brought Hokusai's Great Wave to life in the form of several vibrant dresses. The graphic waves crashing on the transparent fabric draped on the décolletage's of the models was duplicated on the hemline creating quite the illusion. Not since Yves Saint Laurent's Mondrian inspired collection has there been such a natural merging of art and fashion.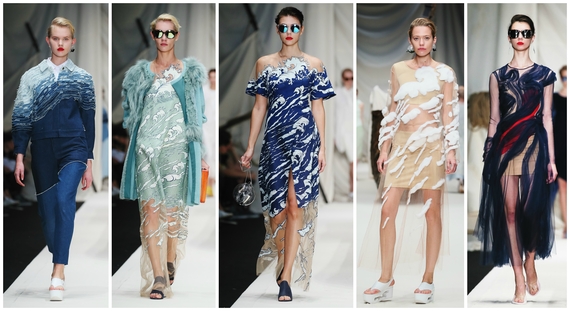 Alena Akhmadullina Spring/Summer 2016 Runway. Images courtesy Alena Akhmadullina
Araida
Araida's Spring/Summer 2016 refined collection proves that simplicity is powerful and making a statement can be as easy as a baby blue jumpsuit over a white dress shirt. Though at first it might look conservative, (the models wore minimalist bonnets covering their hair) the collection was incredibly feminine with several striped patterns, long hemlines and dramatic capes. Araida made a great case for layering structured dresses with long sleeved shirts and white pants. What makes this collection unforgettable is the fresh combination of silhouettes and prints that are complex but also sensually mysterious.
Most unforgettable look: A stripped off the shoulder dress layered over a blouse with transparent sleeves and a cape attached created for an illusion of a garment. The simplicity of the model's headpieces and makeup enhanced the beauty of this ensemble as it represented the strongest aspects of this collection. Araida abolishes the "no horizontal lines" rule proving that using a graphic print of various blue hues mixed with blacks and greys can be extremely flattering.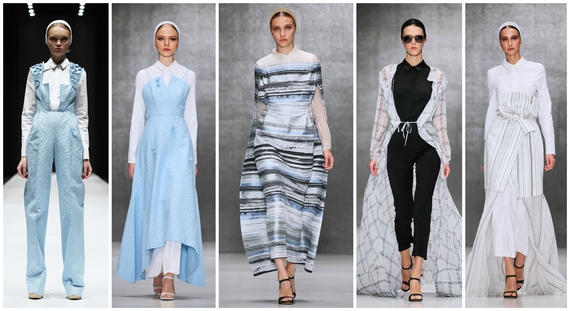 Araida Spring/Summer 2016 Runway. Images courtesy Araida
Carmen Emanuela Popa
Carmen Emanuela Popa's Spring/Summer 2014 collection brought to life a futuristic dream unlike any other. Lace, quilting, exposed skin and a few feathers for good measure added delicate accents to the more serious collection full of tight bodices and floor length skirts. A limited yet rich color palette alone was alluring yet was only intensified by the sleek choice of fabric. The sheen on the satin reflected by the lights added another dimension to the garments if not creating a new texture in itself. The futuristic collection lends itself to a dystopian future where women wear satin bonnets and carry massive clutches as though they are babies. While some looks had drastic cutouts and transparent skirts, others were the stark contrasts resembling a more conservative, almost Amish-esque ensembles.
Most unforgettable look: An off-white, body-hugging structure with side cutouts and tulle skirt that embodies a bridal Milla Jovovich in the Fifth Element sans the orange hair. Like the other looks, the model's head is covered in a cast-like padded headpiece but a lot more glamorous. Even though the garment is reminiscent of a protective sports piece, it's still feminine and makes one wonder who is she, where is she going and what is she doing?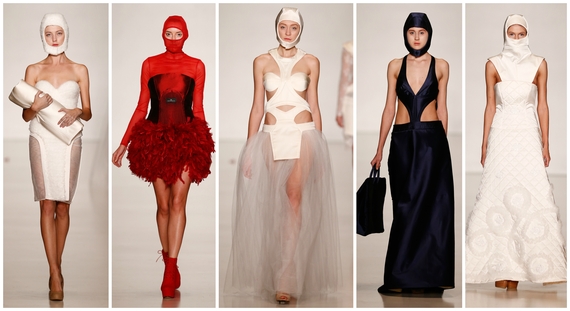 Carmen Emanuela Popa Spring/Summer 2014 Runway. Images courtesy Carmen Emanuela Popa
Contrfashion
Contradictory fashion is the basis of Contrfashion a group that enjoys the more unconventional side of design. Composed of several emerging designers, Contrfashion encourages playfulness, creativity and bold artistry within the many looks presented during this runway. The Spring/Summer 2015 collection had a mix of avant-garde and conceptual designs that could be seen in the underwater inspired looks from Olga Plenkina or the reinvented flower crown by Lilya Tymosh. This collection showcases the best of Russia's emerging designers who are not afraid of larger-than- life silhouettes and mixing varying fabrics.
Most unforgettable look: a shipwreck inspired ensemble reminiscent of McQueen in his prime. Created by designer Alisa Gagarina, the entire look is draped fantasy brought to life as the model was propped on stilts with sails attached above her. It's unexpected, bold and dramatic, a perfect representation of Russia's design potential.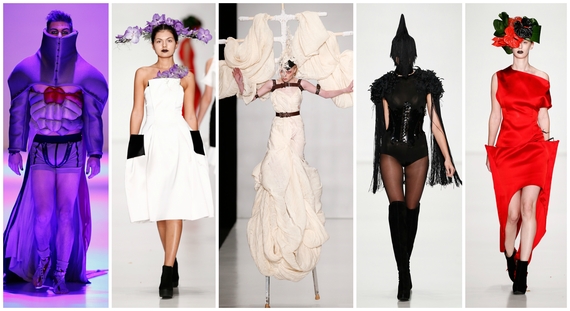 Contrfashion Spring/Summer 2015 Runway. Images courtesy Contrfashion
Dasha Gauser
As any Russian will proudly remind you, the periodic table of elements was in fact created by Dimitri Mendeleev though he probably didn't envision it becoming a fashion statement. This scientific development was the clear inspiration behind Dasha Gauser's nerdy-chic Fall/Winter 2016/2017 collection. The garments are playful as Gauser implements graphic patches, vibrant hues of lilac, yellow and orange offset by black and white chemical compound scribbles. There's no shortness of the periodic print as Gauser manages to showcase it on jackets, scooped-neck dresses and even socks. The looks were completed with the models wearing long black gloves, sneakers and chic protective glasses. The collection is overall more Ivy League chemistry professor than it is mad scientist but there's brilliant genius behind it nonetheless.
Most unforgettable look: Although it's hard to pick, (each garment is cleverly printed with the table) the standout is a white knee length dress and lilac coat. The dresses doodle pattern paired with the printed coat are the perfect embodiment of the designer's strengths. The entire collection is quirky and memorable the way a high school student wishes that science classes were.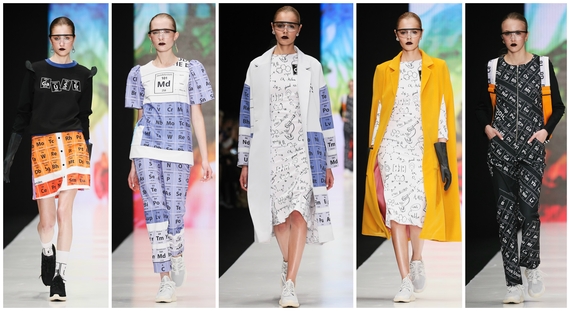 Dasha Gauser Fall/Winter 2016/2017 Runway. Images courtesy Dasha Gauser
Fyodor Golan
Designer duo Fyodor Golan's Fall/Winter 2013/2014 collection was a conceptual masterpiece that was equal parts art and fashion. Titled "Belle Du Jour" the looks presented were hypnotic and compelling showcasing what makes them a favorite with the likes of Lady Gaga and the Victoria & Albert Museum. The brand founded by Fyodor Podgorny and Golan Frydman is all about skillful manipulation of fabrics, painted prints and unexpected proportions. There is a harmonious balance between ready-to- wear and costume within this collection as the designers go from a floral dress with nude illusion mesh to a gold metallic happy face adorned look. There's an essence of Schiaparelli mixed with McQueen (who is listed as a previous employer) throughout the collection which at the end of the day is uniquely their own.
Most unforgettable look: A psychedelic strapless floral dress with swooping sides and a painted mask disguising the models appearance. The enigmatic painting of the mask is almost electric with a radiating blue that contrasts the deeper blue tones within the dress itself. Not only is the print of the dress enchanting but it manages to find its way off the garment and onto the models body as well. She is covered head-to- toe in the dainty flower motif that still feels fresh years later.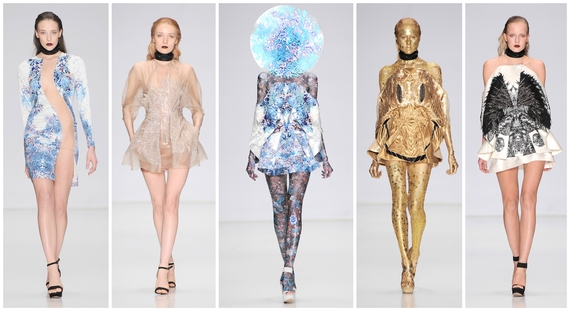 Fyodor Golan Fall/Winter 2013/2014 Runway. Images courtesy Fyodor Golan
Ria Keburia
Ria Keburia's Fall 2015 collection is a fun and eerie post-contemporary costume party that tells quite a story as the designer is known to do. The Georgian Keburia has an eye for mixing fabrics and patterns wanting her clothes to "speak" to the audience and this collection, "Robbossanse", did just that. Asymmetric hemlines, heavy knits, intricate masks and romantic prints are some of the components of this compelling collection. Well-constructed padded garments create new silhouettes and shapes in deep jewel tones complimented by the Cloisonne Enamel jewelry of fellow Georgian designer Sopho Gongliashvili. The essence of the designer's work is storytelling as she looks to the past when clothing was associated with wealth but reimagined for today's minimalistic, tech-driven world.
Most unforgettable look: Within a collection full of powdered wigs, complex bejeweled masks and rich fabrics each look is an editor's dream. The one that encompasses the overall theme of the collection is a black velvet asymmetrical dress with pink quilted sides that open up to blue laced sleeves. It's the modern day version of Marie Antoinette at the costume party as the look is completed with a white powdered wig and animated mask.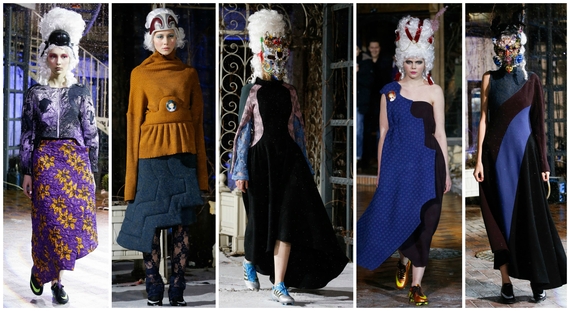 Ria Keburia Fall 2015 Runway. Photography by Alessandro Garofalo / Indigitalimages.com
RUBAN
The Fall/Winter 2014/2015 collection from design duo Julia and Alisa Ruban is nothing short of high end, well-constructed luxury. Though RUBAN was only established in 2010, the sisters have managed to attract a lot of attention and rightfully so. Playing up the female form with A-line dresses, soft ruffles and detachable peplums for extra volume, there was no shortage of silhouettes seen in this collection. The color scheme is soft and gentle with light pinks, an array of browns with deep lime in luxe fabrics as RUBAN is known to do. Hints of fur accented the pockets on a sublime green coat unexpectedly layered with another oversized grey bolero, perfect for those cold Russian winters. The added texture of tight ruffles created a voluminous effect in lieu of prints that was repeated in the form of headbands. This collection's bold femininity fused with modern designs is what makes for a memorable runway.
Most unforgettable look: In a collection with pale leather dresses, ruffled peplums and opulent hues each ensemble looks like it belongs in an editorial. However, the sparkled brown dress layered over a peach toned trumpet bottom makes for a striking combination. The oversized effect of the dress elongates the model and the ruffles give extra volume without weighing down the look. The color play increases the richness of the garments which normally wouldn't be paired together yet RUBAN proves why they should be.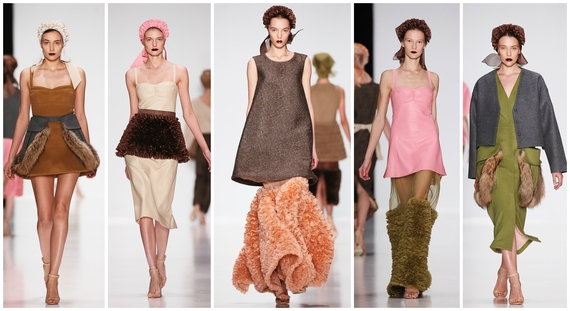 RUBAN Fall/Winter 2014/2015 Runway. Images courtesy RUBAN
Tatyana Parfionova
Children's doodles have never looked so high fashion. Tatyana Parfionova's Spring/Summer 2014 collection was more than a case of child's play; it was an innovative use of unconventional and playful prints. Pantsuits, dresses, quilted coats, gloves and a few swimsuits could be seen covered in colorful imagery out of the pages of a kindergartners sketchbook. The white garments were covered in vivid sketches of shoes, flowers, grinning ladies and even scissors giving a unique personalized touch. Once you get past the quirky prints its evident that the tailoring and execution of the garments are of the highest quality. While the collection was eye-catching to say the least, the most random aspect was on the models feet. Pairing socks with flip-flops is usually a look reserved for the time strapped running outside the house to pick up the mail, not to strut a runway. However, there's always a first for everything and breaking the rules is part of the fun.
Most unforgettable look: An oversized white coat with baggy pants and printed socks. The padded coats edges are thinly piped in red which is the inner lining peeking out. With everything being printed it's not hard to get lost in the joy of the bright colors that the designer implements. Parfionova does a great job at juxtaposing clean lines of her initially white garments with the messy, quick strokes of the colors that adorn them.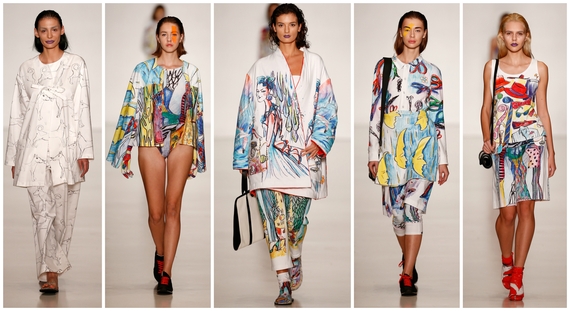 Tatyana Parfionova Spring/Summer 2014 Runway. Images courtesy Tatyana Parfionova
Viva Vox
Oleg Evseev's Fall/Winter 2016/2017 collection for Viva Vox is dramatically elegant with rich hues and an almost poetic use of extravagant prints. Evseev has been with the brand since 2005 and drew inspiration from 1976's Slave of Love, a Russian classic, for this grand season. The collection had an array of various looks from an ombre speckled dichromatic coat in navy blue and lemon yellow with a loosely draped hood to a luxe jacquard printed one shoulder tea-length dress. There was no limit on prints and metallic tones appropriately paired with voluminous silhouettes and long hemlines. Evseev seems to enjoy playing around with pattern so much that it's not unusual to see a floor-length amethyst polka-dotted dress with a matching ruffled hood. What makes this collection memorable is the flawless femininity of each garment from its fabric choice to the impeccable execution, there's mystery and allure within each look.
Most unforgettable look: Nipped at the knees in a black and white floral pattern, a ruffled coat that's all volume on top creating the illusion of a hyper-feminine form. There are hints of lilac, blush and lime complimenting the thinly drawn flowers. This type of coat would be the dream of every It girl whether she's roaming the streets of St. Petersburg today or was frequenting Parisian café's in the 60's, it's timeless.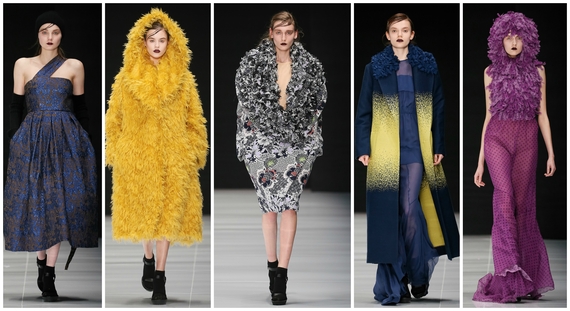 Viva Vox Fall/Winter 2016/2017 Runway. Images courtesy Viva Vox
ZDDZ
The dark, urban streetwear Spring/Summer 2016 collection from ZDDZ is a perfect representation of Russia's youth using fashion to pull away from expected traditions. The designer behind the brand, Dasha Selyanova, uses graphic design, military uniforms and construction motifs as inspiration for her ready-to- wear collection. Shredded edges, ripped fishnets and chains for belts send a strong message of awareness on social and political issues. It's the post-punk look of Russia's underground youth with their defiant attitudes and intimidating use of eyeliner. For this collection ZDDZ pushes the limit by labeling the shirts "Anxiety", "Depression" and "Insecurity", addressing mental health issues without the stigma. Some pieces could pass for old psychiatric ward uniforms, witty symbolism that resonates in today' social climate. Much of the collection used dark tones of black, navy and red offset by a few white or pale blush pieces. The show itself was also a non-conforming way of doing a presentation with models cast through Instagram and soundtrack written by rising Russian musician Zhenechka Bazarov.
Most unforgettable look: A low-rise pair of dark unisex slacks, ripped denim crop top layered with a Soviet red blazer was the most unforgettable look from a strong collection. The model had "Never Again" written on her hipbones that were seen in the cutouts of a pair of high-waisted tights. The ensemble was finished off with suggestive black facial and body markings and a black choker with the motto "Help Yourself" printed in white. It's striking and symbolic proving fashion's ability to be a tool for social change.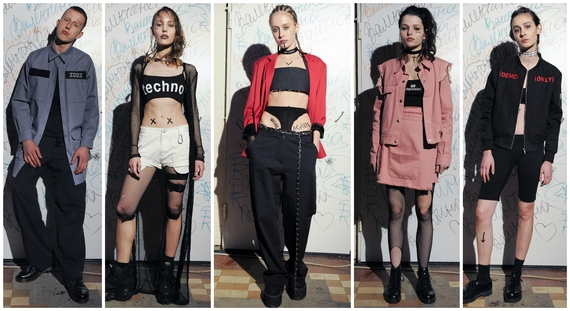 ZDDZ Spring/Summer 2016 collection. Photography by Yannis Vlamos / Indigitalimages.com