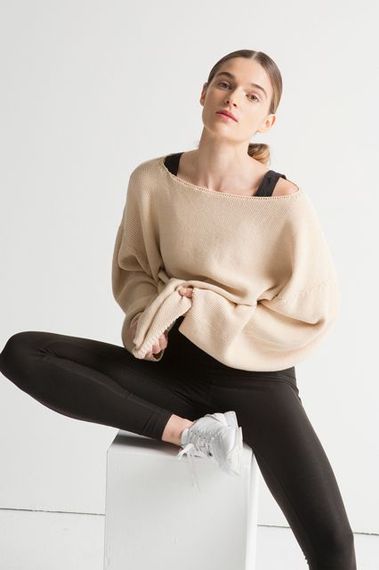 Promotional shot of the sustainable leggings from Girlfriend Collective. Image courtesy Girlfriend Collective
This summer Girlfriend Collective launched the kind of campaign that propelled them into the headlines before they'd even sent out their first pair of leggings. By offering an eco-friendly sustainable product for free they caught the eyes of fashionistas all over the world. The sleek, black leggings made from recycled micro polyester and spandex were offered for free minus cost of shipping. This blend of eco and style helped bring awareness to more than just self-care but environmental-care.
Though the fight for more sustainable apparel has been going on for a while in the fashion world, it seems that sportswear could be the key to giving it the cool factor it's been missing. The market is set to generate a revenue of $184.6 billion by 2020, growing at 4.3 percent per year. The recent rise of athleisure has also brought more attention to sportswear making it cool to be worn for more than just workouts. This growth isn't going unnoticed as more designers are entering the sportswear market. As they acknowledge the style potential within sportswear this combination could bring more attention to sustainable fabrics and move away from hazardous textiles like leather and fur.
What is sustainability?
Sustainability is the use of eco-friendly textiles that are less harmful to the environment or depleting of its natural resources. In a time of fast-fashion and quick trends, the consumer has started to upcycle in an effort to be eco-friendlier. The benefit of sportswear is that it can be reversible, quick-drying and created with recycled materials like water bottles and plastic bags. Just this year there was a sneaker made without a footprint proving that style doesn't have to mean pollution.
Eco initiatives like the Fashion Revolution, Apparel Coalition and the Green Carpet Challenge have been working to open the dialogue on this topic within the fashion industry. In 2011, Greenpeace started their Detox challenge asking brands to sign on and decrease the use of phthalates, perfluorinated chemicals, nonylphenol, and cadmium. These chemicals are hazardous and cause toxic pollution harming not just the planet but those who make the clothes by being exposed to them. Brands that have signed on are H&M, Zara and Valentino though Puma leads the way in their efforts.
Sportswear companies and their corporate social responsibilities
Sportswear apparel brands have been making the top of eco lists done by Fashion Revolution, Dow Jones Sustainability Indices, Rank a Brand, Greenpeace's "Detox My Fashion" and Project Just. Brands like Puma, Patagonia, New Balance, Athleta, and Adidas get praise for their transparency, innovation and initiative though there is always room for improvement. On the other side of the spectrum popular brands like DKNY, Marc Jacobs, and Michael Kors ranked towards the bottom of Rank a Brand's 2014 Feel Good Fashion report. Both the sportswear and luxury apparel markets can do better but the former seems to lead the way in innovation.
Although many athleticwear companies are making the tops of these lists, Nike surprisingly is at the bottom. After noticing this, Nike released their plans to run 100 percent on renewable energy by the end of 2025. Ranking companies through an objective lens increases corporate social responsibility as proven by Nike's recent efforts.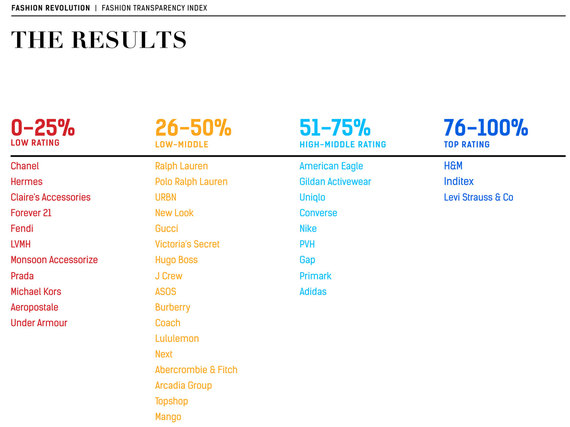 Graph from the Fashion Revolution Transparency Index. Image courtesy Fashion Revolution
Why isn't sustainability considered sexy?
In a recent interview with PAPER magazine, Joshua Katcher, a designer, professor and advocate for ethical fashion gave his opinion as to why sustainability isn't sexy just yet. "Fashion is about identity, and you identify with either the honest true story of how something is made or with the marketing of mythology. It's rarely just about the garment. With brand name things it's about the lifestyle surrounding it."
What makes the luxury textiles sexy is not just their feel but the mystique behind them. Transparency of a company's ethical and environmental efforts aren't always at the forefront of the consumer's mind which is why many high end companies like Chanel and Fendi get away with it. After Chanel's Spring/Summer 2016 Haute Couture show that was inspired by sustainability, Lagerfeld stated that "at the moment, sustainability is part of an expression of our times." His remarks deem the eco-friendly movement as a fad rather than a serious initiative. Instead of facing the eco issues, fashion houses favor greenwashing their sites. Brands like Versace, Marc Jacobs and Givenchy have implemented sportswear in their collections but rank poorly on Rank a Brand.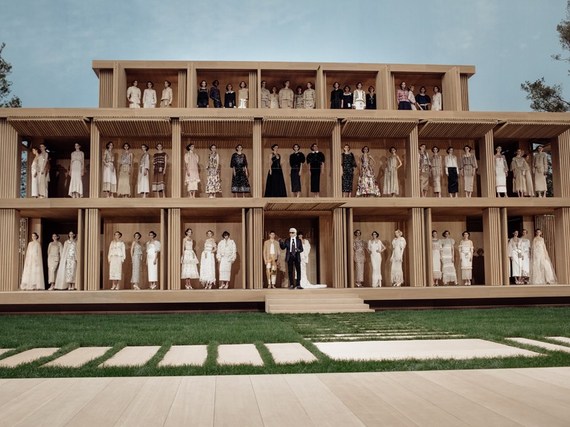 Chanel's SS 2016 Haute Couture Show. Photography by Chloé Le Drezen
Leather and fur aren't green
With sustainability there isn't that same exclusivity factor that comes with luxe furs and leathers. From the staple leather jacket to the current must-have fur-lined Gucci slippers, the fashion world can't get enough. However, the chemical processing that they go through creates damaging pollution, which isn't the case with sportswear. While leather is by nature biodegradable being a by-product of the agriculture industry the chemical processing it goes through makes it long-lasting and thereby harder to recycle. With fur not only is the processing hazardous but farming is damaging as well. In order to farm 1 kilogram of mink fur an estimated 110 kilograms of carbon dioxide is produced. In order to farm fur 20 times more Greenhouse gasses are needed than other textiles. Activewear however can be made from recycled materials and organic cotton.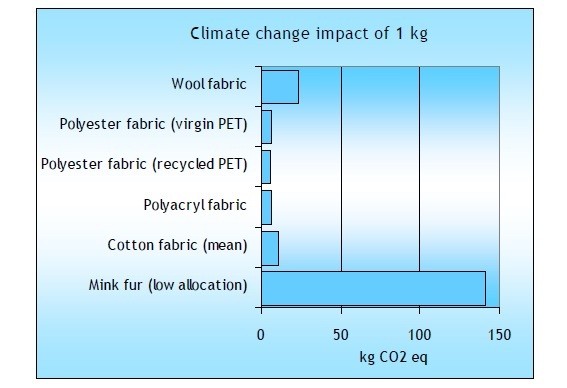 Statistics from a study done by CE Delft. Image courtesy CE Delft
Why sportswear can bridge the gap between sustainability and style
Although Lagerfeld doesn't see sustainability as more than a statement, he as well as other designers have given some sportswear items their seals of approval. During the Spring/Summer 2014 Couture shows, models from Dior and Chanel wore sneakers, a first for both companies.
Within the past few years designers like Derek Lam, Charlotte Olympia, Tory Burch and Tim Coppens have made their way into this market. Either teaming up with athleticwear companies or establishing their own lines, they see style potential in sportswear. And it's not only designers with successful brands who've done this but celebrities like Beyoncé, Carrie Underwood and Kate Hudson have followed suit. Their interest and acknowledgement of this market amps up the appeal for consumers. With sleek lines, reversible garments and lightweight textiles, sportswear really has the opportunity to make sustainability chic.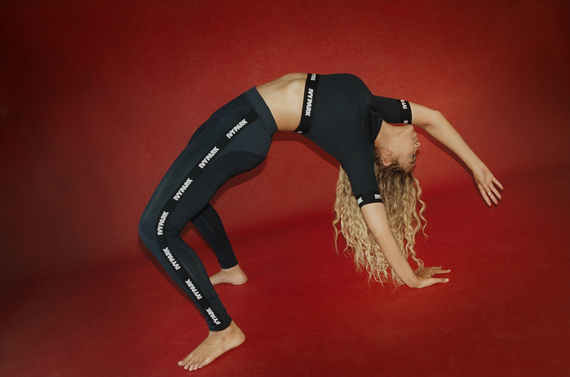 Promotional shot from Beyonce's Ivy Park Fall 2016 Collection. Image courtesy Ivy Park
Although sportswear isn't a new concept, the rise of athleisure helped it leave the confines of the gym and transport itself into the average woman's everyday closet. In a recent study by NPD, millennials are said to prefer sports bras over regular bras for their comfort, style and coverage. Even though athleisure is declining in popularity as of late it did help normalize wearing workout gear for more than exercise.
Sportswear companies understand that whether it's sports bras, leggings, tanks or shorts they can be reversible, made from recycled materials and fast drying. Companies like Cozy Orange, Columbia and Patagonia work with textile manufacturers to create eco-friendly products.
Even in the world of professional sports, the NBA is also decreasing their carbon footprint by teaming up with Adidas for Revolution 30. Since 2010 they've been using apparel with 60 percent recycled material. They're not alone, in 2014 the NFL team The Lions teamed up with Unifi and started wearing jerseys made with Repreve fabric.There is no doubt that these industries have a large influence among consumers. Other recent developments in this market include Columbia's Outdry Extreme Eco Rain Shell jacket dubbed the most sustainable jacket in the world.
Moving forward
The sustainability movement is in full swing as more non-athleticwear companies are taking part. Fast-fashion retailer Zara recently launched Join Life a new sustainable line after also debuting a new activewear collection in March. H&M is partaking through their Conscious line and the Global Change Award that will divide a €1 million prize among five up-and-coming environmental innovators. They also designed Sweden's 2016 Olympic uniforms with recycled polyester showing that sustainable sportswear is Olympian worthy.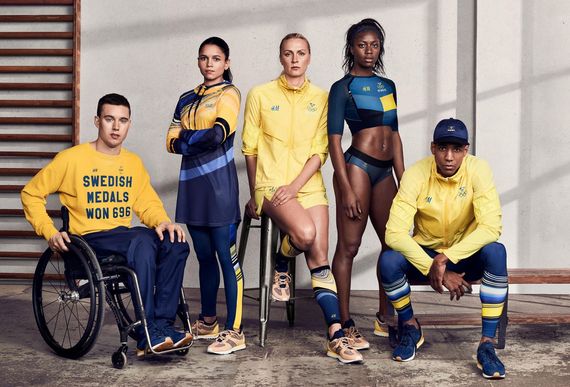 Members from Sweden's Olympic and Paralympic teams dressed in H&M. Image courtesy H&M
In the high fashion world strides are being made as Giorgio Armani, Calvin Klein, Tommy Hilfiger and Vivienne Westwood have cut out fur from their brands. Upcycling can be seen on the high streets and fashion bloggers though nobody is creating as much change as Stella McCartney. Through working with Adidas and in her own label, McCartney has been a leader in the movement for more sustainable options in both sportswear and luxury.
When it comes to moving forward, growing awareness about where things come from and how they're made is crucial. Sustainability is a key proponent in a healthy planet and as consumers start to realize this, an inevitable shift will happen in the fashion world.