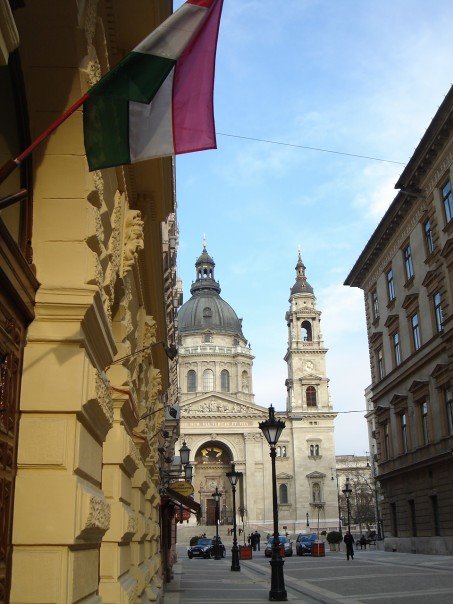 It's Saturday afternoon in Budapest. The shops are shutting down for the rest of the weekend, a civilized custom, I think. I arrived at this exact time two weeks ago. I'm getting used to life here. The smoke is bothering me a little less, and my kitchen has gone native, with smells of onions and paprika dominating. I even bought some bacon fat.
I have found most of the necessities of life within walking distance of my apartment: a greengrocer and a butcher on my block; a yoga studio; a couple of good Hungarian restaurants, one with Cimbalom music at night and three course lunch specials for about $7; the tram lines around the city; cheap, healthy Turkish take-out; two wine shops; a coffee shop; a big electronics market for tech emergencies; a tea shop, and a food market with local purveyors, where I even found raw goat milk. I found a place I can rent movies in English and two Internet cafes I can easily walk to with my laptop. I am in one of them now, inside the local art cinema. The other is near the Embassy, about ten blocks away. It doubles as an antique museum, so while working, I sit among art nouveau tables and chairs and eat little marzipan sweets covered in dense, dark chocolate. I gained two pounds yesterday. That's why I'm staying away today.
Life is good here. Americans have this crazy idea that living in Europe is like going on vacation. I suppose that's true if you're on a tour or something, and seeing things from a distance. But if you're living your real life here, it is not Disneyland. It is better, but -- and because -- it is real. There are real challenges to deal with -- computer problems to solve in a foreign language, light bulbs to buy, clothes to wash, money to change, and the ordinary details of life to negotiate. I tried to buy toilet paper and ended up with paper towels. Whoops. Yesterday a fat, toothless knife sharpener came to my door. I was so charmed, I gave him four knives to sharpen without clarifying the price. He tried to charge me the equivalent of $75 for five minutes' work. I threw him out with just 2000 HUF (about $10), which was still probably more than I should have paid. It's all part of learning the ropes of life in a foreign country. Personally I get a big kick out of it.
Today's challenge was being broke. It happens if you don't postpone your dreams until you have "enough" money (which seldom happens, no matter how much you have). I had forgotten to transfer money from PayPal into my checking account in time for the weekend. Oh well, no big deal. I had food in the refrigerator, and enough cash to buy a big bouquet of long stemmed yellow tulips for my hostess tomorrow, when I go to her open house.
Having done so, I took myself on a long walk along the Danube. The fruit trees hung heavy with huge pink quince blossoms. The sun was finally out, reflecting on the copper rooftops and spires across the river in Buda. I walked by the Parliament with its intricate lacy plasterwork, big banners, and rows of pansies. All along the streets and boulevards were old buildings with intricate latticework gates and terraces, statues, and carved doors. I walked and walked. It didn't cost me a penny. I walked home along a street with galleries and antique shops, stopping from time to time to browse. Money didn't matter. Life is here. Beauty is here. Sure, there's plenty of stuff to buy, if you want to, but beauty is a way of life, not something to purchase. It's there for everyone to enjoy. All you have to do is look.