By Emilia Petrarca, W Magazine.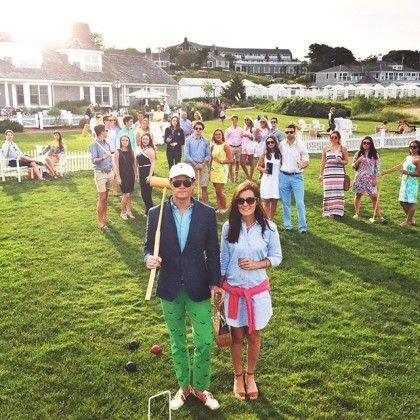 (photo: courtesy of @KJP)
Photographer Sean Burke (@SeanGaleBurke) first met Kiel James Patrick (@KJP), the founder of an eponymous ultra-preppy fashion label, at a Gatsby-themed gala at the Ritz in Boston. Burke's Instagram posts of his friends at their estates, driving vintage British sports cars, and of his parents sailing a classic wooden boat had already caught Kiel's attention, and the two have been working together on their joint social media presence ever since. Today, they've expanded their squad of Instagrammers to include Kiel's fiancé Sarah Vickers, (they met while shopping at Ralph Lauren), former-intern and photographer Erick Dent (a descendant of Ulysses S. Grant), and several other boat-shoe-loving buddies. Here, Kiel, who may very well be the preppiest user on Instagram, talks about his social presence.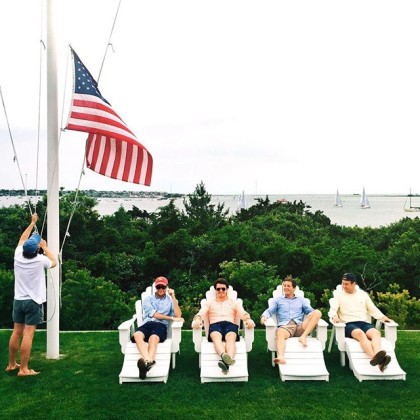 (photo: courtesy of @KJP)
How do you use Instagram as an advertising platform?
The strongest marketing has always been word of mouth, or trusting a friend's advice and opinion on what they like to wear or eat. Everyone on our team and in our factory has their own fan base and you're buying into his or her lifestyle by wearing the products we're making. We don't pay for advertising. We simply put out pictures of whatever it is we're doing that day and they go viral. It's basically trading likes.
How would you describe your followers?
Educated and very conscious of quality. They know the difference between good and bad and they're not necessarily going to jump on the next trend. The thing I like best about American-made is that it's a symbol of quality. A lot of people are like, "You're preppy," but it's the classic American lifestyle. One of my biggest inspirations is Norman Rockwell. I like to think that our photos are timeless.
Do your followers notice you on the street?
One hundred times a day. We went to a Taylor Swift concert a week ago and the security had to escort us to our seats and they said we were not allowed to get up again and they would bring us food and drinks.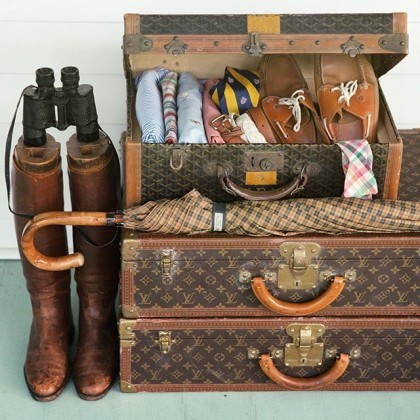 (photo: courtesy of @seangaleburke)
Have you met anyone famous through Instagram?
We took a picture with Kylie Jenner at the Ralph Lauren show. We posted it and it went absolutely viral. People were like, "Oh my god, worlds colliding!" I didn't even know who she was. Now I do. Lilly Pulitzer--the queen B herself--and her team also discovered me through social media and invited me to her 80th birthday party to sing happy birthday to her.
What performs the best for you on Instagram?
We throw a lot of events, like in Cape Cod or at estates, and we'll go out and meet the customers. We threw an event in Georgetown this past spring at the Brooks Brothers store and we announced it on Instagram. More than 2,000 people showed up. We had lines out the door.
How do you get your interns involved?
Every summer we open up Camp Foxhawk to our fans. This year we had 3,500 applicants. We pick a few of those kids out and it doesn't matter what their background is, it's about what they can teach us. It's a trade-off of talent. They might be a great photographer or going to fashion design school or business. All of our interns come back every summer. I went to summer camp at Camp Yawgoog, where Moonrise Kingdom was filmed, and I want it to be like my experience there.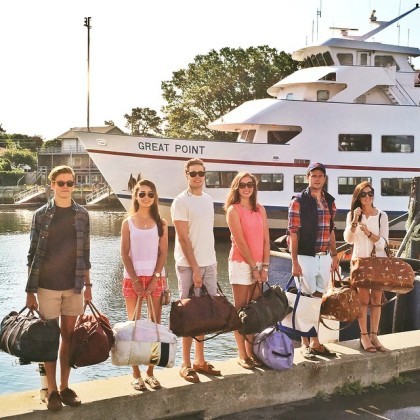 (photo: courtesy of KJP)
Would you ever use a selfie stick?
We've definitely posted with a selfie stick before. Whatever works. They're hilarious. We have these hover sticks now though. It's like a Segway without the pole. We've been using them for film.
How much do you stage your photos?
We like to pick places that have a lot of history. The whole company goes and we grab a couple of cameras, dress for the theme of the occasion, and go to town and have some fun. We don't like to plan the shots out ahead of time.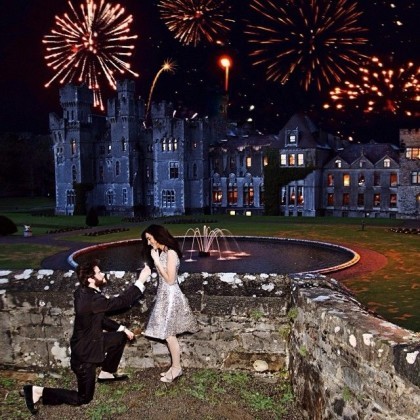 (photo: courtesy of @KJP)
What's the story behind your engagement photo with your fiancé @SarahKJP?
At the Ashford Castle on New Years they have a crazy fireworks display, so I set up the camera before I proposed to her. It was literally resting on a piece of castle stone. I had it on auto-timer and as I proposed to her, I caught the moment, but the fireworks went off at the wrong time, so I put them in afterwards as a composite. It came out amazing and we used it as our announcement photo. And then it went absolutely nuts all over the Internet.
How did you guys meet?
We met while we were shopping at Ralph Lauren, of course.
More from W Magazine:
Brad Pitt's and Angelina Jolie in Domestic Bliss (Photos)
Gigi Hadid Is REALLY Well Connected
Miley Cyrus Parties Like It's 1989 in this Racy Photo Spread
Chrissy Teigen and 9 More Top Models Go Topless in the Latest W Magazine
Kim Kardashian Goes Fully Nude in W Magazine
Also on HuffPost:
PHOTO GALLERY
23 Of Cara Delevingne's Greatest Style Moments