The recently concluded NCAA men's basketball tournament has once again highlighted some of the very best amateur basketball talent in the country. While some players continued to showcase their exceptional talents, new stars emerged in the spotlight of the most watched basketball tournament in the world. Many college basketball fans now turn their attention to the 2011 NBA draft.
Unfortunately, many ignore challenges student-athletes have when evaluating whether or not they should enter the NBA draft and forgo remaining college eligibility. This situation highlights a broader trend in which colleges, conferences and the NCAA have done shockingly little to provide guidance and counsel as student-athletes navigate the process of transitioning from college to professional leagues.
The process of entering the NBA is confusing to those that have this opportunity. For college seniors the NBA draft is when either their basketball dreams come true or they face the harsh reality that their dream of a career in professional basketball -- at least in the NBA -- is over.
A changing dynamic is that over the past decade we've seen a decreasing number of seniors selected in the NBA draft as the number of underclassmen and European players have increased.
The result is that the days when college seniors fill the NBA lottery are long gone and we now are bombarded with terms like "upside" and "potential" when evaluating draft prospects. Kevin Garnett, Kobe Bryant, Amar'e Stoudamire, and LeBron James are the most visible of the NBA stars that entered the NBA directly from high school between 1995 and 2004. The overall success of these players created a wave whereby a total of 39 players were drafted by the NBA immediately out of high school during this decade.
As the cycle continued and more and more early entrants declared for the NBA draft the focus of talent evaluation shifted sharply. While other factors certainly play a role what is glaringly obvious is that player evaluation is now heavily focused on potential rather than proven talent, as displayed in the college game.
Following the court's upholding the NFL's draft eligibility rules in Clarett v. NFL, in 2005 the NBA passed a provision defining when a player is draft eligible, which requires a player be:
"At least 19 years of age during the calendar year in which the Draft is held, and, with respect to a player who is not an international player ... at least one NBA season has elapsed since the player's graduation from high school."
Known as the "one and done rule" this regulation has radically changed college basketball as now the NBA mandates virtually every domestic basketball player go to college and, as such, must abide by the rules and regulations of the NCAA. This change means that the number of underclassmen in college who have the potential to pursue a career in the NBA has grown significantly.

The NCAA governs college eligibility and the concept of amateurism for all student-athletes. Under the auspices of protecting amateurism, the NCAA has established lines that define the rules by which all student-athletes that transition from college to professional athletics must follow if they are to maintain their NCAA eligibility.
Given this requirement, colleges face an increasing number of student-athletes whose sole reason for attending school is to wait the mandatory year before declaring for the NBA draft. The NCAA acknowledges this reality and has developed policies that define how these individuals may evaluate their NBA prospects while maintaining their college eligibility.
What is clear is that student-athletes in the sport of basketball are caught in a quagmire of rules and regulations that were developed between the NBA and NCAA -- as each entity seeks to represent its own constituency and position in the market. Clearly, both the NBA and NCAA have every right to develop rules that govern their organizations and seek to further their purpose; however a true voice for the participating individuals is muted in the process. Thus, when student-athletes seek information to assist them in making an informed choice on when to enter the NBA draft, their needs during this crucial time are marginalized.
There are some NCAA rules related to "testing the waters" as one pursues a career in professional basketball. Specifically, college basketball players may enter their names into the NBA draft one time during their college career without jeopardizing their eligibility provided they do not sign with an agent and they withdraw their name from the draft by a certain date. Players may tryout with NBA teams, and even have NBA teams pay for related travel, so long as they are enrolled full-time and do not miss class. Finally, prospects are allowed to submit their name to the NBA's "Undergraduate Advisory Committee," which is composed of NBA team executives, and receive a confidential projection of their likely draft position.
Unfortunately, the "evaluation period" the NCAA affords its student-athletes to make an informed decision -- an immediate career in the NBA or a return to college -- has been severely hampered by the dates and restrictions the NCAA -- not the NBA -- imposes.
This year the deadline to apply for early-entry for the NBA draft is April 24, 2011. On this day the NBA releases its official list of "draft eligible" prospects and at this point NBA team officials are allowed to have contact with potential draftable players including scheduling tryouts. The first date that NBA teams can conduct workouts for early-entry players is April 28, 2011. However, the date by which these individuals must withdraw their names from the draft in order to maintain their NCAA eligibility is May 8, 2011.
A student-athlete is unable to get direct feedback from NBA teams until April 24 (NBA League rule), may not schedule tryouts until April 28 (NBA League rule), and must remove their name from the list of draft eligible players by May 8 (NCAA rule). This leaves only 11 days during which time student-athletes are permitted to receive an appraisal from the NBA from which they must make a life-altering decision.
Why are there so few days during which a real assessment of an individual's potential is allowed? For this we can blame the NCAA, not the organization itself but the most powerful cohort within it -- college coaches. While many NCAA rules take into account the well being of the student-athlete, it is apparent that coaches carry more weight than those they should be representing. As such, the strength of college coaches has forced a change in the NCAA rules -- and the result benefits neither the NBA nor student-athletes.
As recently as 2009 the tryout period encompassed some 50 days, however, for 2010 the number of days for evaluation were radically reduced to the current 11 days. The reasoning behind this rule is that the coaches want to know -- for their own reasons -- who is returning and who isn't.
College coaches, predominantly at traditional basketball power schools, were dismayed that they were being held hostage as their players waited to commit to return to their institution. The perception was that this left potential roster spots unused for an upcoming season, which could leave these teams short of their maximum pool of talent.
The following chart highlights the number of student-athletes in college basketball that participated in this evaluation period in 2010.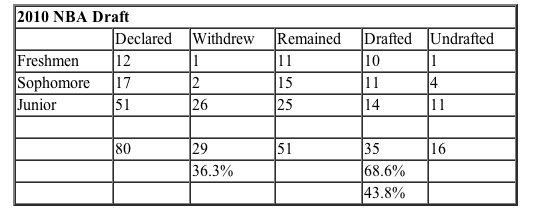 Thus, there were 80 NCAA student-athletes that declared for the NBA draft in 2010 and, with 50 days to assess their status, 29 of them (or 36 percent) decided to return to college. However, only 44 percent of the original 80 student-athletes were drafted, so another 16 players should have pulled their names from the NBA draft. In sum, 45 student-athletes in 2010 thought that they were ready for the rigors of the NBA but went undrafted.
If 45 student-athletes made the wrong choice in 2010 how many more will make a mistake moving forward as the tryout window continues to get smaller?
It would be negligent to identify problems without offering some recommendations and as such propose the following:
1)
That the NCAA expands the number of days during which student-athletes may explore their potential as an NBA player.
A) With a longer time to engage in this process, student-athletes can continue with their academic responsibilities and ensure compliance and eligibility should they return to campus in the fall;
2)
That student-athletes have a real opportunity to determine their draft potential directly from the NBA in a timely fashion. In this regard NBA rules could be changed to allow:
A)Direct contact between the league and potential players during an identified time period far greater than the current 11 days; and
B)The creation of a true "combine," within the time frame the NCAA permits tryouts, that enables all underclassmen to compete and perform in front of NBA personnel -- reducing travel time for college students and allowing for a greater comparison between individual players.
3)
Just like the NCAA allows in the sports of baseball and hockey, permit basketball players to hire an "advisor" to assist during this challenging period. The relationship can be strictly limited in scope to the procurement of draft potential and negotiating the tryout calendar with NBA teams. These services can be billed to the student-athlete, just as advisors are required to receive compensation in baseball and hockey, at the going rate.
4) The NBA and the NCAA jointly revise the rules relative to the NBA draft whereby any student-athlete that declares themselves eligible has the ability, if not selected in the first round of the NBA draft and thereby guaranteeing themselves a contract, to return to college. Teams should have little vested in someone they, collectively, don't value as a first round pick. These student-athletes, so long as they haven't committed other NCAA infractions, would then have the opportunity to continue on towards a college degree while honing their craft with another year of college basketball.
While both the NBA and NCAA have shown some level of acceptance that college student-athletes must engage in a real determination of their professional potential in the sport of basketball, there are still areas in which improvements may be made. While the NBA and NCAA certainly have their own priorities, there are some simple changes that would significantly enhance the ability of individuals to increase the likelihood that they are making the right life-altering decision during this period.

Read the full article here.