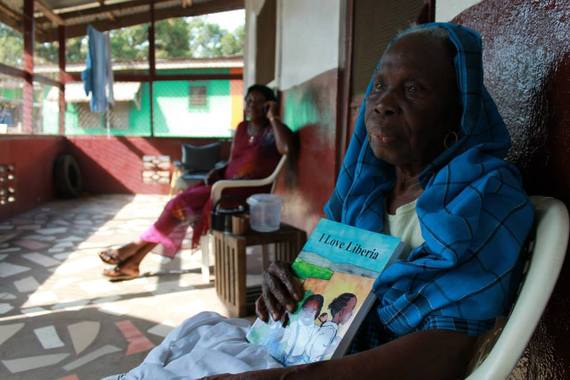 When I arrived in Liberia this year on April 2nd, news of Ebola was dwarfed by jokes and conspiracy theories, including that it was a man-made virus deliberately spread by Westerners to steal West-African land and resources. More critical thinking Liberians immediately urged President Ellen Johnson-Sirleaf and the Liberian government to close the borders, especially crossings in Lofa County where the first deaths had been reported among citizens who traveled between Liberia and Guinea. At that time there were 8 suspected and confirmed cases and 5 deaths.
Four months later, the government's reluctance to act quickly has resulted in nearly 300 Liberian lives among the 1065 (and counting) that have been lost in neighboring Guinea, Sierra Leone and Nigeria. It was a Liberian man, Patrick Sawyer, who spread the disease to Nigeria by boarding a plane, allegedly unaware that he was infected. It was also in Liberia that two American healthcare workers from US based non-profit Samaritan's Purse, Dr. Kent Brantly and Nancy Writebol, caught the deadly disease.
Meanwhile, The Centers for Disease Control and Prevention issued its highest travel advisory for West Africa; and British Airways, Emirates and others have temporarily suspended flights to and from Ebola infected regions.
As a Liberian, what is most saddening about this year's outbreak, of course aside from the hundreds of lives lost and the pain of the grieving families, is that a country that has only barely recovered from the infrastructural devastation of the 1989 and 2003 Civil Wars now also has to battle the economic tragedy and stigma of one of the world's deadliest diseases.
My April trip marked the first time I'd been to Liberia since 1990. My family moved to the United States when I was five-years-old because of the first war, and my work in publishing gave me an opportunity to return 23 years later. I visited old homes and family members, searching for smells and faces that would give me a clearer picture of my childhood before the war. It is a beautiful country with vast beaches, vibrant green, rolling hills and people so awake with culture and laughter that it is hard not to fall in love with it. Despite the evident poverty, corruption and murmurs of which politician had stolen what; new hotels and restaurants had made their homes in Sinkor, surfing and yoga classes were being given to expats in local beach towns, local Liberians flooded Monrovia's sidewalks in pursuit of work and education and UN Police were present at every major turn. My parents, two educators, were among many who recently moved "back home" to contribute to the country's redevelopment.
While there, it was difficult for me to find a comprehensive collection of national, international and classical literature. The need for a space that catered to the literacy education deficit inspired me more than anything ever has, so I found a storefront on a busy commercial road in Monrovia and decided that I would open a bookstore. In June I shipped over 800 purchased and donated books, and while renovations were being made to the space, I prepared for an August flight. I called my parents at the end of July to confirm they'd received the shipment, only to hear: "Do not come." I was aware that the Ebola virus had reached alarming rates, but I assumed that it had already peaked.
"Do not come here. It is not safe," my father repeated several times over the course of a few days, disillusioned, afraid. Only a week after our initial conversation, my father's warnings were affirmed when two American aid workers contracted the disease, prompting what was perhaps then perceived as the most recent disease ravaging Africa to gain urgent international attention.
During the subsequent days, my emotions shifted from sadness to fear, from anger to disbelief. In Monrovia I laid under the stars with my mother and we recalled the few memories I had of my childhood there. We cried for Liberia's past, we laughed and dreamed of what the future held for that profound, mystifying place. But that future is delayed, for so many, yet again. It broke my heart to cancel my trip, but my heart cries louder for men and women like my parents -- who returned in an effort to give back, rebuild, only to now witness an unprecedented withering of that beloved country. For families like Nathaniel Dennis' -- the young Liberian-American who recently died in Liberia of a non-Ebola related illness after being refused entry into Ghana for medical treatment, even after his tests were negative. For the doctors and nurses who make up 15% of the total deaths in Liberia, who died committed to saving the lives of their people. And for those who lived through the first or second war to suffer additional loss, sickness, and now the afflicting poverty that will result from the city's recent lockdown, through no fault of their own.
Amara Konneh, Liberia's Finance Minister, said last week that the outbreak had already cost Liberia's economy $12 million between April and June - 2 percent of the budget. According to Konneh, Liberia will now have to revise its projected GDP growth of 5.9 percent. Already one of the world's poorest countries, the Liberian economy is suffering a reduction in trade, as well as local farming and commerce. As part of Sirleaf and the government's steps at deterring the spread of the disease, three major markets--Goya, Bo Waterside and Ganta--were ordered closed until further notice, greatly affecting the income of families in those communities.
In America, Liberian-American run non-profits across the country are hosting fundraisers to collect materials like Clorox for "Ebola kits" to be sent back to needy families. A Facebook group of Liberians across the diaspora was successfully organized for information sharing, to raise awareness and funds for relief, establish drop-off locations around the US and UK for chlorine and bleach, and to create a 24-hour Ebola Response call center in Liberia to answer calls for help.
But through it all, I cannot fight the contemplation of why some countries, why some men, why some histories are so far less fortunate than others. None can choose which journey they are born into, what barriers or privileges will dictate the circumstances of their lives. So yet another rainy season of infant orphans and widows, of closed schools and markets, is weakening. What breeds strength is solidarity. What has given hope, at least to me, is the collective, raging desire among countrymen around the world for Liberia to one day rest. It is this thought that binds the market woman, the expat, the Bassa man, the dreamer, the schoolgirl -- Liberians -- all dignified among the ruins, all waiting for yet another war to pass.