It's been a busy news cycle for LGBT rights in the state of Illinois and around the country. Marriage equality is on the march in court cases and through legislative bodies, Pride month has focused attention on LGBT issues, and the November elections with their renewed "culture wars" are looming. That's why I was pleased to sit down with Illinois State Representative Greg Harris, the highest ranking openly gay elected official in the State of Illinois, and talk in-depth about the pressing issues facing the LGBT community not only here in the state, but nationally as well, for my new show Critical Thinking on Gay Chicago TV.
Rather than just be another news clip or headline show, we are really working to make Critical Thinking a more in-depth discussion show with newsmakers and opinion shapers on all things relevant to the LGBT community -- and Rep Harris did not disappoint. Our discussion really broke down not just the usual talking points around the topics we covered, but the underlying issues that play into it as well.
Of course, the big LGBT issue in the news right now both in Illinois and nationally is marriage equality. Here in Illinois, Harris was chief sponsor of the Religious Freedom Protection and Civil Unions Act, which took effect in June 2010. He also recently sponsored a full marriage equality bill, the Religious Freedom and Marriage Fairness Act (HB 5710) introduced in February. Harris told me of the ways many in which civil unions, while a good first step for the state, have been proven separate and unequal -- including confusion over state income tax filing, problems with putting a civil union partner on company health plans, hospitals restricting patient access to a same-sex spouses and much more.
While the likelihood of a legislative passage continues to fall a bit short of the votes needed in the legislature, Harris was completely supportive and praised the state's "multi-pronged approach," referring to the Lambda Legal & ACLU lawsuits filed against the state's 16-year old ban on same-sex marriage. In fact, Harris pointed out the success of these lawsuits isn't as separate from the role of elected officials as some in the media and in the community seem to think.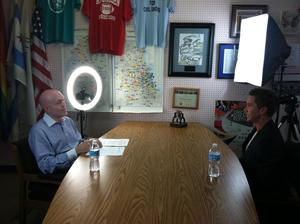 With recent news that both Illinois Attorney General Lisa Madigan and Cook County State's Attorney Anita Alvarez have refused to defend the ban, the Illinois marriage case could move quickly through the court system -- a move that shows just how connected all the different strategies of gaining full equality really are.
Every issue we talked about, from anti-bullying laws to HIV/AIDS budget cuts to working with openly anti-gay legislators, all seemed to come back to one main underlying issue -- the importance of fair-minded voters showing up at the polls and voting in equality supporting public officials. One of the most important things when it comes to making progress for LGBT rights, and perhaps one of the things least talked about in the movement, is getting out the vote. Even when we take our issues to the courts, getting out the vote comes into play with state attorneys and judges, as we have seen in the Illinois marriage cases and in cases around the country. Equality-minded legislators and elected officials don't just appear. We have to work to get them elected.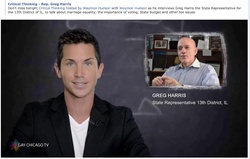 The fascinating discussion with Representative Harris really drove home the point of looking closer at issues in our community and finding some of the underlying and under-discussed factors that go into making progress for LGBT rights. It is something the entire team at Critical Thinking hopes to continue to accomplish in upcoming shows planned on topics like transgender issues, bisexuality, social justice, racism in the LGBT community, economic issues, and many other topics that sometimes get glossed over in the larger media landscape.
Make sure you catch the entire interview on Critical Thinking Hosted by Waymon Hudson after it premiers on Gay Chicago TV on June 28 at 8 p.m., with new episodes added every second and fourth Thursday of the month. You can join the show's discussions on twitter with the hashtag #WaymonWrapUp and on our Critical Thinking Facebook page.