It's often referred to as one of the last gay taboos in Britain: an out gay professional footballer. But why does a large proportion of the British gay (and straight) media, as well as a large section of British society in general, seem to be obsessed with the prospect of an out pro footballer?
Britain's first £1-million black footballer, Justin Fashanu, had the sporting world at his feet when he transferred to Nottingham Forest in 1981. Fashanu didn't come out publicly until 1990, but his sexuality was no secret to those who knew him, including his manager at Nottingham Forest, Brian Clough. In his biography Clough recounted a particularly frustrated exchanged he had with the player soon after his transfer to Forest:
'Where do you go if you want a loaf of bread?' I asked him.

'A baker's, I suppose'.

'Where do you go if you want a leg of lamb?'

'A butcher's'.

'So why do you keep going to that bloody poofs' club?'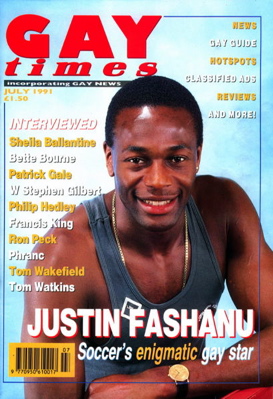 It would be far too lazy and irresponsible to link Fashanu's struggles with coming out in the world of football with his suicide in 1998. However, to the gossip-hungry tabloid fan it's easy to pick out the words "gay," "footballer" and "suicide" to create a climate of fear that has remained with us, even up until today. In 1991 Gay Times featured Justin Fashanu on its cover. How sad that in the 22 years that have followed we haven't seen another gay footballer on the cover.
Last September Clarke Carlisle of the Professional Footballer's Association told a sports magazine that he had spoken to eight gay professional footballers who told him that they were afraid to come out. Seven cited a fear of fan and media backlash as one of the reasons that they had chosen to remain publicly closeted.
But is this idea of an intolerant, caveman attitude to homosexuality in football merely an invention of our fear?
One of the biggest factors that make the whole idea of an out gay footballer in 2013 so interesting is the unknown reaction that person would receive from fans, teammates and the media. Would we be foolish to think that a sport that still has to encourage clubs to combat racist abuse from fans would welcome a gay player with open arms? Unfortunately, until another player does come out, all that we can do is to guess the answer to this question.
All players face taunts and insults, for being black, for missing penalties or for simply being unpopular. We all remember what we were told at school about name calling: "Sticks and stones make break my bones, but words will never hurt me." But when that name calling crosses the line and becomes damaging, then something has to be done. When fans shout to David Beckham that they hope his kids get cancer, something has to be done. Footballers are employees of the club, and in any other job we look to our employers to provide us with a safe working environment.
The "Football v Homophobia" campaign is "an international initiative opposing homophobia in football at all levels -- from grassroots to professional clubs." This year the campaign aimed to recruit as many teams (league and non-league) as possible, asking them to pledge their support for tackling homophobia in football. The scheme is heavily supported by the FA on their official website, yet three months after the campaign started, only 55 teams have so far signed up. Some of the biggest teams in the country do not yet appear on the "150 Leaderboard." (You can see who has made the pledge and who hasn't by visiting the FA's website.)
The clubs, the FA, players, fans and the government all have a part to play; it's impossible for things to change unless everyone is on-board. When we look at the political progress that has come about in regard to gay equality, it's easy to applaud our forward-thinking nation, but these changes in law do not always make the transition into everyday life and communities so smoothly or in as timely a fashion. Sometimes laws can change a lot more quickly than attitudes can.
When American soccer star Robbie Rogers came out while at the same time retiring from the sport in 2013, he stated that it would be "impossible" for a footballer to come out and continue to play. However, after recently training with the Los Angeles Galaxy, Rogers said, "It feels normal to be back. I've grown up playing soccer my whole life. I've always been on a soccer field, so I feel at home on a soccer field." A promising sign.
The big question is whether or not we actually need a footballer to come out. My point is that if we know that there are at least eight gay footballers currently playing top-flight football who are not comfortable coming out, then that is unacceptable. Anyone who has come out knows what this fear is like. Instead of worrying about the media response, we may have worried about our friends' response. We haven't had to worry about the fans' response, but we agonized over what our colleagues might say.
It would be great for one of those eight players to stand up and be counted. Fear can cripple us, but the difference with fear of this nature is that we don't yet know the outcome, so we don't yet know if it is warranted. But one thing is for sure: Whoever decides to step up and step out will have the respect and appreciation of millions of people from around the world. Many will think that this is no big deal, and to them it might not be, which is fine. But it is a big deal to many others.
"I realised I was gay when I was 14 or 15. I was like, 'I want to play football. But there are no gay footballers. What am I going to do?'"
--Robbie Rogers, 2013