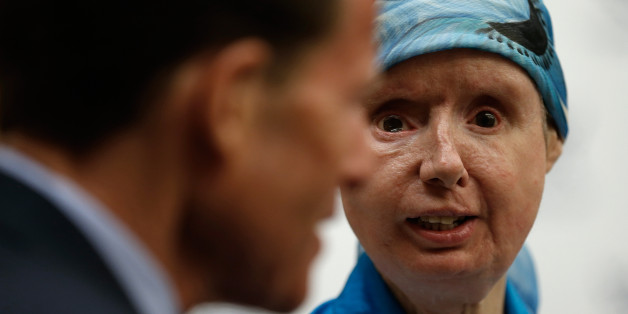 Yesterday, I shared the podium on Capitol Hill with the brave Charla Nash who, five years ago, suffered one of the most extensive and life-changing animal attacks in American history. After being called to help calm her boss' adult male pet chimpanzee Travis at home, Nash suffered a disfiguring attack from the powerful 200-pound animal that left her barely alive.
For the first time in Washington, she told her story, advocating for the swift passage of the Captive Primate Safety Act, S. 1463/H.R. 2856, which seeks to ban the interstate transport of primates for the pet trade.
In February of 2009, the enraged Travis bit off Charla's hands and toes and essentially tore off her face before a police officer shot Travis to save his own life. Travis suffered a mortal wound and staggered into his home and died in his bed minutes later.
As Congressman Earl Blumenauer, D-Ore., said yesterday, the House passed his bill to ban the trade in primates as pets in 2008, but the Senate failed to act. Just as our push for a national no-downer policy in 2003 preceded the finding of a downer cow in the food supply some months later -- and a major disruption in world beef markets -- our warning about inaction in stemming the trade in primates as pets preceded the grisly and tragic circumstance of Ms. Nash and Travis in Connecticut.
Sensible policy action should not require these sorts of cataclysmic outcomes. But to have these sorts of events, and then to fail to act on policy reforms to prevent these tragedies from happening again, compounds the gravity of the inaction by Congress.
Connecticut's two U.S. senators, Democrats Dick Blumenthal and Chris Murphy, in joining Blumenauer and House lead sponsor Rep. Mike Fitzpatrick, R-PA. at today's event, said a similar thing. They said they'd use all their power to shepherd this legislation through Congress, in honor of their one-time constituent. You can help by calling your U.S. senators and representatives and asking them to pass the Captive Primate Safety Act.
Charla is as compelling an advocate for any bill as I've ever seen. And yesterday she told a wall of reporters and TV cameras that she doesn't want anyone to suffer the same fate she did.
Who can argue with that from this modest and courageous woman?
This article first appeared on Wayne Pacelle's blog, A Humane Nation.