Last weekend, I flipped through the pages of Hispanic Pioneers in Colorado and New Mexico, a combination honorarium, history, archive and scrapbook compiled and published four years ago by the Colorado Society of Hispanic Genealogy. Originally envisioned as a glossy coffee table production, the finished product fell short of the society's aspirations due to budget constraints. But while the hardback ended up more studious than sleek, resembling a textbook rather than upscale deco, the publication still dazzles. And the history and culture shine even if the pages they're printed on don't.
When the first edition sold out, it seemed a shame that additional copies weren't available for people to at least peruse a past that isn't widely known among the general population. Those with only a casual interest in a slice of our national origins largely unreported are missing a treat and academics are missing an important aspect of not only Hispanic history, but American history, by not reading and referencing the book. Scholars didn't compose the text and the photographs weren't gathered from a library or museum collection. Instead, the book's contents - both text and illustrations - came from the personal collections of the Hispanic families that appear in the book. Call it citizen journalism. The society's members scripted recollections and family histories; opened their memories and family scrapbooks to present a personal and intimate insider glimpse into America's Hispanic roots.
Now the Colorado Society of Hispanic Genealogy has reprinted the publication. A brief synopsis of the book appears on their website:
Hispanic Pioneers in Colorado and New Mexico contains a wonderful collection of family histories. This book is a lasting legacy of photos and family stories from the 1800s to 1950. It has 300 pages of precious photos and stories, plus it includes a full index of names and locations. Hispanic Pioneers in Colorado and New Mexico is listed as a "must-have" among southwest libraries and museums. According to Modupe Labode, Ph.D., past chief historian of the Colorado Historical Society, "This book will not only help other genealogists, but it will be a vital resource to historians, sociologists, and other researchers." Marianne L. Stoller, Ph.D., professor emerita, Colorado College, says, "This book is a priceless contribution to the State's History." Vincent C. de Baca, Ph.D., adds, "This work is a major contribution into the history of the Hispanic people in the American Southwest."
Left unstated in that summary is the powerful and sometimes poignant immediacy of the family recollections. While formal studies might offer greater scholarship, analysis and precision to the history, the personalities of the past revived by the pioneers' descendents, most of whom aren't trained historians, offer a refreshing insight into the everyday life of the people. Familial recounts are gathered into chapters that broadly define these people's lives and circumstances. "Buildings," Church and Culture," "Family," "Education and Children," "Occupations," "Military" and "Law and Order" are several such chapters - actually entries - through which the reader experience Hispanic traditions through historical examples. (Disclosure: I wrote the brief intro to "Law and Order" but receive no compensation, royalties and have no interests in publicizing this book other than wanting to share its wealth of history) Perhaps most compelling are the individual accounts that present an overarching vista of the Hispanic culture on American soil that predates the Mayflower's landing at Plymouth Rock.
While Coloradans - and national audiences - might know at least a snippet of the story, perhaps reading about Secretary of Interior Ken Salazar's origins, countless unknown Hispanics, with roots in Northern New Mexico and Southern Colorado, populated the landscape from which he originated. Sadly, many of them, unlike Secretary Salazar, don't realize their heritage - or their potential. The study of Sephardic Jews among Hispanics has sparked additional interest in the area and culture. But the general population has barely touched on this fascinating history, perhaps sampling the Hispanic existence with a quick visit to Santa Fe, but not quite realizing that the history is as beautiful as the scenery that surrounds it and spicy as the cuisine that feeds it.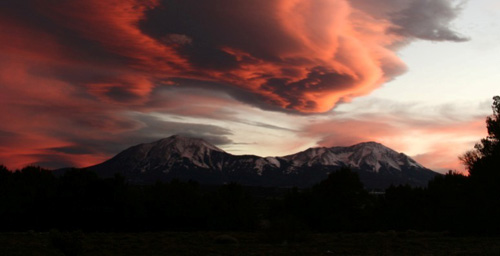 Photograph by Richard Gallegos
That beauty doesn't merely reside in the prose and recollections. Dated but priceless family snapshots tell these people's tale. For those of us hailing from these origins, the photos powerfully resonate, reminding of similar ancestors and households. Photographer and descendent Richard Gallegos captured a stunning visage of the area's Hispanic topography with his dramatic photo of the Sangre de Cristo Mountains, an allegory of the rugged beauty that symbolizes the people's existence. While I prefer the simplistic snapshots of the people to the modern pictorials of New Mexico, too often staged by professional photographers, there is a professional photographer (whose photos do not appear in this book but deserves honorable mention) that bypasses the tourist trap mentality permeating so much of New Mexico. Alex Harris has spent decades photographing New Mexico's Hispanics, knowing and loving not only the area but also the people, including many of the elders who've since past. A photograph he'd taken in the early 1970s of my father's ancient godparents sitting in their equally ancient truck revived both them and my early childhood (actually, all of which I considered ancient history), his image powerful enough to seemingly transform a dated moment and memory into a substantive and timeless reality.
Likewise, Hispanic Pioneers in Colorado and New Mexico reclaims history, making it important and immediate. As mentioned, interest in this book shouldn't be limited to descendents or even Hispanics in general any more than histories of the pilgrims, George Washington, Thomas Edison or Martin Luther King, Jr. should be limited to a demographic. As much as any of the aforementioned examples, this book should be as much about American history as Hispanic history.