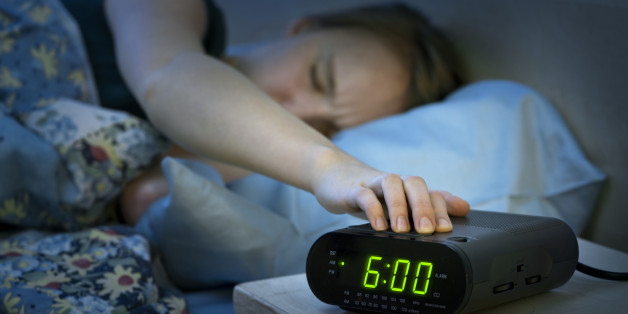 Everyone knows that mornings can be tough for women. After all, we females have to deal with kids, pets, and husbands. With wardrobes, exercise, and coffee. With cellphones and newspapers. And all of that while owning ovaries. Honestly, it's a wonder most of us don't just crawl under the covers with a bottle of Benadryl and go back to sleep for a few hours! This modern world is no joke!
That's why I was so fascinated by an article called "The Morning Routines of 12 Women Leaders." In it, 12 "extraordinary" women detail how they start each day. And, after reading a few gems like these (in no particular order), it's apparent why they're so successful and I am not. I don't even know who the hell designed my sweatpants!
"4:45 Wake up and have a bowl of quinoa cereal. I do an hour or so of 3rd or 4th series ashtanga yoga."
"6am My little ladies wake up and I make their breakfast -- green milk (almond milk with coconut water, banana and steamed baby spinach) and either whole wheat French toast or pancakes"
"7:05 I apply sunscreen to my daughter, Phoebe and send her on her way."
"6:45 Peruse hard copy of newspapers (WSJ, NYT, FT, NY Post)"
"6:43 Alarm goes off. No snooze. Pull on John Eshaya sweatpants and clogs."
"8am Drive to office to begin my work day. Second call in car. Make my organic earl grey tea with almond milk."
"6:50 Make coffee (fair trade); microwave Zen Bakery muffin (vegan) First breakfast."
So very impressive and inspiring to us ordinary schlub women who don't own hard copies of newspapers and who have no idea how to milk an almond. In fact, this article even propelled me to stop drinking my GMO-laden convenience store iced tea, put down my (unfair trade) Jimmy Dean sausage wrapped in a pancake, and ask a few of my loser friends what their morning routines are like. My hope is that maybe with our lists, we'll realize what we're doing wrong in life and maybe, just maybe, we'll starting eating (vegan) muffins, too.
_______________________________
6:40 a.m.: Wake up, alone, in my 8-year-old son's bed after moving from my bed at 3:15 a.m. due to overcrowding from husband, boy, and dog. Massage creases left in face by Star Wars-themed pillow sham.
6:45 a.m.: Let dog out.
6:50 a.m.: Endure the longest 33 seconds in the world, waiting for the Keurig to fill up my personalized Legoland mug.
6:50 a.m.: Let dog in.
6:55 a.m.: Drink coffee. Check TMZ, Gawker, and Facebook on iPhone for important overnight world news while in line for my turn in our home's only bathroom.
7:15 a.m.: Park son in front of SpongeBob SquarePants with breakfast son has made himself of canned peaches and cocktail onions.
7:20 a.m.: Let dog out.
7:25 a.m.: Run through backyard in pajamas, picking up a week's worth of dog poo with a Vons bag before arrival of gardener.
7:40 a.m.: Let dog in.
7:55 a.m.: Pull into school drop off, just after last bell, avoiding eye contact with other parents while hiding behind cataract-surgery-sized sunglasses.
8:15 a.m.: Return to bed.
8:20 a.m.: Let dog out.
_______________________________
I have five kids. Stop asking me dumb questions, Wendi.
_______________________________
5:00 a.m.: Awaken to my toddler-alarm set to the marimba-screaming tone. Take a meditative moment of bad dream re-enactment with the kindergartner. Enjoy a 30-minute marathon of feeding and dressing two lifeless mannequins before tossing them from a moving vehicle in front of buildings labeled "school." Carpe diem!
_______________________________
4:45 a.m.: Wake up and stretch my chronically tight hammies and calves. Try not to fall asleep standing up.

5:30-6:30 a.m.: Run with friends and gossip about the neighborhood.

6:30 a.m.: Big coffee, toast, almond butter and berries... because I can eat it with one hand. Husband has already made the kids' breakfast, so I get the lunches together while eating and listening to the kids tell me how much I reek of sweat.

6:30-7:00 a.m.: Nag Nag Nag. Where are your socks? Did you brush your teeth? Are you sure?? Wear a jacket... grab your lunch... hurry hurry hurry! Somewhere in there I shower and hope it's a no-wash hair day.

7:00-7:30 a.m.: Depending on the day and the carpool situation, I take either two elementary-age boys, or four middle-schoolers to school. Unfortunately, neither drive includes NPR's Morning Edition.

7:30-8:00 a.m.: Walk the dog. Check Facebook, because it's not wasting time if I read it during a walk. Afterward, stand in the driveway for 15 minutes, still checking FB. I'm not in the house yet, so not technically on the clock!

8:00-11:00 a.m.: Drink way too much coffee, then try to rehydrate with water. Then pee every 30 minutes. Then realize I'm jumpy and need more food. Pretty much my whole morning is a series of internal negotiations about how much longer I must sit in my desk chair. I stretch, stand up, or pace every 30 minutes or so. Somehow, I don't blame the coffee.

_______________________________
Awaken to dog doing St. Vitus dance at the end of the bed. Everyone argues about who should get to shower first, the one who woke up first or the one who needs to be out the door first (never the same person). Everyone drinks out of at least three vessels and leaves them all on the kitchen table with a vague promise to "clean up later." Throughout, dog barks at construction trucks, squirrels, and falling leaves. Never leave on time, but rather 4-5 minutes late, so we have something to argue about on the way to the bus stop.
_______________________________

DOLLY PARTON

8:00 a.m.: Tumble outta bed, and stumble to the kitchen, pour myself a cup of ambition. Yawn and stretch and try to come to life.

_______________________________

SHARI SIMPSON
6:00 a.m.: Wake up and immediately get licked raw by two pugs. Go and wake two children, who immediately hate my guts for waking them. Go back to bed, wishing that my children were pugs.
_______________________________

ROBIN O'BRYANT
6:30 a.m.: Hit Snooze on my Samsung Galaxy s5.
6:37 a.m: Yell at husband to turn his alarm off. Him: That's yours again.
6:40 a.m.: Check FB to see if anybody posted new cat videos.
6:45 a.m.: Get out of bed and have a raging internal dialogue re: whether or not I technically need to wear a bra.
7:00 a.m.: Pull on yoga pants with the shirt I slept in last night. No bra. Obviously.
7:05 a.m.: Make coffee while yelling at my kids to, "PUT YOUR HOMEWORK IN YOUR FOLDER AND YOUR FOLDER IN YOUR BACKPACK! IT'S THE SAME THING EVERY DAY! WHY IS THIS HARD?"
7:10 a.m.: Braid oldest's hair.
7:14 a.m.: Braid middle's hair.
7:17 a.m.: Put pigtails in little's hair.
7:20 a.m.: Pick ponytail holders up off the floor, where youngest has chucked them and explain to her, "I can't braid your hair like Elsa's because she has hair like Crystal Gale and your hair only comes to your chin."
7:30 a.m.: Pretend it's Easter and instead of eggs, we search for socks and shoes.
7:36 a.m.: Decide not to engage when little puts on a knee sock and a no-show athletic sock -- she's expressing herself!
7:41 a.m.: Herd the kids to the car, carrying backpacks, gym suits and soccer gear.
7:44 a.m.: I forgot something?? Oh, shit. Breakfast.
7:45 a.m.: Run back inside, only two protein bars left -- but not to worry, I haven't thrown away the half bar somebody didn't finish yesterday! SUCCESS!!
7:50 a.m.: Screech into the parking lot on two wheels.
8:00 a.m.: Microwave the coffee I made at 7:05 and wonder if that morning can count as my cardio.

_______________________________

MARINKA
6:00 a.m.: Wake up. Wonder if I am Pam Ewing. Or Bob Hartley. Feel devastated that am neither. Go do morning stuff.

_______________________________

ANNE HEBERT

My typical morning includes curse words and scraping the bottom of the fridge to make lunch for the 9-year-old, proud that I managed to scrounge up a quesadilla after not having gone to the store for a week, which I then forget to put in his lunch box and have to go to school with bed head and in sweats to sheepishly hand a scrawny tinfoil package to the office ladies and say "I forgot the bulk of my son's lunch" as they look questioningly at said "bulk."

_______________________________

LAUREN BAYNE

6:00 a.m.: Make my kid get dressed out of the dryer full of clothes that have been in there for five days.

6:30 a.m.: Re-pack the same water bottles from yesterday's lunch because I'm running so late that I can't empty them out and refill them again.

7:00 a.m.: Dry shampoo my entire head and quite possibly my undercarriage because I have no time to waste taking a shower.

7:30 a.m.: Call my neighbor to jump-start my car because my kids left the damn globe light on ALL NIGHT and my cheap-ass battery is drained.

_______________________________

VIRGINIA WOODRUFF

I spend 45 minutes trying to convince my kids to wear pants.

_______________________________

ANN IMIG

YOU CANNOT WEAR THAT SHIRT FOR THREE DAYS AND THREE NIGHTS. YOU MUST WEAR UNDERWEAR. YES, EVERY DAY. I KNOW YOU DIDN'T BRUSH YOUR TEETH BECAUSE YOU HAVEN'T MOVED FROM THE COUCH SINCE I ASKED YOU THE SEVENTH TIME AND YOUR BUTT IS STILL IN THE AIR AND THE LEGOS ARE STILL IN YOUR MOUTH YOU ARE SEVEN YEARS OLD GET THE LEGOS OUT OF YOUR MOUTH YOU AREN'T A BABY. OOPS SORRY I CALLED YOU A BABY.

_______________________________

WENDI AARONS

6:00 a.m.: Wake up and wish I were dead.

6:05 a.m.: Remember that there's a new Real Housewives of Atlanta on later, so get up and put on whatever clothes I find on the floor.

6:06 a.m.: Sip coffee and wonder where it all went so very, very wrong

6:10 a.m.-8:00 a.m.: Yell

8:01 a.m.: Benadryl

_______________________________

CARLOTTA STANKIEWICZ

Leave me alone. I'm eating Halloween candy.

-----

Obviously we have a lot of work to do before we become extraordinary women with these f*cked-up morning routines. But that's OK. Ordinary is a lot more fun. Plus we don't have to tire ourselves out trying to pretend everything is perfect.
This post originally appeared on wendiaarons.com.
Like Us On Facebook |

Follow Us On Twitter |

Contact HuffPost Parents
Also on HuffPost:
PHOTO GALLERY
Baby Photobombs