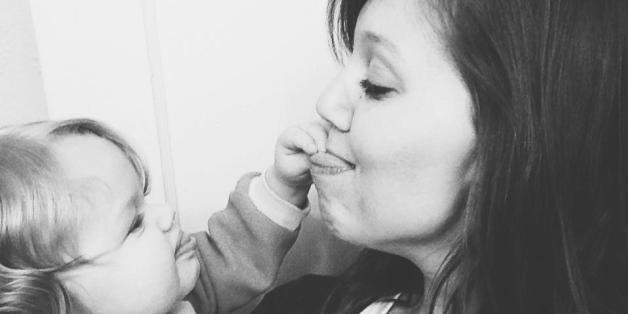 Beauty is subjective. There's no such thing as a consensus about what makes a person physically attractive. It varies from nation to nation, from city to city and from me to you.
I have an 18-month old daughter. And, in my eyes, she is absolutely breathtaking. Sometimes I feel this overwhelming surge of emotion when she looks at me, and I can't help but marvel over the depth of her big, blue eyes; the soft, velvet texture of her cheeks and the wild, golden curls that frame her face.
"You're so pretty!" I tell her at least five times a day.
But, apparently, "pretty" isn't what we should be calling our daughters. At least that's what I've read over the last couple of years. There's a story going around that telling our daughters they're pretty will only ensure a lifetime of dependency on the superficial value of good looks. This story makes moms like me hesitate when we want to tell the girls we know that they're beautiful.
But, really, what's wrong with "pretty" in a world that so often tells us otherwise?
Like you, I'm bombarded by Photoshopped and heavily filtered images everywhere I turn. In fact, I'm a big fan of filters and I use them on the regular to enhance the quality of pictures I post online. I'm as guilty as the next person. Sometimes I look tired and I want to make myself look more alert. Sometimes I think the picture looks too harsh, so I soften it. Sometimes I get a pimple and I want to cover it up. And now that I'm nearing 30, I'm not afraid to admit that those little lines around my eyes are making me nervous. But despite of all this, I'm not laboring under the delusion that perfection exists. I'm well aware that the people I see on television are wearing tons of makeup and had to sit in chairs for hours to look that way. I know that every model I see online has been airbrushed. And I love the efforts of artists like Colbie Callait and companies like Dove who are working to redefine "pretty" as "real".
But you know what? I think "pretty" is real, whether we agree on how to define it or not.
This shift away from wanting to focus on how we look is our natural reaction to the knowledge that even the most celebrated beauties wake up with oily faces and stank breath. We're all human and there is certainly some relief to be found in this knowledge. But when it prevents us from offering kind words to our daughters or friends because we don't want them to think their worth is based on what they look like? Well, call me British, but that's a load of bollocks.
As a child, I was blessed with two very present, very loving parents. My father told me I was pretty every single day, and sometimes that compliment came after softball practice when I was covered in dirt and wearing my hat on backwards. He praised my abilities and my heart as well as my looks. And maybe no one else saw what he was seeing. Maybe no one else thought I was pretty. But he did. And because I trusted in my father, I believed what he said. I believed I was pretty, even if I didn't feel like it. I believed pretty was an unalterable state of being because he didn't limit those words to when I dressed up or fixed my hair. Sweaty and dirty, or freshly coiffed, I was pretty. Period. And when he said those words, what I really heard was:
"You're wonderful."

"You're worthy."
"You're loved."
I knew my father was saying those things because I was his child and he adored me. I knew they came not so much from an approval about how I looked, but from the overflow in his heart. And now that I'm a mother myself, I'm certain this is true.
So, why in the world wouldn't we want more girls to believe they're pretty?
Every woman eventually hears she's not contoured enough, or shapely enough, or thin enough. So shouldn't we encourage one another to believe we're pretty, exactly as we were made? Shouldn't we lift one another up with kind words?
Shouldn't we let each other in on the secret: that we are lovely because no one else can be us? That we are lovely just because we just are? Maybe we can't agree on how to define "pretty". But I'm sure we can all agree on that.