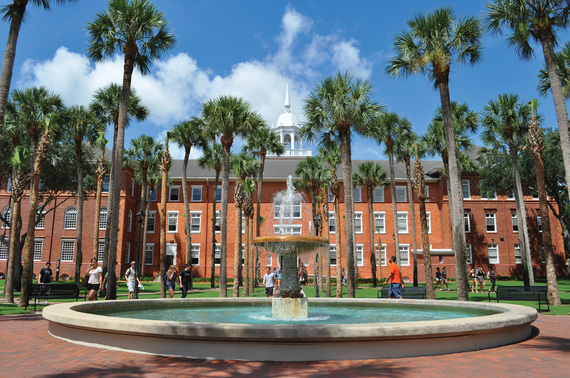 For many years, college guides have been a go-to source for families. And why not? The rankings offer a quick and easy glance, a way to compare data on hundreds of colleges in a single pass. It's also true, however, that they offer a way to bypass using your mind and heart in a critical education decision.
The problem with the rankings boils down to this: Just because you can measure something doesn't make it worth measuring. Bombarding the public with data (subject to varied interpretations) is different from providing the right kind of useful, accurate information so that families can make a life-changing decision. The volume of rankings, with new frameworks constantly emerging, shows that there isn't one right way to "rank" colleges.
Stetson University has appeared in many "best colleges" lists, and we like a top ranking as much as the next school for the attention it brings. Yet we end up encouraging families to visit campus much more than we tout our rankings.
This is because selecting a college is a complex conversation. Underneath it all, rankings are harmfully laser-focused on narrow, time-lagged numerical measures, have hotly debated methodologies and fail to convey a true picture of the collegiate experience.
For example, do guides tell you what the campus culture feels like, what its values are, how intellectually stimulating you will find it and whether you as an individual will be satisfied with your education? They can't tell you that any more than they can tell you how dedicated the faculty are to their students, the strength of the professional networks you will develop there, and just how transformed you will be as a leader because of those experiences. Spend some time with us, I tell visiting students and families, and you will know.
For their part, the guides solicit college presidents and admissions directors -- who have built-in biases and are assailed with expensive university PR campaigns -- to submit their opinions on hundreds of colleges. These opinions are weighted nearly 25 percent in an "academic reputation" category. Only in recent years have the opinions of high school counselors been included -- for national (not regional) schools.
Graduation rate rankings can also provide a skewed assessment, negatively impacting college admissions, student access and society as a result. On one hand, universities can play it safe and climb in the rankings by enrolling only those students who appear to have all of the indicators of success lined up. (Or encourage grade inflation to improve an institution's actual versus predicted graduation rate.)
On the other hand, a university could view its mission holistically and offer access to "at-risk" students to improve the trajectory of their lives. At Stetson, many of these students are successful due at least in part to our SAT-optional admissions policy, financial aid support and a nationally renowned Student Success Program that connects students with mentors and peer coaches.
A university makes the "wrong" choice between the above scenarios and it risks being downgraded in the rankings for choosing to do the right thing for students. And no one knows to pull back the curtain and examine the inner workings.
Measures of accountability and demonstrations of value are absolutely essential -- families should demand them. But they shouldn't stop there. Students and their families should visit campus; talk with faculty, current students and alumni; and sit in on some classes. Or engage with the campus itself virtually if that's the only option.
Beyond the rankings hype and the jockeying for #1, we must put it all into perspective: rankings are just a point of entry into the discussion. In the end, a school is only as right for you as you find it to be. That's where true value lies.