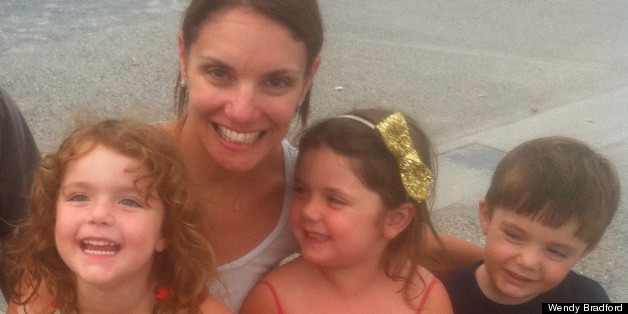 I made one of my worst parenting decisions today. It was not to feed them fast food, hire a babysitter with questionable references or send one of the kids to school with a fever. I am not even speaking of the curse word I used at bedtime.
This morning we were, as usual, running behind. My husband was staying home with the twins, and I would be taking Molly to school so that I could participate in a project; this is not our normal routine.
As we ran out the door to catch the elevator, Henry and Ellie ran after us. I don't know what they wanted. Maybe to push the button. Maybe another hug and kiss. Our neighbor asked if she should hold the door and I yelled "Yes, thanks!" And then back to the kids, "We have to go." And that was it. I didn't look back.
But I felt as soon as the doors closed I'd made the wrong decision. And it was a horribly wrong one. I'd chosen the closing doors of the elevator, the pressure of the minutes passing, the fear of being late over saying goodbye -- or a second goodbye (I am not really sure) to two 4-year-olds.
In my head was the haunting article I'd read this Mother's Day written by four mothers from Newtown, Connecticut, who had so tragically lost their children. In "A Mother's Promise," (Huffington Post, May 12, 2013) they write,
...we remind you to cherish every moment. Hold your children extra close every chance you get. Bask in their smiles. The dishes, or anything else, can wait. We promise.
And we were late. My rushing did nothing. I had to sign the late book, come up with a reason for getting to Kindergarten nine minutes past the cut-off. I chose "traffic." Because there wasn't enough room on the ruled paper for "Mommy couldn't dry her hair fast enough because it needs to be cut real bad," or "Henry fell off the couch and needed to be held for a few minutes while he calmed down." (Both true.)
Molly's class had begun without us. That was that. In the end, I had made a bad decision. Among some good ones, some not-as-good ones, I had made one of the worst: I had ignored the most terribly come-by knowledge that I'd learned second-hand: Whatever we imagine is going on without us, can go on without us. In fact, all things either continue, or will wait for us. There is never an extra moment with our children.