I was very excited to be invited to Number 10 Downing St. for drinks following Margaret Thatcher's election win in the 1987 General Election. I rarely keep any mementos or souvenirs, my home has no knickknacks whatsoever -- but I still have this invitation.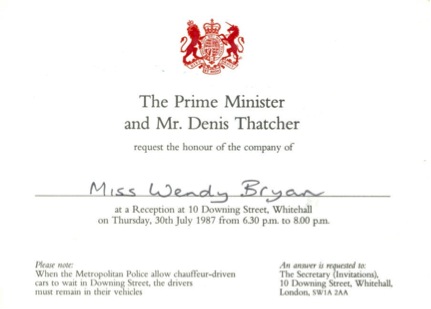 My life had brought me to London, and I wanted to stay primarily because of the man in my life at the time, so I found myself a job -- which job I wasn't particularly bothered -- just a job that kept me in the UK. I once heard Arianna Huffington speak to a large audience of women, and she started by saying her life went in the direction it did because a man she loved wouldn't marry her and have children. I hear that, sister.
I quickly found a job working the press office for a British political party gearing up for the 1987 General Election. As it turns out, a rather historic one given that Margaret Thatcher won a 3rd majority government in a row.
The Conservative Party HQ in Smith Square was a unique ecosystem with an unpretentious façade, tucked away in a treed, quiet square near Westminster that didn't attract attention. Given the political climate and bombings at the Conservative party conference in Brighton that left Norman Tebbit's, the Party Chairman's, wife in a wheelchair, in retrospect it probably had insufficient security. The most unusual things happened regularly; eccentric characters roamed the halls, special assistants came looking for ice for the bosses' gin and tonics at 8 am in the morning. I learned a lot.
I worked in the press office. The press office was filled with former and seasoned print journalists from the Daily Mail, Daily Mirror, etc. There was very little these men couldn't handle and, they were all men. One day I answered a call from a clearly excited Daily Mirror reporter asking me if I was aware that MP Harvey Proctor had been caught diddling little boys?
I passed the phone to Maurice Romley, who handled him brilliantly, calmly, forcefully -- and later explained that the reporter had been looking for me to exclaim shock and outrage so that he could print a headline something along the lines of "Harvey Proctor, diddling young boys?? cries outraged Conservative party worker." When back visiting friends years later, I caught a headline in the London Times exclaiming "Harvey Proctor gets into men's clothing" with a big grinning picture of Proctor holding up posh dress shirts from the new clothing shop he had opened in Fleet Street. Only in the British media.
This was a decade before the News of the World phone taping scandal, but British media were a breed all to themselves, and I admired them. They have so many thriving daily papers -- The Guardian, The Independent, Daily Mail, Daily Mirror, The Standard, The Times... all of which are still going strong in a world where papers are disappearing in many major market.
Which reminds me of an interesting story. When Lady Thatcher was in Canada after office promoting her memoirs, I watched in embarrassment as she made mincemeat of a leading national news anchor who tried to interview her. "Yes Lady Thatcher, I did read your book..." was about all he could mumble. I was practically yelling at the TV screen: give it right back to her, quit letting her interrupt. Interrupt her. Demand an answer to your question. She is deflecting. She treated him like a school boy and he was defenseless against her. She was used to the ruthless British media.... if you can handle them, you can handle anything. Maybe we are too nice.
Party faithful came out to help during the election. Lord This -- who owned half of Scotland -- and Earl That -- who despite his vehement hatred of smoking would bring back bags of duty free cigarettes for friends when he went on holiday. Raine Spencer helped in the press office -- Princess Diana's stepmother, and dripping in jewels- -- and came in daily and lunched with a certain retired business mogul turned press officer. She was sweet to us. In fact, she invited us to Althorp for tea after the election. What I remember most about the trip out to the Spencers' family home, aside from how beautiful it was with sheep grazing happily around the great house, was the magnificent artwork that covered the walls. Great works worthy of a museum by names even I had heard off. Up and down the staircase, jam-packed along the walls of a great hall on the second floor that ladies had apparently used for "walking" exercise in earlier days. And in the corner of this marvelous, enormous room, tucked away at the far end, was a grouping of chairs and couches with a TV set. This was where Earl Spencer watched TV apparently. And on a sidetable was an adorable framed picture of Diana and the two boys beaming in army fatigues. What a proud grandpa he must have been.
Downstairs we ate cake after cake after cake. It was lovely. Raine talked, Lord Spencer, who was recovering from illness, managed to say a few words of welcome, but he labored greatly. The dining room was being prepared for a sit-down dinner for 50 for the younger Lord Spencer's birthday the following day. That tells you how big the dining room table was.
But back to the invitation to Number 10, and this is the one time I actually chatted with the Iron Lady for more than a few words. She thought it was amusing that I was from Canada. She herself was a chemist (which I studied at university) and joked about how funny it was. in She took my elbow, escorting me around... she told me she must show me the blue room, or some room or other as I voiced my confusion over no ice cubes in the gin and tonics. She must have thought me an idiot.
I remember her being very funny. Clearly she was amongst friends and could let her guard down. I wonder if we see that side of her in the new movie with Meryl Streep, who I hear is amazing. I am looking forward to seeing it, and to how it will reconcile with my memories of my time there.
She signed a book about Number 10 for my grandfather who had fought in the World Wars. I didn't realize how much it meant to him until he willed it back to me after he died many years later. I wished I had of talked to him more about it. And at some point early in the evening, she and Denis disappeared, having done their duty in thanking the worker bees, leaving us to Cecil Parkinson and other various MPs and Cabinet members in attendance under a command performance no doubt.
My biggest memory of Cecil Parkinson -- another extraordinary character, who had made a political comeback after his scandalous extramarital affair with former secretary Sara Keays and the resulting love child when he was Secretary of State for Trade and Industry -- was that I couldn't stop staring at all the dandruff on his shoulders. I couldn't tell you a thing he said to me at the time. Just the snowstorm of dandruff.
Boy what I wouldn't give to relive some of these moments, knowing what I know now. And I would drink water only the whole evening.
How little I knew at the time that I was working and living inside some of the biggest news events of the day and even the decade. Perhaps that is why when I returned home I kick myself now for not taking more pictures when I had the chance to do so, not logging more of my experiences and feelings at the time. If Facebook were around then, who knows, I might have.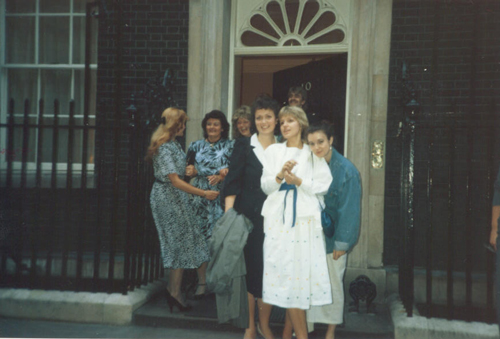 It was formative in a lot of ways, not the least of which is realizing how clueless people with money (and loads of it) are about the lives of those without. I still remember millionaire and one-time Deputy PM Michael Heseltine going on about how they (the Conservative government) had put people back on the streets and how these homeless people wanted to be there, not cooped up in some place where presumably they could be getting the help they needed to survive. He was truly deluded -- but there is no way you could convince him otherwise.
He's like some other ' privileged' people I know who truly, in their heart of hearts, believe that they are superior beings and therefore entitled, no truly deserve, to have more money and privilege than anyone else -- this includes someone whose father has had to bail his company out of bankruptcy three times. It strikes me as wrong. My beliefs lie more inline with Hugh Segal, whom I once heard say that any one of us could be in an accident and lose our mental faculties in an instant -- where would we be then, probably a paycheck or two away from being homeless? And what if we had no family or others to help us then. Because of Michael Heseltine, I now buy coffee for the fella' who sits outside our office building on cold days -- as do others.