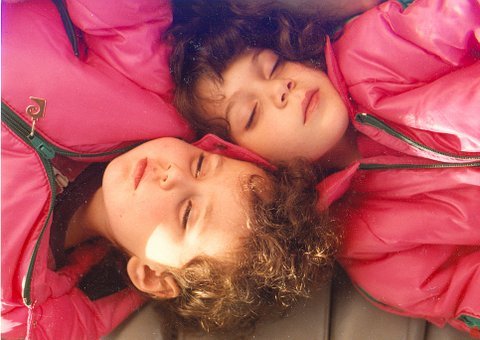 My son-in-law, David, Artistic Director of the Hamptons Film Festival, recently lent me a copy of The Crash Reel, Lucy Walker's breathtakingly powerful documentary about world champion snowboarder Kevin Pearce's traumatic brain injury and recovery.
David knew, of course, how deeply I would be moved since his sister-in-law, my daughter, Ruby, suffered a traumatic brain injury when she, like Kevin, was 18. Kevin's story was our story. His family was our family. If my book, Mom, I Want to Speak to Marie Antoinette was the storyboard, Lucy Walker's film was the cinematography.
As I sat by myself watching the film, I gasped, I sighed, I wept with sadness and joy. The Crash Reel wrenched me back to 1995. I felt Kevin's pain and frustration at all he had lost, the same anguish and dashed hopes Ruby experienced. As the film progressed, I saw Kevin evolve from a defiant young man refusing to acknowledge his deficits, to acceptance of a life forever altered on the cusp of adulthood, to gratitude for facing death and being given a second chance. A road Ruby, too, had walked. As I "eavesdropped" on the Pearce family dinners, I was reminded of the Thanksgiving dinner my family celebrated on November 23, 1995, at Mt. Sinai Hospital in New York City, 50 days post coma and TBI and 22 days after being discharged from Northern Westchester Hospital in Mt. Kisco, New York. Thanksgiving had always been our family's favorite holiday and no matter what it took, we were going to keep the tradition alive.
We understood more than ever that year what it truly meant to give thanks. Ruby was recovering, granted it was at a snail's pace, and we were blessed. Since Ruby couldn't leave the hospital, we brought Thanksgiving to her. We reserved the hospital waiting room on Ruby's floor for the occasion. Ruby's grandparents, Betty and George Gaynor, my mother, Ray Rubin, my Aunt Marilyn and Uncle Danny, my daughter, Violet, and my boyfriend (seven years later, husband) Michael, were there. My mother, although well known for many things, cooking surely not one of them, brought Kraft's sweet potatoes with marshmallows, French's string bean casserole and an oven-roasted turkey breast (recipe below) that she'd never made before but turned out surprisingly well considering the fact that she'd never cooked a single meal my entire childhood. It might not have been haute gourmand cooking, but it was delectable if for no other reason than because Ruby was with us. If we didn't pay attention to our surroundings, it would have looked exactly like the Thanksgivings we'd celebrated all our lives. Violet brought a favorite pink dress for Ruby to dress up in. Ruby looked like a delicate angel, albeit an extremely skinny angel. She probably didn't weigh more than 85 pounds. She was disoriented and fragile. She didn't speak, barely ate, could hardly walk more than a step or two and couldn't follow our conversations. And just like a baby, she sat on my lap the entire afternoon. In all honesty, she was a shell of a human being, barely recognizable as the Ruby we all knew and loved. I didn't know that day what her future looked like, didn't know if she would get any better but I was content. The promise I'd made to her that first night in the hospital that she would not die on my watch, thank heavens, had come true. All the rest was gravy.
After our celebration, though, Ruby was over stimulated, overwrought and agitated, couldn't calm down, lie down, or stop flailing about. I sat by her bedside for hours stroking her back, murmuring softly. The longer it went on, the more tense we both became; we were working each other up into a tizzy. Michael quietly and commandingly took over; told me to move aside, take a break, go for a walk, do anything other than what I was doing and failing so miserably at. He did exactly what I did, rubbed her back, murmured softly, or as close to murmuring as Michael can get with his gravely, gruff voice, and it worked, and before too long he had sedated her with his voice, his touch, with his immense strength of spirit. Although Michael had been in our life for two years by the time of the accident, up until that Thanksgiving evening, Ruby had kept her distance, not being overtly hostile to Mike but never embracing him either. He had been the first man since I separated from her father when she was five that I had brought into her life and she was none too happy. But at that moment, they bonded. Necessity is indeed the mother of invention. Ruby doesn't have any conscious memory of the moment (if truth be told, she doesn't remember the three months before and the three month after her accident), but she felt its power. She understood that day, so keenly and deeply that it required no words, that what transpired between them could never be broken, would only grow stronger with time.
I thank Lucy Walker's The Crash Reel for bringing all those memories back to me, the horrid and the sublime. What I learned that Thanksgiving day in 1995 -- that living is better than surviving, that loving is better than hating -- I was, thankfully and gratefully reminded of again thanks to Lucy and Kevin.
Oven-Roasted Turkey Breast: 1 boneless turkey breast (3 lbs.), ½ cup margarine, melted, ¼ cup apple juice, 2 tblsps. dried thyme leaves, 1 tsp. salt, 1 tsp. paprika, 2 garlic cloves, chopped, 2 tsps. cornstarch, 2 tblsps. cold water.
Preheat oven to 450 degrees. Place turkey, skin side up, in oiled shallow roasting pan. Put turkey breast in oven and immediately reduce heat to 400 degrees. Mix margarine, apple juice, dried thyme, salt, paprika and garlic. Brush turkey with half of butter mixture. Continue cooking and basting with butter mixture an additional 20-25 minutes until meat thermometer reaches 170 degrees. Let turkey breast stand 15 minutes before carving. Pour pan drippings into measuring cup, skim fat, add enough water to measure 2 cups. Heat drippings to boiling in saucepan. Mix cornstarch and 2 tblsps. cold water. Stir into drippings. Boil 1 minute. Serve with turkey.