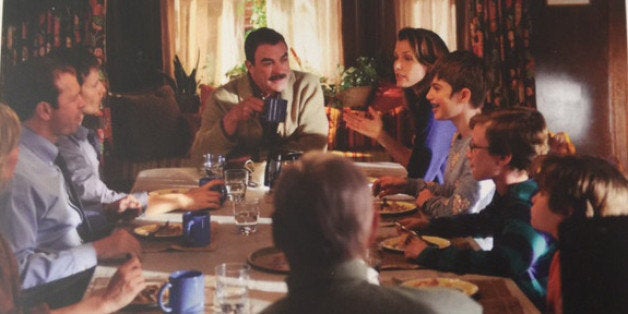 We need family dinners now more than ever. They are the perfect antidote to the age of distraction we live in.
You may have seen the viral image of a group of kids in a museum sitting in front of Rembrandt's "The Night Watch." Backs to the painting, they are all staring at their personal cellphones. In a trance, they seem completely oblivious to the greatness of Rembrandt's masterpiece.
I bet you're nodding your head now. Because if you haven't seen that photo, you surely have experienced something like it: people constantly checking their devices; kids who don't respond because they're engrossed in a screen; people taking selfies in front of a monument, but ignoring the monument itself. We are harassed by sensory overload, jittery from cell phone addiction and plagued by ever-shorter attention spans. And while modern technology can connect us with others in sometimes very meaningful ways, it can also lead us to ignore our own surroundings and to forget there is simply nothing like person-to-person contact.
And nothing in the world encourages person-to-person contact the way sharing a meal together does. My favorite holiday -- and my children's favorite holiday, too -- is Thanksgiving. Is it any surprise that its centerpiece is a shared meal?
The Germans have an expression, "Liebe geht durch den Magen," which translates as "the way to the heart goes through the stomach." Nothing can bring a family together better than a delicious home-cooked meal, prepared with love.
And a great meal which requires the use of both hands to eat has an added advantage: it's virtually impossible to text when you have a knife and fork in each hand!
One of the cornerstones of each Blue Bloods episode is a traditional family dinner. The Reagan weekly family ritual is not just a throwback to a simpler time (which those of us who were there know wasn't actually always simpler), but also serves to remind us what is truly important: family, togetherness, sharing, communication and, yes, good food. These traditional values on display are one of the reasons Blue Bloods has become so popular.
Family dinners which inspired the weekly Blue Bloods meals were not just taken from Norman Rockwell visions of America. They were real. Families actually got together to discuss everything from sports, politics and events of the day to intimate family matters. And they ate. Recipes were passed down from generation to generation. The home-cooked meal was a fixed point of family life and provided family members with a shared language as well as experience. They created memories.
In this day and age of pre-cooked meals, take-out, fast food and grabbing a bite on the go, even home-cooked food itself has become a rarity. And while families still sometimes do gather to break bread together, it isn't done with anywhere near the same regularity to become a comforting ritual. In fact, family meals seem reserved for special occasions these days -- which are often themselves celebrated at a restaurant.
The home-cooked family dinner should not be a thing of the past. When we wrote "The Blue Bloods Cookbook," Bridget Moynahan and I wanted to give people a reason to get together for family dinners by helping them create their own memorable meals. Our book includes dishes served in actual Blue Bloods episodes, recipes inspired by the Reagan family dinners, as well as some recipes of our own.
One of my own family's favorite dinners is a delicious roast chicken with crispy skin and juicy, tender meat inside. More than just a simple, mouth-watering meal, our roast chicken represents a family tradition. I remember looking forward to my grandmother's chicken, and my own memories of my grandmother's roast chicken have been passed down to my own children and my grandchildren. And these aren't just abstract memories. How do you think it makes me feel when they ask for seconds?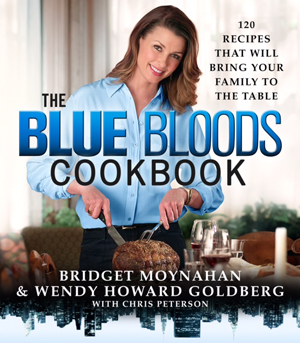 Reagan family dinners are satisfying for the viewers, but real family dinners can be much more valuable and transform a family's dynamic. The dinners have to be done right. No TV. No cell phones. No distractions. Just the family. And great food. So pick your favorite recipe, get great ingredients, prepare the meal with love, and get ready to discover what the magic that brings the Reagan family together can do for your own family. We hope that our cookbook can help inspire your family to create your own tradition.
Wendy Howard Goldberg is the bestselling co-author of Marry Me and a contributing editor of Hollywood Moms. The Blue Bloods Cookbook is available through Amazon, Barnes & Noble and other booksellers.